III FLAMENCO BIËNNALE FLAMENCO NEDERLAND
JANUARY 21- 30, 2011 - Amsterdam | Rotterdam | Utrech
February 1, 2011

Twittear
In November 2006, the First Biennial of Flamenco of Netherlands was held; an ambitious festival of flamenco and fusion to brighten the grey Dutch winter.
The third edition is about to be celebrated from January 21st to 30th, 2011, with a complete program of recitals, workshops, conferences and street-shows in a variety of musical languages, from the samba or the piano of Dorantes, to sevillanas, an encounter with Brazilian music, Iranian music and children?s shows that will be seen in Amsterdam, Rotterdam and Utrecht.
The most interesting day for flamenco fans without a doubt will be the tribute to Fernando Terremoto with the participation of Miguel Poveda, Diego Carrasco, el Torta, Jesús Méndez, Moraíto Chico, Diego del Morao, Luis el Zambo, Fernando de la Morena, Joaquín Grilo and other Jerez artists to round out the ambience. Also noteworthy is Dorantes? show "Flamenco sin Muros" with guest artists Joaquín Grilo and Pastora Galván, and the work "ConCierto Gusto" of Rafael Carrasco.
Dancer Fuensanta la Moneta and singer Arcángel join forces for a musical program of contemporary flamenco titled "Flamenco Sin Fin", and singer Rosario la Tremendita is scheduled to participate in "Qasida", a multicultural encounter with Mohammad Motamedi from Iran. The popular Moraíto will offer a guitar recital.
The documentary "Tiempo de Leyenda" about Camarón de la Isla will be shown, and there will be guitar, piano, palmas, compás, dance and cante workshops with stars featured in the festival, as well as Rocío Molina, recent winner of Spain?s National Dance Prize who will offer a master class. All in all a major cultural happening for Dutch flamenco fans.
III FLAMENCO BIËNNALE FLAMENCO NEDERLAND
21- 30 ENERO 2011 - Amsterdam | Rotterdam | Utrecht
Amsterdam: Muziekgebouw aan het IJ, Bimhuis, Stadsschouwburg Amsterdam | Melkweg, Rabozaal, Bijlmerparktheater, Lloydhotel

Rotterdam: Rotterdamse Schouwburg, LantarenVenster, Theater Zuidplein, WMDC/Codarts
Utrecht: Wereldculturencentrum RASA, Instituto Cervantes


Interview with Ernestina van de Noort
Reviews: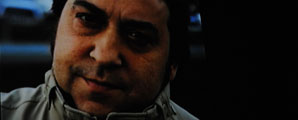 Review and photos 'Homenaje a Terremoto de Jerez'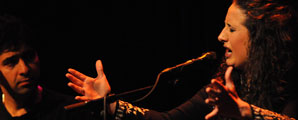 Review and photos 'Qasida' Rosario La Tremendita / Mohammad Motamedi'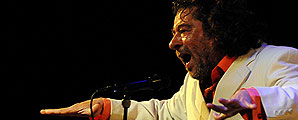 Review and photos - 'Noche de Cante Jondo' Arcángel / El Torta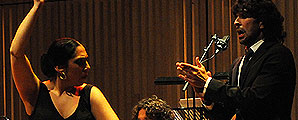 Review and photos.
'Flamenco sin fin' Nieuw Ensemble - Fuensanta la Moneta - Arcángel
---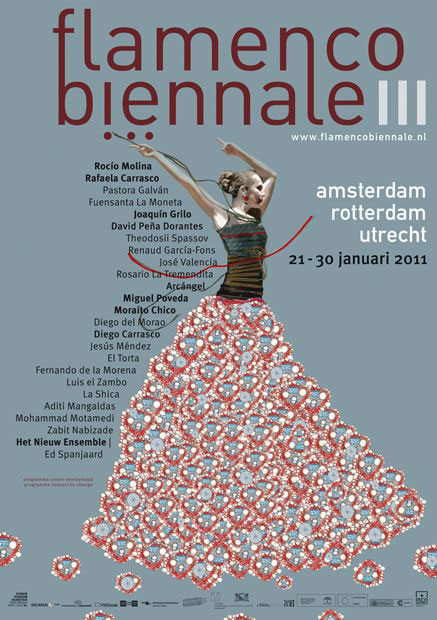 Official web and tickets: www.flamencobiennale.nl
More information: