Estela Zatania
Photos: Curro de Utrera private collection
Gone forever, the sweet sound of Utrera's elder singer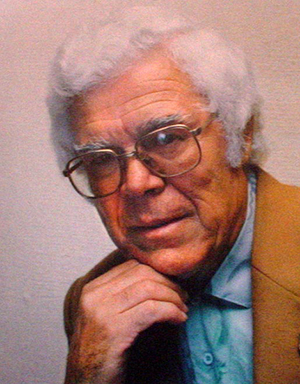 Several years ago, invited by Curro de Utrera, I made the complicated trip to his house in La Guijarrosa, Córdoba.  We spent a delightful day with anecdotes, photos and memories while his wife kindly kept us stocked with wine and tapas.  Little did I imagine that that experience would be the basis for this brief text in honor of the singer.
Francisco Díaz García, "Curro de Utrera", was the oldest active flamenco singer until his passing this morning at the age of 88.  Last autumn he sang with great success at the last Bienal de Flamenco de Sevilla, along with Rancapino, Romerito de Jerez and Cañeta de Málaga, with a voice as sweet and clear as that of a young man, because Curro's delivery was never over-the-top, but rather restrained and noble. One month after the Bienal, in November, 2014, the singer gave his last performance at the Festival del Mostachón de Utrera.
With the perfect integration that has always characterized the town of Utrera, it shouldn't come as any surprise that Curro had a close friendship with the venerable Perrate de Utrera, with whom he had a thousand and one adventures.  In his own words: "Perrate was my buddy, we went around together looking for work at the roadside inns, the fairs… He was a little older than me, I stuck by him because of flamenco and I grew up by his side.  Every afternoon I'd go track him down…'come on, let's go to the tavern and sing for the rich guys'…we'd have a drink or two and start singing".
Curro honed his skills alongside great artists of the era.  He told me it was the father of Fernanda and Bernarda who explained the cantes of Serneta to him, "and every Saturday, Juaniquí de Lebrija came to Utrera, there was a winery with cock-fights, and the fiesta afterwards was a sure thing.  I remember one day we were with Manuel Torre's brother, Pepe Torre, Juaniquí, Perrate and me, what a scene!  When the cock-fights were over, the rich guys stayed on, they closed the doors and right then and there we heard those great singers".
He was discovered by Pepe Marchena with whose company he worked while still very young, occasionally stealing applause and the spotlight from the great "maestro of maestros".
After settling in Córdoba where he would spend the rest of his life, he acquired great knowledge of the cantes of the area.  His large repertoire included among other things, the caña, fandangos de Lucena, rondeñas and serranas.  But in particular, Curro gave a personal melodic twist to the staid alegrías de Córdoba, and this would become his major claim to fame.  At the age of 30 he won 4 prizes at the Concurso Nacional de Cante Jondo in Córdoba.
Throughout his career, he shared the stage with a long list of major stars, most notably Juanito Valderrama, Lola Flores, Manolo Caracol, La Niña de La Puebla, Concha Piquer, El Pinto, Fosforito and Paquera de Jerez among many others.
Curro was never forgotten in Utrera.  The Peña Cultural Flamenca Utrerana "Curro de Utrera" is the oldest in the city.  The singer leaves many recordings and is a Favorite Son of Utrera where two days of official mourning have been declared.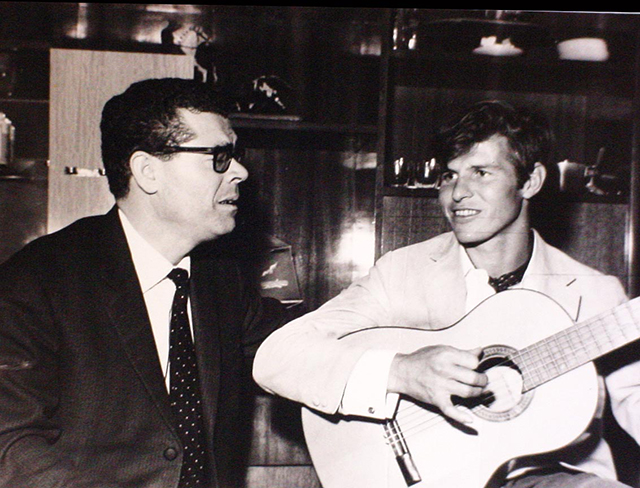 Curro de Utrera con El Cordobés
Curro de Utrera con Juanito Valderrama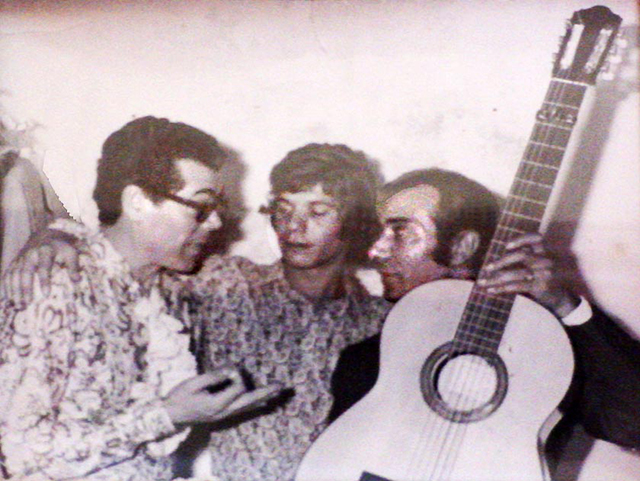 Curro de Utrera con Camarón y Juan Habichuela
---