May 23rd to 26th at the Mercat de les Flors.
May 8, 2013
Twittear

The Taller de Musics, in collaboration with the Mercat de les Flors presents a new edition of Barcelona's most popular festival, an event committed to the creation, experimentation and exhibition of a wide range of projects in the realm of contemporary flamenco.

This year's festival is dedicated to Carmen Amaya for the centennial of her birth, and intends to honor and update the legacy of one of the most universal artists to come out of Catalonia. For this reason, many of the artists, shows and productions were chosen based on their references to the dancer and/or her impact on flamenco, and the world of dance in general.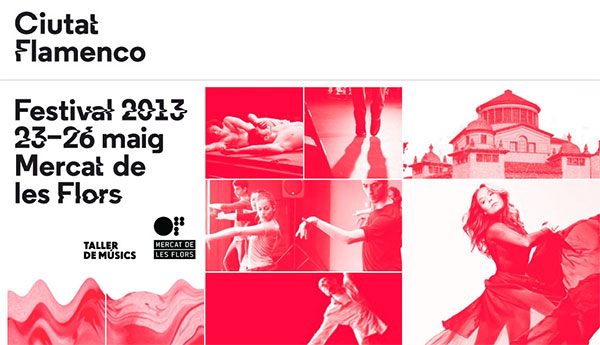 In addition to the main program, the following courses will be offered:

• "Flamenco applied to melodic instruments", by flautist and composer Juan Parrilla.
• "Respecting tradition and imagination to make transformations", by singer Arcángel.
• "Photography and music", initiation course in stage photography with Lorenzo Di Nozzi.

The festival closes out with a sardine roast in the street in memory of the famous anecdote of Carmen Amaya who cooked sardines at New York's Waldorf Astoria Hotel during her stay.
PROGRAM
Thursday 23

6:30 to 7:30pm En paralelo: P'Alucine

8:00pm Flamenco Empírico: Talleres y fraguas

Presentation of 'Talleres y fraguas' by participants of the workshop given by Marco Flores and Roberto Fratini

9:00pm Flamenco Empírico: Tapeos

9:30pm Main concert
'Danzaora' – Rocío Molina

Friday 24

6:30 to 7:30pm En paralelo: P'Alucine

8:00pm Flamenco Empírico: Tócame las palmas
María Muñoz-Mal Pelo, Colin Dunne, Hallgrim Hansegård and Niño de Elche

9:00pm Flamenco Empírico: Tapeos

9:30pm Main concerts
Sistema Tango, Ensemble de Cuarto
'Antes Existió El Grito' - Free Art Ensemble

Saturday 25

6:30 to 7:30pm En paralelo: P'Alucine

8:00pm Flamenco Empírico: Remates
'Romances' - Rafa Estévez, Nani Paños and Sandra Carrasco. Concept, director and choreography: Juan Kruz Díaz de Garaio Esnaola

9:00pm Flamenco Empírico: Tapeos

9:30pm Main concerts
'Pansori meets Flamenco' – Jeong Ga Ak Hoe, Marta Robles and Alba Carmona. Special guest artist: Salao
'Rompecabezas' – Duquende

Sunday 26

12 noon Main concert
'Lo que nos queda de Carmen' – Banda Municipal de Barcelona, Escola Gornal e Institut del Teatre. Special guest artista: Eva Yerbabuena

1:30pm En paralelo: Sardine roast in the street
More information: