Cañizares presents "Trilogía de Falla por Cañizares"
At the authors' society (SGAE) in Madrid, guitarist Juan Manuel Cañizares presented his three recordings dedicated to the music of de Falla, "El Amor Brujo", "El Sombrero de Tres Picos" and "La Vida Breve".

June 1, 2014
Cover photo and gallery: Amancio Guillén
Other photos: Rafael Manjavacas
Twittear
Presented by José Manuel Gamboa –SGAE- and accompanied by Enrique Téllez, director of the Aula de Música of the Universidad de Alcalá, and Elena García de Paredes of the Fundación Archivo Manuel de Falla.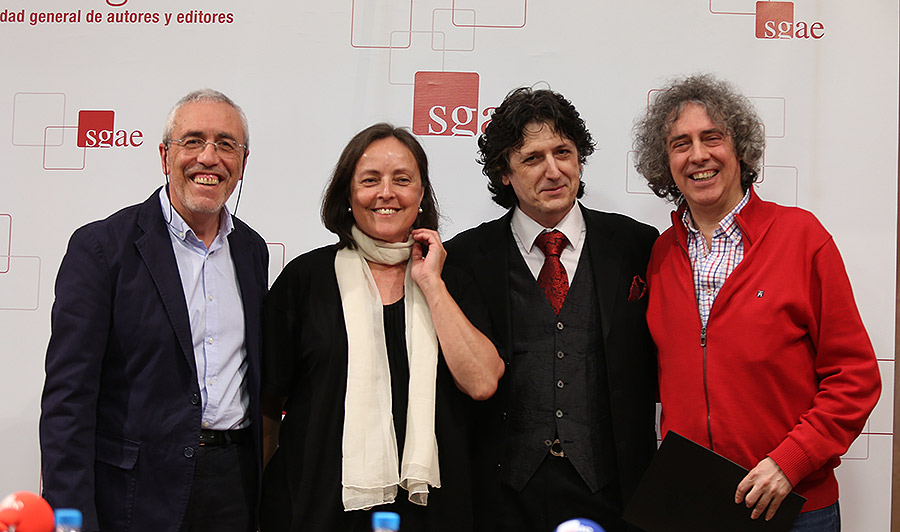 Enrique Téllez (UAH), Elena García de Paredes, Cañizares & José M. Gamboa

Cañizares: "Flamenco changed the musical persona of Falla, and our entire culture changed along with it"
The third and last part of the trilogy "El Amor Brujo", was presented yesterday, a record which includes ten pieces from El Amor Brujo, and five from the Suite Homenaje. In the first installment, "El Sombrero de Tres Picos" which also includes "Siete Canciones Populares Españolas" and "Cuatro Piezas Españolas", works which had been transcribed by maestros such as Miguel Llobet and Emilio Pujol. Cañizares wanted to highlight the flamenco essence of de Falla's music.
Transcribing guitar music for orchestra or piano presented the difficulty of the limited nature of the guitar, so a certain degree of adaptation was required, changing some strings for others used in 10-string guitars.
These are personalized versions of Manuel de Falla's music by the maestro Cañizares.

On the second volume, "La Vida Breve", the guitarist selected two dances from the work, and several "Obras para Piano" composed by Manuel de Falla.

Here we have the audio of some musical selections, as well as the words of Cañizares talking about the origin of the project 15 years ago when Paco de Lucía recorded the Concierto de Aranjuez and commissioned him to include "Iberia" of Albéniz on side B.