(July 1st to 6th, 2013)
Tribute to MANUEL MORAO
Moron is a world of guitar.  Since the era of Paco el de Lucena, there is documentary evidence of the presence of flamenco guitarists in this Seville town.  A tradition that began with Jose Maria Alvarez, "El Niño de Moron", and continued with Jose Naranjo y Olmos y Pepe Mesa, right up to the appearance of Diego el del Gastor, one of the most unique flamenco guitarists of all time.  So outsized was his personality, that his way of playing came to be known as "el toque de Diego" or "el toque de Moron", the town where he spent the better part of his life and developed his artistic career.  After his death, the school continued thanks to his nephews Diego de Moron, Agustin Rios, Paco and Juan del Gastor, as well as Manolo Morilla, Manolo Coronado, Alfonso Clavijo, Paco Delgado el Leri, Diego Juaniquito, Paco de Amparo, Jose Manuel Muñoz, Domi de Angeles, Juan Manuel Espinosa and Dani de Moron.  For this third edition of the festival, it was decided to pay tribute to Manuel Moreno Jimenez "Manuel Morao" (Jerez de la Frontera, 1929), patriarch of one of the most important dynasties of flamenco guitar, that of Jerez in particular.
Lectures and screenings
A series of parallel activities are scheduled within the framework of the festival, including lectures by various investigators and academics at the Casa de la Cultura Fernando Villalon.
– July 2nd at 9:00pm.  Lecture by Manuel Bohorquez on the life and work of Pastora Pavon "La Niña de los Peines"
– July 3rd at 9:00pm.  Projection of the documentary "El Angel. Las Fronteras del Flamenco" of Ricardo Pachon. 
Exhibits
-"ENSAYO FLAMENCO" of FIDEL MENESES : (Inside Casa de la Cultura)
A rehearsal is a moment free of tension when flamenco flows spontaneously, far from the public eye and the responsibility of the stage.  It's a place where each individual is himself, and the artist lets more than ever be seen of his or her true personality.
-LARGE FORMAT PHOTOGRAPHY EXHIBIT BY MIGUEL ANGEL GONZALEZ: (Outdoors)
Miguel Angel Gonzalez was born in Jerez de la Frontera in 1968.  He studied photography in Malaga, and since 1991 has been graphic reporter for the Diario de Jerez, flagship of the Grupo Joly.  His work has been published in Holland, England, the United States, Japan and Germany, nearly always in conjunction with flamenco.  In 2003 the Catedra de Flamencologia of Jerez awarded him first prize in his specialty, and in 2007 the Festival Internacional del Cante de las Minas de La Union awarded him their Castillete Minero for Arts in recognition of his long career and professional achievements, as well as his contribution to flamenco.  He has had several individual exhibits devoted to flamenco such as "Respira Jondo" (1999), "Alma" (2004) and "Flamenco al Natural" (2007).  His photographs have graced the streets of Jerez during several editions of the Festival de Jerez, thanks to the collaboration of the Diario de Jerez and the Grupo Joly.
Shows
All shows of the third edition of Flamenco en la Frontera will take place in the Altos de la Plaza de Abastos of Moron de la Frontera: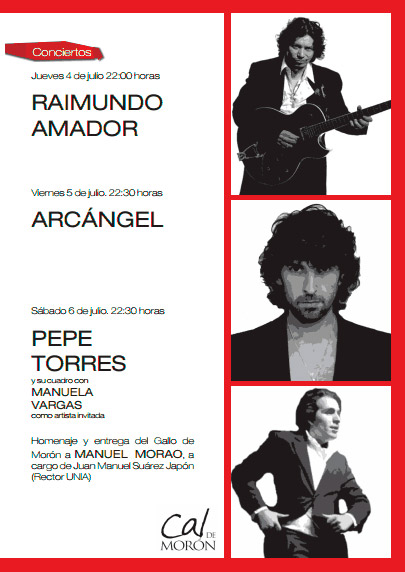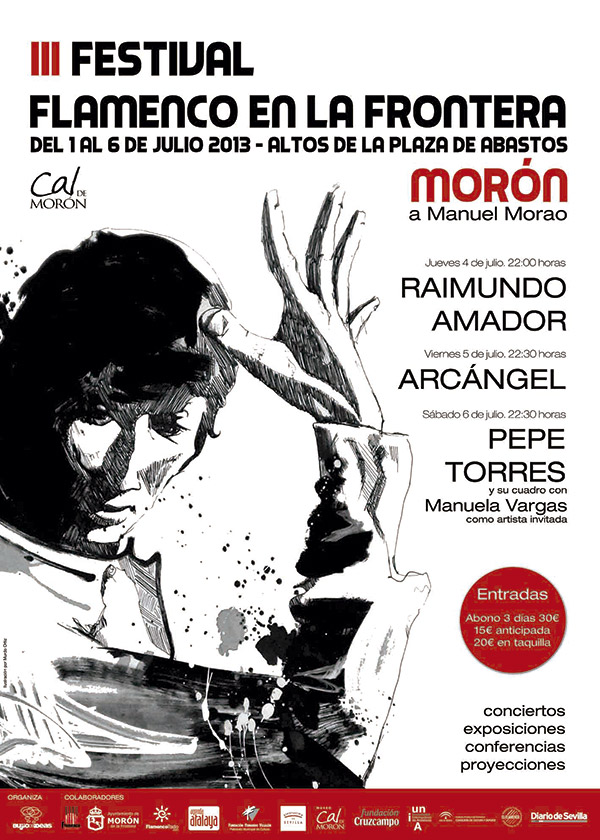 MANUEL MORAO
At the age of 12 he was circulating with big stars such as Niña de los Peines and Antonio Mairena among others.  On a national level, he worked with the companies of Manolo Caracol, Lola Flores, Concha Piquer and others.  In the middle of the 1950s, he began to travel internationally as first guitarist with the Ballet Español of Antonio.  Of Manuel Morao, the great Antonio himself once declared that "there will never be another guitar like his for accompanying dance".
Beginning in the 1980s he decided the time had come to do something in favor of flamenco, and he got involved in the promotion of young hopefuls of the era "that they might acquire not only hands-on experience, but also formal training that I was able to give them through my experience.  Out of that dream came Gitanos de Jerez, an enterprise I directed to discover, support, promote and teach new talents of this extraordinary art-form, such an integral part of the Andalusian gypsy identity.  I began to put shows together, trying to work with young people, because the big stars had already made it.  People who are beginning need to be taught, some managed to follow my teaching and advice, others rejected it and went with commercialization.  And commercialization is the great enemy of art, because what's marketed on a large scale is open to becoming deformed".
At the head of production of Gitanos de Jerez, S.L. is Luis Perez, who also co-founded the company.  The company carried out its activities bringing novel content within the classic style of flamenco in a variety of formats including a record company and audiovisual elements, in addition to the creation of stage shows and the training of young artists.
Currently, Manuel Morao is considered one of the of most knowledgeable flamenco artists, as demonstrated by the way he is mentioned in the media, both national and international, always with admiration and fascination.
---