June 11th to 18th, the National Institute of Flamenco, the University of New Mexico and New Mexico True present the 29th Heritage Hotels & Resorts Festival Flamenco Internacional de Albuquerque.

The Festival Flamenco Internacional de Alburquerque is largest event of its kind in the United States, with the most complete program outside Spain for both experts and beginners.  This year the program includes five companies with a wide range of artistic proposals.  People like Rocío Molina, Juana Amaya and Manuel Liñán, and for the first time at this festival, Pedro Córdoba and Antonio Molina «El Choro», who recently gave brilliant performances at the Festival de Jerez.
A New Mexican artist, Nani Chacón, captured the sublime intense energy in this year's image representing the Festival Flamenco Internacional.
The Festival has numerous workshops devoted to dance, singing, guitar and percussion at all levels for American flamenco fans who visit the festival each year. 
The event opens with the New Mexico True Opening Fiesta, that includes an evening full of free shows at the Plaza Mayor of the Centro Nacional de Cultura Hispana on Saturday, June 11th.  This part of the program is a family event, apt for all members of the community, with performances of flamenco dance groups from all over North America.  In addition, this year includes the inauguration of a flamenco venue at the Hotel Albuquerque, the result of a 10-year association between the Instituto Nacional de Flamenco and Heritage Hotels.
PERFORMANCE CALENDAR
Saturday, June 11, 2016 – 6:00pm – 9:30pm
NEW MEXICO TRUE FIESTA DE APERTURA
National Hispanic Cultural Center
Sunday, 12 june, 2016 – 8:00pm – 9:30pm
Rodey Theatre  – Center for the Arts UNM
Rocío Molina – Danzaora y Vinática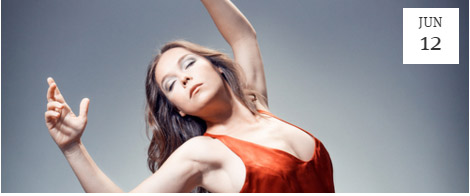 Dance: Rocío Molina 
Cante: José Ángel Carmona
Guitar: Eduardo Trassierra
Percussion: José Manuel Ramos «El Oruco»
Monday, 13 june, 2016 – 8:00pm – 9:30pm
Rodey Theatre  – Center for the Arts UNM
Pedro Córdoba – Del 2mil y pico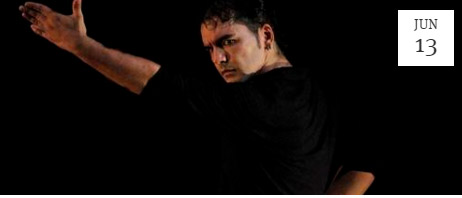 Dance: Pedro Córdoba, Belén de la Quintana (Artista Invitada), Daniel Navarro (Artista Invitado)
Cante: Ismael de la Rosa «El Bola», Juañares
Guitar: Manuel Castilla
Percussion: José de Mode 
Tuesday, 14 june, 2016 – 8:00pm – 9:30pm
Rodey Theater Albuquerque, NM, 87106 
El Choro – Aviso: Bayles de Jitanos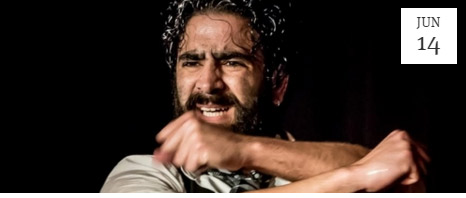 Dance: Antonio Molina «El Choro», Gema Moneo (Artista Invitada) 
Cante: Jesús Corbacho, Moi de Morón
Guitar: Jesús Guerrero, Juan Campallo
Percussion: Daniel Suárez
Sound: Félix Vázquez
Wednesday, 15 june, 2016 – 8:00pm – 9:30pm
Rodey Theatre  – Center for the Arts UNM
Juana Amaya –  Morón Baila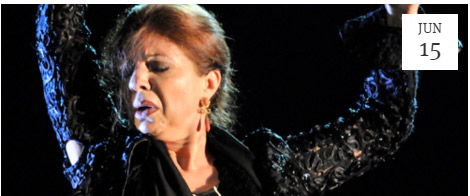 Thursday, 16  june, 2016 – 8:00pm – 9:30pm
National Hispanic Cultural Center  – 1701 4th Street Southwest
Albuquerque, NM, 87102
Manuel Liñán «Nomada»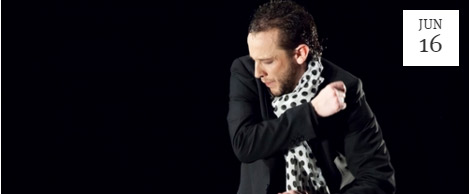 Dance: Manuel Liñán, Anabel Moreno, Agueda Saavedra, Inmaculada Aranda, Adrián Santana, Jonatan Miró
Cante: Miguel Ortega, Miguel Lavi, Davida Carpio
Guitar: Victor Márquez «El Tomate», Francisco Vinuesa
Lighting Designer- Olga García
Sound: Kike Cabañas
17 & 18 june, 2016 – 8:00pm – 9:30pm
National Hispanic Cultural Center  – 1701 4th Street Southwest
Albuquerque, NM, 87102
FIESTA FLAMENCA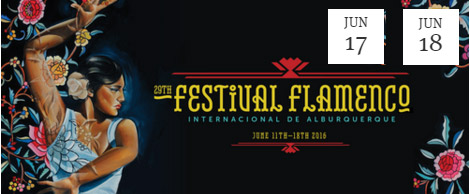 All information regarding the Festival Flamenco Internacional de Albuquerque can be found at their website: www.ffi29.org
---