100 Years of Flamenco in New York
Vincent Astor Gallery, New York Public Library for the Performing Arts. Through August 3rd , 2013.
July 10, 2013
Photos: James T. Miller
Twittear
"100 Years of Flamenco in New York" is a comprehensive exhibit that chronicles the history of Spanish dance and flamenco in New York City. Curated by scholars K. Meira Goldberg and Ninotchka Devorah Bennahum, it is an affectionate look at the presence of this art-form that walked arm-in-arm with ragtime, jazz and hip-hop in defining the era. An intimate portrait is presented of the travels of Spanish and American dancers who went to New York throughout the 19th and early 20th centuries in search of fame and fortune.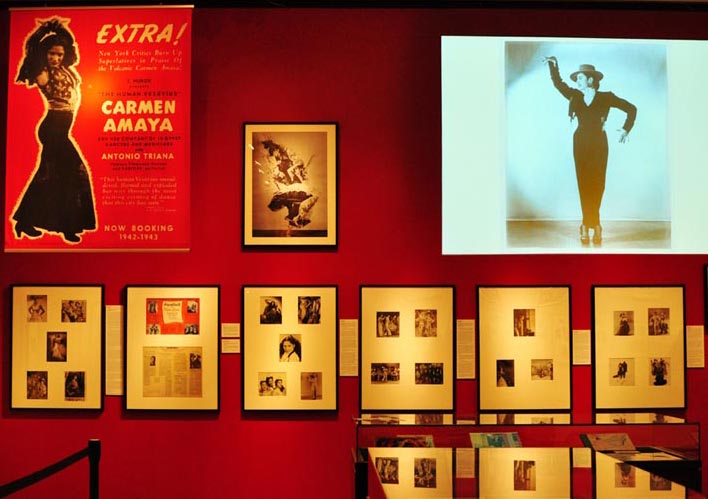 The exhibit, which continues through August 3rd at Lincoln Center's Vincent Astor Gallery, includes engravings, drawings, dance treatises, literature and souvenir programs bearing witness to the presence of Spanish dancers on New York stages. The space holds numerous images, banners, objects such as castanets, long-play records and a guitar signed by Vicente Escudero, in addition to original sheet music, costumes, shoes, hair combs and shawls of flamenco dance stars. Video monitors, a soundscape and slide show complete the audiovisual documentation.
Recently, the North American premiere showing of a new full-length documentary, "The Fabulous Sabicas", took place within the program of the exposition to honor the legendary guitarist who spent the greater part of his life in New York City.
Like other immigrant forms, flamenco came of age on new soil, melting into the established rhythms of the city, and the artistic evolution of Americans whose lifelong dedication produced an American school of Spanish dance is also represented.
Especially interesting is the historic film footage and the press reviews that give a sense of immediacy, and draw a varied picture of the significant role played by New York music and dance critics in shaping American taste.