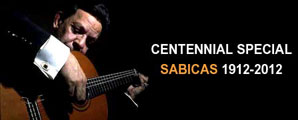 SPECIAL REPORT:
SABICAS CENTENNIAL

Investigation, coordination, translations and original text: Estela Zatania
With special thanks to Pablo Calatayud for the use of unpublished material from his documentary "Tras la Pista de la Leyenda de Sabicas", and to Brook Zern for documents from his private collection
REMEMBERING "NIÑO DE LAS HABICAS"
He was born one century ago.  Twenty-two years ago he left us, and his fame has only grown since then.  The huge glasses, the mischievous smile and the innocent countenance seemed to belie his genius.  Today however, no one questions the extraordinary talent of Agustín Castellón Campos, "Sabicas", a nickname derived from a childhood fondness for "habas", broad beans, or "habicas" in diminutive.
Despite some confusion regarding the date, and even place of his birth, thanks to the work of Pablo Calatayud, director of a new documentary about Sabicas, we know he was born in Pamplona on March 16th, 1912, on Mañueta Street, number 7, his father being from Zaragoza, and his mother from Madrid.  As a young man he faced the drama of the beginning of the Spanish Civil War, which led him to head for the Americas not long after his artistic and romantic partner, the legendary dancer Carmen Amaya, did the same.  The dancer from Catalonia and the guitarist from Navarra would go on to dominate and transform the flamenco genre, getting half the world hooked on its energy and communicative power, leaving their indelible mark on what is now officially a World Cultural Heritage.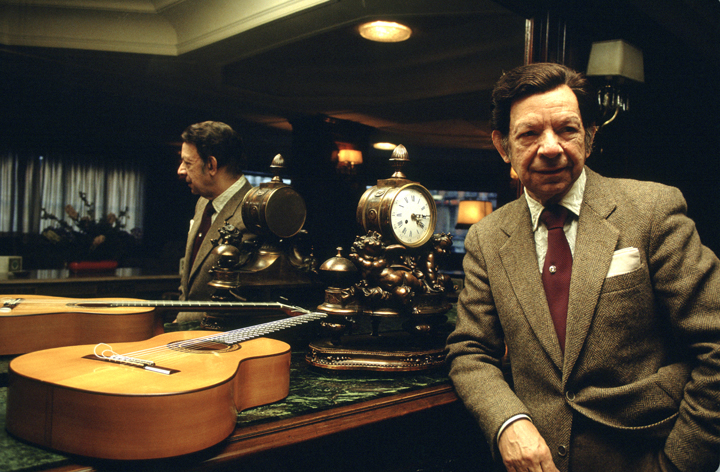 Sabicas at home (Photo: Paco Manzano)
But for Sabicas, the great Carmen Amaya was but a chapter in a long career the guitarist himself talks about in an interview he gave in the United States one year before his death, and which is reproduced in this centennial report, along with its previously unpublished Spanish translation.  Buenos Aires, Mexico, New York, over seven decades playing guitar, and more than thirty years away from Spain, Sabicas returned as an international star to a country that barely remembered him at all.  In an interview, guitarist Manolo Morilla (Morón de la Frontera,1924) had the following to say when asked about the impact when Sabicas' recordings began to reach Spain: "We were all astonished, all us guitarists…since he'd gone to America, we didn't know him, no recordings or anything…that way of playing, so flamenco…".  Fifty years ago guitarist Fernando Martínez (San Sebastián, 1913-New York, 1966) told me that the history of the flamenco guitar could be summed up in just three names: Ramón Montoya, Niño Ricardo and Sabicas (obviously that was before Paco de Lucía was in circulation).
In 1935 Fernando el de Triana mentioned Sabicas in the book "Arte y Artistas Flamencos", highlighting his fame as a child prodigy, self-taught (although he clearly followed the line of Ramón Montoya) and virtuoso from a land that was far away from Andalucía, debuting in public at the age of six, and being presented as a concert guitarist in Madrid at only ten.
In the United States, Sabicas would achieve fame and fortune as a flamenco guitar soloist, but a true soloist in the sense of no accompaniment or percussion of any kind, something seldom seen in those times, and rare today as well.  In New York he was at the center of a flamenco community of Spanish immigrants including among others, Mario Escudero with whom he recorded guitar duos, another novelty for the era, and Jerez singer Domingo Alvarado with whom he shared the stage in Carmen Amaya's company.
In his vast discography, there are more than a thousand references, between solo pieces and accompaniment, including the historic recordings with Carmen Amaya, or playing for Pastora Pavón, José Cepero, La Niña de la Puebla, El Cojo de Málaga, Pepe Pinto and Juanito Valderrama among many others.  He used to like to say that to play solo flamenco guitar, it was necessary to first play twenty years for dance and twenty years for cante.
Sabicas carried out one of the first experiments with fusion when he recorded "Rock Encounter" with Joe Beck.  He raised the technical level of flamenco guitar, and coaxed a sound out of the instrument that was unknown until then.  Paco de Lucía always tells how the recordings of Sabicas made him realize what clean sounds and tone quality the guitar was capable of.
He missed his home country of Spain very much, but according to the great guitarist Juan Maya "Marote" (Granada, 1936-2002) in an interview we did, Sabicas didn't dare return for decades:  "One day [in New York] Sabicas embraced me and said 'I want to go to Spain…here, there's nothing but sky-scrapers…but I can't return'.  And I said to him: 'at this stage of the game you still can't go back?'.  He was afraid…but later on he would return and now he's well-known in Spain. As far as I'm concerned, he was a tremendous guitarist, and I really heard him a lot".
He gave a noteworthy recital at the Teatro Real in Madrid in 1987 which was attended by Paco de Lucía, Manolo Sanlúcar, Andrés Batista, Juan Maya "Marote", Juan and Pepe Habichuela and Perico del Lunar, the crème de la crème of flamenco guitar.  On that occasion, Manuel Ríos Ruiz wrote: "In a very thorough rundown of the basic styles, in addition to genuinely creative compositions, Sabicas, overcome with emotion from the effusive ovations, gave a masterly lesson with his art, truly surprising and unforgettable.  In a nutshell, his concert was a major event.  And above all, he provided a rediscovery of classic flamenco.  In other words, that which is wonderful".
In 1989 there was a tribute to Sabicas at New York's Carnegie hall where Sabicas would play in public for the last time before his death.  In relation to that tribute, the maestro received a letter of recognition from the governor of the State of New York which is among the documents reproduced in this report.  At the press conference before the recital, Paco de Lucía, whom Sabicas considered his disciple, was present.  A quarter of a century earlier, young Paquito had arrived in New York with the company of José Greco, and he asked to be taken to meet Sabicas, a historic encounter which, in hindsight, we see as an important generational changing of the guard.
From his marriage to a Mexican dancer, Sabicas had two children who live in New York, Margarita and Agustín, 55 and 59 years old respectively, and since 2008 a commemorative plaque marks the house where one of the greatest masters of flamenco guitar was born.  He was buried in Pamplona, as was his wish, while a recording of his sounded.
In commemoration of Sabicas' centennial, director Pablo Calatayud has just completed an excellent documentary, "Tras la Pista de la Leyenda de Sabicas", and in the guitarist's hometown a number of official acts are being carried out, including a flamenco mass at the Cathedral of Pamplona on April 14th, the day he passed away.  But an anonymous citizen of Pamplona left the most moving words commenting on a related article: "How much love for Pamplona the Maestro Sabicas must have felt to wish his remains be returned to rest in his hometown! He ought to have a monument here, and a museum as well.  How many artists of Sabicas' magnitude are from Pamplona, how many others played in the great Gayarre theater the first time on stage?  It's not a very long list".
One year before his death, Sabicas recorded with the singer Enrique Morente, a historic event despite his diminished faculties.  The following chronicle from El País, recalls that encounter:
---
'Morente-Sabicas', a historic recording
Posthumous recording of the flamenco guitarist presented in Madrid
Ángel Álvarez Caballero, Madrid, April 25th, 1990
"I was obsessed with the idea of making this recording" declared Morente.  "I met the maestro 20 years ago, and he played for me in many fiestas, but there was no recording with him with today's sound accompanying classic flamenco singing.  And it was my belief that his guitar-playing had to be registered for posterity, because it would be a lesson for future generations of guitarists".  That was seven years ago.  Morente had proposed the idea to Sabicas, and the guitarist happily accepted.  But at that time record companies had completely forgotten about flamenco, and Morente, prepared to finance the recording himself, didn't have the means to afford it.  And so time went by until July of 1989, when the two men bumped into each other again in Bagur (Gerona), where the singer was giving a course for the Barcelona Taller de Música at the Carmen Amaya Center to which Sabicas had been invited.
The offer
Morente reminded him of his offer from years back, and the maestro again happily accepted. "How can I possibly say no my son", he told him, "if it's a question of recording good solid cante?"  Sabicas had always been a great lover of cante and enjoyed accompanying singer-friends of his in private parties.  In 1983, on various occasions at the café of Silverio de Malasaña, Sabicas would be accompanying the cante of whomever he was with until the wee hours, tirelessly, for his own pleasure and that of those who surrounded him.  From Bagur, Morente and Sabicas traveled together to Madrid in the dead of August to get into a recording studio.  There were no rehearsals or preparation.  Sabicas asked Enrique what he was going to sing, and where to put the cejilla, and many pieces were good on the first take.  Others that were repeated were good on both takes, because the master guitarist never played the same variations for the singer.  The entire recording was done in three sessions of two or three hours each.  And there was even time for some off-the-cuff playing and singing, like the taranta that Morente's little daughter Estrella sang for the maestro, and Sabicas singing for the girl in return.
"That way of accompanying cante, the way they played 60 years ago, will disappear with Sabicas" stated Morente.  "That freshness, that flavor, that color.  There are many guitarists who play wonderfully well, but they would make another kind of record.  Sabicas' thing will not be repeated".
Courtesy of El País
---
| | |
| --- | --- |
| | |
| With Fosforito, Diego Castellón, Juan Habichuela, Year 1965 | Diego Castellon, Pedro Cortés, Sabicas, Paco Ortiz in New York |
| | |
| Sábicas in 1990 | Portrait |
| | |
| Surrounded by admirers in Argentina | |
| | |
| Sábicas with Antonio Mairena | With Paco Cepero |
| | |
| Brook Zern with Sabicas | With Manolo Caracol. Private collection Esmeralda Enrique |
| | |
| 1941 = In Carmen Amaya's company, with mustache | Portrait |
Documents (Click to enlarge image or open the translation)
Birth certificate by Pablo Calatayud

Birth registration by Pablo Calatayud

Memoriam card with incorrect date and place of birth by Brok Zern


Guitar strings

Rough draft of promotional text

Governor's honorary citation by Pablo Calatayud

Article Ari Goldman 1990-Brook Zern

Article Brook Zern

Interview Sabicas (Mona Morlasky) – Part 1

Interview Sabicas (Mona Morlasky) – Part 2

Interview Sabicas (Mona Morlasky) – Part 3

Interview Sabicas (Mona Morlasky) – Part 4

Interview Sabicas (Mona Morlasky) – Part 5

Interview Sabicas (Mona Morlasky) – Part 6
---