Interview: Rafael Manjavacas Photos: Joss Rodríguez
On Saturday June 14th the Granada dancer will present "Paso a Paso" at the Teatros del Canal within Madrid?s Festival SUMA FLAMENCA.
We're speaking with her about the show, the creation process and her present and future projects.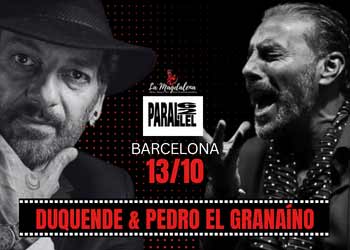 Publicidad DeFlamenco
Eternally young "Moneta", but with a long career in flamenco.  How long have you been dancing flamenco?
Since the age of 8, I was already putting on my first dance shoes, and by 12 I was regularly in contact with audiences in the caves of Sacromonte, we can do the math if you want.
But we've know you since the age of 16, you arrived in Madrid as a young hopeful.
It was Ian Davies who first took me to Suristan, one of Marote's advanced students, and then to Casa Patas, and the Madrid theater circuit when I was 14, 15, 16…
And complete works, you've got quite a few.
Well, there's"Lo que trae el aire", "De entre la luna y los hombres", "Extremo jondo", "Bailar y Vivir", "Paso a paso", that's 5 shows of my own, and others for which I did the choreography, two with Mauricio Sotelo, a composer of contemporary and classical music, "Muerte sin fin" and "Luz sobre lienzo". These are works with orchestra and violin, but based on flamenco.
"Extremo Jondo" is probably the best-known.
It was a before and after in my career, and we've presented it many times, I've enjoyed it a great deal, when I look back on what I'd done before, I think this work is the most original, and I like them all, but the approach of Extremo Jondo seems more comfortable and it goes by very easily.
 "Paso a Paso" is the show you're debuting, but last year you were with "La Capitana" in SUMA FLAMENCA with great reviews as well.
"La Capitana" was not a show in itself, it was a base, a sort of flamenco suite…a piece to add or subtract to keep developing, a version of "Lo que Trae el Aire", very special, a tribute to Carmen Amaya for her centennial.
What is "Paso a Paso" about?, tell us how it developed…
It consists of three movements in which step by step I lay out my dancing from different perspectives.  In the first part, it's my dance in relation to guitar, in the second, the dance of a maestro called Javier Latorre, a very important exponent, and a reference for young dancers.  I wanted to establish a reencounter with Javier as my maestro, from the time he let me loose in the world of flamenco, until now, when once again I find him.  The third is called Vereda, because I leave an open path, it's my relationship with the cante, dancing to the cante.  I leave the door open, and the next will soon come.
The show is 90 minutes long…
Yeah, it's hard not to be that long, I get involved in that kind of singing and lose control, it's very hard to cut, I'm probably a drag, but I have to end, people have other things to do.
You're on stage nearly the whole time.
I'm in the three movements, but there are moments of rest for the rest of the group to shine, cante solos, guitar solos, a solo by Javier which is incredible.
What interpreters participate in Paso a Paso?
The singers are Miguel Lavi, Morenito de Illora and el Mati, on guitar Luis Mariano who is the music director, Cheyenne on percussion and as guest artist, Javier Latorre.
It's a very flamenco show…
Yes, in guitar, singing and my own dancing, with an updated kind of flamenco.
You've already flirted with contemporary flamenco.
Well, "De Entre la Luna y los Hombres", the most contemporary element wasn't the dance but the format, more theatrical…I played a part for a specific message.  Actually, I felt just as much myself as in the other shows.
"Paso a Paso" debuted in the Bienal de Flamenco de Sevilla, how has the show grown since then?
It hasn't changed much, just a little retouching, some parts are more developed to give a different degree of intensity, it was a very natural process, Luis Mariano and I understand each other very well, and there have been very few changes.
Has the show been presented many times?
Less than other earlier ones, it's still being broken in, each time becomes more difficult, but we do hope that it will make the rounds.  The flamenco market is strange now, but we're use to working like this, it's never been easy, not for me, not for anyone.
Last year, along with Manuel Liñan you were commissioned to do "Lorca and Granada"… how did that go?
It was an incredible experience for me, with a group of ten people, with Javier Latorre and Lola Greco as guest artists.  Manuel and I did the choreography, night after night, a month and a half I would gladly have done for another 3 months, my first chance to try my hand at group choreography with more than four people.  Everything was big, including the responsibility.
That need to choreograph got into me and has led me to a project called Laboratorio Flamenco, urban flamenco.  We're working at the Granada Conservatory of Dance with 12 to 20 people every day.
I have that need to choreograph, and I need to work it off in this world where I'm taking my first steps to see what comes out, letting my imagination fly.
In the future, do you see yourself with a company in the style of Eva Yerbabuena or Sara Baras?
It's not out of the question that I may do that in the future, but for now it's not my approach…I'd like to break that system and go at it from another perspective…a turn of the screw is what we're doing at the Laboratorio de flamenco urbano…come and visit whenever you want.
 
Paso a Paso – Festival Suma Flamenca
Teatros del Canal – Sala Roja – 8:00pm
June 14th 2014 – More Information
---