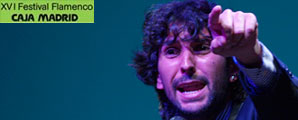 XVI FESTIVAL FLAMENCO CAJAMADRID 2008
"Zambra 5.1"
Cante: ARCÁNGELpresents "Zambra 5.1".
Guest artists: DAVID PEÑA DORANTES, piano and ROSARIO TOLEDO, dance.
Guitars: MIGUEL ÁNGEL CORTÉS and DANIEL MÉNDEZ. Percussion: CHICO FARGAS
Script and director : Manuel Correa
Music director: Arcángel
Thursday 31 january, 8.30pm
Text: Sonia Martínez Pariente
photos: Rafael Manjavacas
The art is what endures
A personal tribute to Manolo Caracol is the pretext for Arcángel's new show which was presented in Madrid in the Caja Madrid flamenco festival.  "Zambra 5.0" is the title the singer chose for this work in which he adds a computerized touch to be absolutely in tune with the times.  And it seems the comparison between then and now, the eternal debate about what is pure, and what is not, is the issue that has raised some hackles.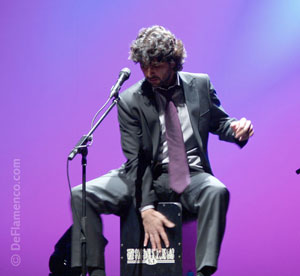 It's probably worse to pay attention to the most radical factions regarding purity in flamenco.  However, if the artist feels the need to take a stand and defend his ideas, there must be some reason for it.  Aside from all this, Arcángel is a singer who does traditional flamenco with a personal touch, a product of his times who on occasion has lent his voice to other musical genres and styles; whether or not you like his singing is another issue.  Even the use of the audiovisual element, present throughout the show, can be considered a modernism with regard to earlier times, but becoming common these days.
Putting the wrapper aside, what's mostly left is the fact that Arcángel gave quite a recital.  He began with the recorded repertoire of Caracol from his participation in the Granada contest of 1922.  Siguiriya, soleá and saeta, accompanied by the image of a Holy Week procession.  The singer delivered these cantes onn his own terms, based on his own abilities; if there's anything you can say about Arcángel, it's that you can tell he's a real pro and works everything over meticulously, making use of his flexible voice to reach highs and lows, softness or intensity, sweetness and absolute commitment.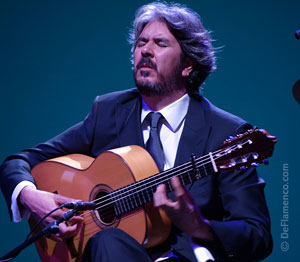 After a seering video that mocked a supposed "purist" in a psychiatric ward, and paying tribute to revolutionary singers such as Chacón, Pepe Marchena, Morente and Camarón, Arcángel sang some fandangos, the style he commands so perfectly, and then alegrías, another of his specialties which he sang for dancer Rosario Toledo who danced elegantly in a bata de cola, with sensuality and subtle flamenconess.  In bulerías, the singer paid tribute to the past and moved on to bullfight themes with the image of bullfighter Javier Conde who almost seemed to dance with his cape movements which were a pleasure to watch.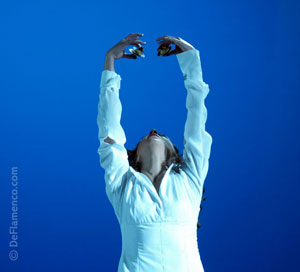 The piano of Dorantes marks out another part of the show where Arcángel interprets Caracol's zambras.  David Peña is a virtuoso at the keyboard and creates an excellent rapport with the singer's voice for songs like "Compañera y soberana" and "Carcelero".  It's an attractive group when he sings to Rosario Toledo, an intimate tête-à-tête in which the dance takes on a contemporary air.  Another high point is the malagueña Arcángel sings with Dorantes.  In the martinete, the singer seemed to pay special tribute to Enrique Morente who was present among the audience, inserting the Granada man's taped voice between others for a captivating effect. 
To end his fandangos de Alosno, an authentic indictment of the so-called purists, he combined all the elements of the show: image, dance, piano, guitar and the a capella voice of Arcángel.  In conclusion, if there's anyhing that stands out, it's the talent of a young artist trying to add his own identity and move audiences with his singing…independently of demands and debates.  In the end, it's the art that endures.
Video:
---