XVI BIENAL DE FLAMENCO DE SEVILLA
"RAÍCES DEL ALMA" Esperanza Fernández
"AL COMPÁS DE SOLER" Rafael Campallo
"FLAMENCO KIDS " José Luis Montón, …
Thursday, October 7th, 2010
Photos: Luis Castilla / Bienal de Flamenco
SPECIAL COVERAGE: BIENAL DE FLAMENCO DE SEVILLA 2010
"RAÍCES DEL ALMA" Esperanza Fernández
Teatro Lope de Vega  9:00pm
 
Text: Estela Zatania
Voice: Esperanza Fernández. Guitar: Miguel Ángel Cortés, David Carmona. Piano: Dorantes. Percussion: Paquito González. Chorus and palmas: José Manuel Ramos, Juan Sanjuán, Jorge Aguilar. Music director: Dorantes
The last recital I attended of Esperanza Fernández was in this same Lope de Vega theater in the next to last Bienal.  On that occasion I left after one full hour in which the singer had interpreted popular Andalusian folksongs and nothing remotely flamenco.  Afterwards, my colleagues informed me that at the end of the recital Esperanza had finally come forth with some cante and been outstanding.  Lesson number one: you have to wait until the end whenever possible.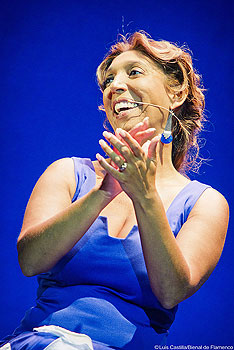 This time she didn't make us wait.  She opened directly with a long nana, and followed up with soleá and bulerías that figure in the program as "Tribute to Fernanda and Bernarda de Utrera".  Lesson number two: it matters little what styles or melodies are sung, it's all about delivery and voice.  The tribute consisted of recreating styles commonly sung in Utrera and always associated with the famous sisters, but even inserting a fandango por soleá as is so popular in Utrera, and Bernarda's famous version of "María de la Mercedes" it was pure Esperanza.
The singer had the exquisite idea of changing costume for each new song, and siguiriyas was up next.  Miguel Ángel Cortés provided the admirable accompaniment with the added dimension of a lowered sixth string he manages so well.  Esperanza has always included abandolao cante in her repertoire, and here she ended with an accelerated folkloric fandango de Albayzín, but it's in cantiñas where the force of authenticity is felt, drawing from her own personal experience: Pinini cantes in all their splendor dissolved into the equally pungent romance cante of Lebrija.
Another dress change to sing to the piano of Dorantes "De ti y de mí", followed by a bad idea that came listed on the program with the mangled title "My Fanny Valentine" [sic], and that means something even worse in British English than American.  The spelling mistake is nothing more than an insignificant comical error, but it symbolizes the danger of getting involved in things one is not truly familiar with.
"Baladilla de los Tres Ríos" to tangos, and "Manolito Reyes" to bulería rounded out the recital more credibly, but lesson number three in this chronicle is: flamenco singers shouldn't mess with international pop.
The encore which was a moving interpretation of "Gelem Gelem" to show solidarity with the global gypsy community left the best taste of all.
"AL COMPÁS DE SOLER" Rafael Campallo
Teatro Central 11:00pm
Text: Estela Zatania
Dance: Rafael Campallo. Cante: Londro. Guest artists: Juan José Amador, Antonio Molina "el Choro". Guitar: Juan Campallo, Jesús Guerrero. Percussion: José Carrasco, Antonio Montiel. Palmas: Bobote.
Some film footage of the much-missed Manuel Soler was the opening for this tribute offered by Seville dancer Rafael Campallo to that genius of flamenco.
 
The powerful economy of movement that was Soler's trademark, complements and harmonizes with the style of Manolo Marín, another maestro of young Campallo who has assimilated and digested this superb Seville school, delivering it to us via his own personal vision, no easy task considering the big personalities of the people he took inspiration from.
The ever-present cajón on stage symbolized the presence and absence of Soler.  Campallo danced siguiriyas that yearned to be bulerías, linked with martinete.  The form makes no difference because it's always the same one: "Campallerías".  Guest dancer Antonio el Choro is a young dancer still working his way up, but he has all the ingredients to become a star as evidenced by the alegrías he danced.
Campallo's farruca – possibly the only form (with the exception of zapateado) that sounds better without cante, which is how the dancer chose to interpret it – is supported by the excellent music of Juan Campallo and Jesús Guerrero on guitar.  Tientos, and two long, unforgivable percussion solos, one right after the other, try the audience's indulgence.
In bulerías, Campallo finds himself, takes his time, says what he has to say and pulls off some absolutely brilliant original moves, managing to avoid the syndrome of "virtuoso coldness" that a few years ago diminished the impact of his communicative power.  Juan José Amador fuels the flamenco machine with his knowledge and the rich sound of his voice, and the team of nine men reaches the heights.
Once again we see film footage of Manuel Soler, but now Campallo dances "with" him, and the sincerity of his desire to pay tribute to a great man who left us ahead of time is deeply moving.  In the final bow the dancer's heavenward gesture and a face twisted with emotion is a visual poem that still hurts just remembering the moment.
Flamenco Kids
José Luís Montón, Teresa del Pozo, Ana Salazar.
Teatro Alameda 12 noon
Cante: Ramón Jiménez "El Piti", Ana Salazar; Guitar: José Luís Montón; Percussion: Odei Lisazo; Flute and chorus: Cristina Fernández; Narration: Teresa Del Pozo.
Text: Gonzalo Montaño Peña

"Flamenco Kids" shows children in a world called "Quillolandia" (more or less "kidville") where many animals live who like music.
Truth is, it's heart-warming to get to a theater and see the place packed with youngsters.  I think it ought to be part of every school program, at least once a month to take kids to the theatre as a way of getting them accustomed to attending shows, and stimulating an interest in cultural activities in general, but it's clear there are important lagoons in the educational system.
As far as the work itself, Flamenco Kids seemed like a poor attempt to bring flamenco to children, if only because the show has very little flamenco.  It's "flamenco-ish", true enough, but with little music that might accustom students to hearing the basic melodies of cante.  At most, an "ayyy" here and there, but you get that in sevillanas too.  Although the compositions are not very flamenco, they are well-done, as are the lyrics, but there's really nothing to get kids hooked.
The various characters are appealing and the audiovisuals help youngsters understand something about them.
The length is just right for kids, barely forty-five minutes that might seem like more to them, especially when verses are sung but not easily understood.
The bottom line is, this is yet another attempt at didactic flamenco, but at least it got the kids to the theater and had them listening to a little music.
---