XVI BIENAL DE FLAMENCO DE SEVILLA
"FINALISTAS DEL CERTAMEN ANDALUZ DE JÓVENES FLAMENCOS" "JEREZ. LA UVA Y EL CANTE"
FERNANDO "EL DE LA MORENA", EL TORTA, LUIS "EL ZAMBO" .
"GRITO" – JOSÉ MAYA Y ALFONSO LOSA
"CÁDIZ ETERNA" – RANCAPINO, JUAN VILLAR, NANO DE JEREZ, MARIANA CORNEJO, CÍA LIDIA CABELLO
Saturday, September 18th, 2010

Photos: Luis Castilla / Bienal de Flamenco
SPECIAL COVERAGE: BIENAL DE FLAMENCO DE SEVILLA 2010
"JEREZ. LA UVA Y EL CANTE" – FERNANDO "EL DE LA MORENA", EL TORTA, LUIS "EL ZAMBO".
Teatro Lope de Vega – 9 pm
Text: Estela Zatania
Menú of the day at the Bienal de Flamenco de Sevilla: first dish, Jerez, and second, Cádiz.  Wonderful Jerez, beloved city that reinvents itself every day struggling to find the way to live up to everything they say about it.  "La uva y el cante", wine and flamenco, okay, Jerez is also famous for horses, but I guess the logistics of the Lope de Vega couldn't manage that.
No problem, the same old thing as always is more than good enough:  Torta, Fernando de la Morena, Luis Zambo, Enrique Soto…without Manuel Moneo an extremely important element seems to be missing, but with these four the Santiago and San Miguel neighborhoods are well-represented.  Add the musical guarantee of Moraíto, who's not so "Chico" any more, and the dancing, not exactly Jerez-style but universal and galactic, of Joaquín Grilo.  And a long long etcetera, because the flamencos of Jerez have a strongly symbiotic relationship.  Just like the excellent wine from this part of the world that tastes better (it's said) when sipped in its place of origin, Jerez flamenco needs its own ecosystem, a certain sound of the guitar, certain palmas combinations, a certain kind of lady (middle-aged, plump, with apron if possible), a certain repertoire of cantes and a certain body language.
| | |
| --- | --- |
| | |
No one understands this better than Manuel Moreno Junquera, our good old Moraíto, director of the show that can only be defined as a "work" in the sense that it begins with his solemn recorded off-stage voice, or because what follows corresponds to a script.  It's the eternal search for the Holy Flamenco Grail, the (impossible?) dream of so many people of finding the way to transfer flamenco as we enjoy it in the 'hood, to a theater stage, without losing spontaneity or looking disorganized.  Let's have a look at what the program notes said:
"Act one:  An explosion of bulerías".  (In other words, bulerías)
"Act two: Fernando de la Morena sings the trilla".  (In other words, Fernando de la Morena sings the trilla).
"Act three: Tables".  (In other words, Mateo Soleá, Luis Zambo, Torta and Enrique Soto sit around a wooden table to sing siguiriya, bulería pa'escuchar, soleá and taranto with cartagenera respectively).
"Act four".  (The juiciest "act" in which Joaquín Grilo pretends to appear spontaneously from the audience, and then proceeds to interpret an exquisitely crafted bulerías dance, without voice, to Moraíto's guitar arrangement in which he shows his extraordinary talent controlled and tempered in a way this dancer has never done before.  Impressive).
"Acto five: Big bulerías fiesta".  (In other words, reprise of Act one).
With the exception of Grilo, nothing new under the sun, but with the authority vested in me, and which I try to administer with utmost diligence, I feel like giving special mention to one of the least-known members of the group.  The bitter-sweet mystery and sincerity of the siguiriya sung by Mateo Soleá made me remember the words of Tío Enrique Sordera describing how years ago field-workers would be wakened in the morning by the sound of a voice singing siguiriyas.  
"GRITO" – JOSÉ MAYA Y ALFONSO LOSA
Teatro Central – 9 pm
Dance : Alfonso Losa, José Maya; Cante: Antonio Ingueta, Antonio Núñez "El Pulga", Saul Quirós, Mara Rey. Guitarra: Antonio Rey, Carlos de Jacoba; Percusión: Lucky Losada.
Text: Gonzalo Montaño Peña

"Grito" is the work of Alfonso Losa and José Maya, two Madrid dancers with different but similar approaches, who in this presentation face off with their feet in a battle to be the fastest kid on the block.  The show opens with a projected audiovisual in which images of twentieth-century wars are shown.  Simultaneously, a group of female dancers are on stage to express the madness of our society that doesn't stop to contemplate the atrocities committed.  This is one of the messages of a work that at times seemed extremely conceptual.

In the duets, the two dancers have a perfect rapport at every moment of the choreography, and their virtuosity is of a very high level.  The backup musicians had a great artistic level, the guitars in perfect communication, each one given his own place and audio space, and concerned with providing the cante with a harmonic and rhythmic backdrop.  Having a guitarist of the level of Antonio Rey is a good guarantee.
| | |
| --- | --- |
| | |
The singers were somewhat more monotonous, nearly all of them with the same sound, texture and range.  Of the four of them however, I would highlight the voice and delivery of Antonio Núñez "El Pulga" who was the most moving in the midst of so much high-flying technique.  Mara Rey also gave a different touch in her few moments in the spotlight, and perked up the audience.
In Alfonso Losa's solo numbers he demonstrated that in addition to that impressive footwork, he also has elegant arms, a very flamenco attitude and closings in the style of Farruco that respond with good taste to the singing-
José Maya is equally technical, fast as speeding bullet in his heelwork, perhaps a bit more gypsy in concept, but certainly similar to Losa in his dancing.
Both men know how to transmit the tremendous energy their style of dance sends out to the audience which responded with frequent shouts of "ole!".
Needless to say, these two artists are, despite their youth, already at the top of the heap.  I must confess, this approach to flamenco dance, which is quite the rage, the "Grito" or shouting as the show is called, becomes tiresome after a short while, and not only fails to impress, but actually begins to wear thin.
I realize this is a concept based precisely on that: rage unleashed, dancerly deeds of derring-do, insanely fast footwork, frenzy…  But I think maturity will finally settle these two down, giving them that ability to repose which they seem to be lacking, and when that happens, they will occupy the privileged place within flamenco dance they are destined to inhabit.
"CÁDIZ ETERNA" – RANCAPINO, JUAN VILLAR, NANO DE JEREZ, MARIANA CORNEJO, CÍA LIDIA CABELLO
Hotel Triana 11.45 pm
Text: Estela Zatania
The patio of the Hotel Triana, adapted for shows, is an outdoor venue that lends itself to improvisation and the absence of a script.  For this reason it also facilitates moments of genius or boredom, as the case may be…insecure, uncreative, underprepared artists need not apply.
From Cádiz, the land where the word "mañana" was invented, some of the best the city has to offer came to Seville's Bienal, with no delusions of grandeur, simply the desire to have a good time, make everyone happy and earn their wages.  The straightforward sincerity is welcome.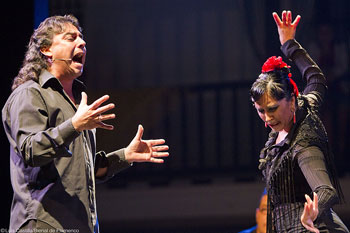 A dance group from Cádiz opened the program.  Three singers, Paco Reyes, Ángel Pastor and Raúl Gálvez took turns singing tonás as an introduction to Lidia Cabello's siguiriyas with Niño de la Leo on guitar, the violin of Emilio Martín and the percussion of Edu Gómez.  Voices singing simultaneously in harmony, something I've never before seen or heard of in siguiriyas, was an experiment whose repetition is ill-advised.  The diverse audience that filled the large patio was stingy with their applause for Cabello's somewhat academic routine.
 
At that point, the cool chill of the evening air had only been matched by that of the audience, but the appearance onstage of Juan Villar, Rancapino, Mariana Cornejo and Nano set off a resounding ovation that revealed a savvy audience.  The best of Cádiz cante was backed up by Jerez with the guitars of Niño Jero and Pascual de Lorca.  Cádiz the way it works best: natural and free-wheeling.  Mariana sang her cantiñas and bulerías de Cádiz, Rancapino his malagueña and alegrías, the old patriarch Villar took care of soleá and siguiriya where he can't be beat and Nano evoked his hometown of Jerez with bulería por soleá and bulerías up at the front of the stage where he inserted his tasty dance bits.  Between these veterans, that was about 250 years of flamenco knowledge onstage.
The sparkling spontaneous wit so characteristic of Cádiz showed up when Nano stumbled during the brief fiesta ending, and these 60-something people turned it into an excuse to head off-stage transporting Nano like a human wheel-barrow.  In the chill of Seville's early autumn night, the audience finally warmed up completely.  This is what they were looking for and what made them jump out of their seats as if they had springs attached.
"FINALISTAS DEL CERTAMEN ANDALUZ DE JÓVENES FLAMENCOS"
Teatro Alameda 6.00pm
Text: Gonzalo Montaño Peña
The venue offered by the Teatro Alameda reserved an evening for the winners of the first contest for Young Flamencos organized by the Instituto Andaluz of the Juventud de la Consejería for Equality and Social Well-Being of the Junta de Andalucía.  Young hopefuls in cante, dance and guitar-playing, Tamara Aguilera, Moisés Navarro and Francisco León respectively, had their chance to claim fame within the limited world of professional flamenco.
Tamara Aguilera was first, a promising singer from La Puebla del Río who studied at the Cristina Heeren Foundation, and demonstrated her knowledge in the most sober styles where she pulled up all her strength also showing great rhythmic sense when she interpreted the most festive styles.
It's clear this girl looks to Esperanza Fernández for inspiration, which can be an asset in her desire to know more about cante.  As soon as she gets the excessive force of her  voice under control, we'll have a very interesting singer.
Malaga dancer Moisís Navarro "Charro", was accompanied by Pepe de Pura and Enrique El Extremeño, which added a certain sheen to the performance in addition to providing inspiration for the dance.
The guitars of Jesús Guerrero and Juan Campallo afforded a rhythmic base that contributed to the impact of Charro's dances.
Moisés demonstrated his polished technique in the minera he danced, as well as good aesthetic sense, always within his contemporary but very flamenco line.  The tremendous strength of his feet allowed him to achieve some very impressive moments.
Without a doubt expressive power is this dancer's forté, and he has a good future ahead of him.
Guitar-playing was provided by Francisco León, the youngest of the three, but no less prepared.  This boy from Puerto de Santa María has been struggling for several years to become a guitar soloist after having played alongside Paco Cepero and others.
His music, attack and phrasing reveal a maturity not normal in someone so young, both in lyrical and rhythmic styles where his technique was surprisingly clean.
The field of guitarists is rather saturated with talent these days, and this places the level higher and higher for those wishing to enter the difficult world of concert guitar.
Francisco León thus becomes a contender with serious possibilities to make it to the top of this select group in the not too distant future.
---