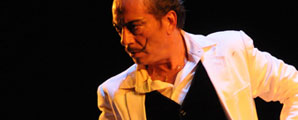 XV FESTIVAL DE JEREZ
Compañía Javier Latorre "El duende y el reloj"
María Mezcle, David Carpio
Lola Pérez, Ana Ma. Blanco
Thursday, 3rd March, 2011. Jerez de la Frontera
Text: Estela Zatania
Photos: Ana Palma
At five o'clock in the afternoon, at the Centro Andaluz de Flamenco, the program of parallel activities of the Festival de Jerez offered the first workshop of the series "Distinguir los Palos" by Faustino Núñez.  In the evening, a varied offering of shows completed the seventh day of the festival.
At the Palacio Villavicencio, an acoustic recital shared by María Mezcle from Sanlúcar, and David Carpio of Jerez, had a full house thanks to the extraordinary participation of guitarist Manuel Moreno Junquera, "Moraíto Chico", or simply "Morao" as they now call one of the most beloved and admired flamenco guitarists of our time, both because of this excellent guitar-playing, and his laidback affectionate personality.  Morao has recently been dealing with some health issues, and the intimate venue filled with friends, artists and admirers who gave him an emotional ovation at the beginning, and at the end.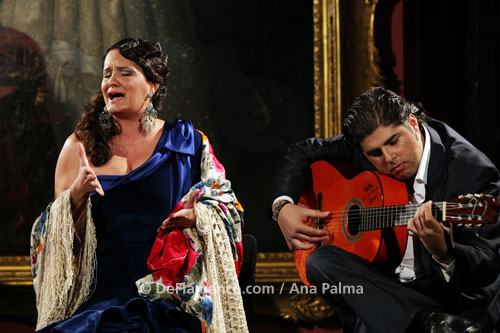 With Manuel Valencia on guitar, and the palmas of Luis and Ali de la Tota, María Mezcle sang an extremely lyrical version of farruca.  The luminous cante of caracoles took on greater substance with Valencia's crisp accompaniment that also enhanced the siguiriya, before ending with bulerías.
In the second part, David Carpio opened with tonás with the guarantee of the San Miguel neighborhood where he was born.  After declaring that singing in the Festival de Jerez with the guitar accompaniment of Moraíto was a dream he'd always had, he interpreted excellent romances, siguiriyas, fandangos and bulerías with the palmas and jaleo of Chícharo and Bo.
COMPAÑÍA JAVIER LATORRE "EL DUENDE Y EL RELOJ"
Teatro Villamarta, 9:00pm
Dalí: Javier Latorre. Duende: Karen Lugo. Leonardo da Vinci: Ricardo Luna. Niño de Archidona: David Pino. Descartes: Cristián Lozano (guest artist). Cuerpo de baile: Añida Gil, Hugo López, Irene Lozano, Encarna López, Alejandro Rodríguez, Berta Temiño. Cante: Antonio Campos, Delia Membrive (special collaboration). Guitar: Gabriel Expósito, Luis Medina. Mandola and cante: José Ángel Carmona (special collaboration). Percussion: Juanfra González, Paquito González (special collaboration). Original script: Philippe Donnier. Choreography: Javier Latorre. Texts: Philippe Donnier, Javier Latorre.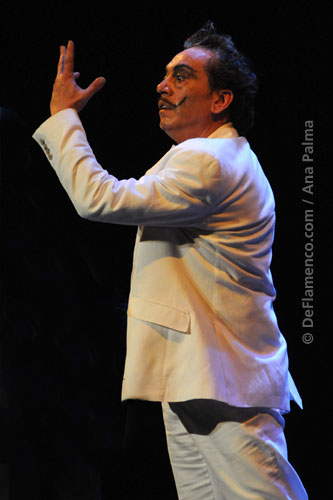 I've always defended the idea that it's necessary to respect the fact that performers or shows that fail, or simply don't go over, have required as complicated, arduous and costly a preparation as those which are successful.  The work "El Duende y el Reloj" is a clear example.  Seldom has so much money been spent on such noble intentions by such fine artists to achieve such disappointing results.
With an aesthetic reminiscent of Japanese manga, a show which at best could be considered juvenile, is based on the premise that the compás of flamenco is made up of numerical schemes.  It's a simplistic idea that could only come from the mind of a musician or a dancer, and in fact, the script is the work of musicologist Philippe Donnier and dancer/choreographer Javier Latorre.  At no point is the non-percussive element of cante taken into account, the driving force of flamenco, nor the fact that traditional singers don't relate compás to any numerical system.
But understanding is secondary to entertainment in this show, and we have to be content with the splendid interpretations of Ricardo Luna and Cristián Lozano who play Leonardo da Vinci and Descartes respectively, and the superb Javier Latorre who represents Salvador Dalí.  Mexican Karen Lugo is surprisingly efficient in the role of a kind of Tinker Bell, the tiny fairy from Disney, who speaks to us with reiterative monologues that make us all kindergarten students for a day.
The explanation of two- and three-beat measures, or the much bandied about "amalgam" compas is muddy at best, and the numbers that appear on a projected blackboard help little. The outdated idea that siguiriyas is accompanied "por medio" is harped on (someone forgot to tell Juan Talega).  The whole undertaking communicates more when practical examples are offered of each numerical scheme, such as tangos or farruca for binary measures, but strangely, instead of using abandolao to illustrate three-beat measures, they dance sevillanas, a strange choice (jaleos, more on the mark, are also briefly shown).  A practical demonstration of how soleá and siguiriya overlap, works a little better, although I doubt anyone new to the topic understood it.  A tanguillo offers variety, and the novelty of ending guajira with a cabal works well thanks to the shared musical scale.
 
The characteristics of free-form cantes, compared to those of compas, is also touched upon, but once again, the treatment is too superficial to give any real information, and too limited to work as art.
A brief unexpected intermission that seemed not to make sense, left people wondering if the show had ended, and contributed to muddying this unfortunate melange rendering it as thick as the salmorejo from Córdoba where the seed was sown of this well-intentioned attempt to bring the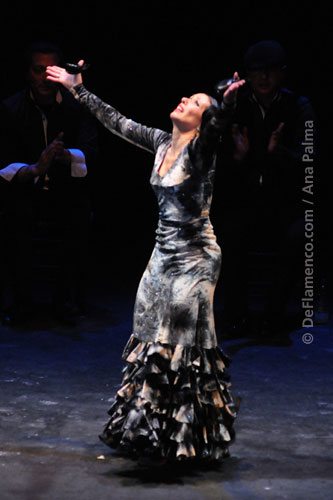 LOLA PÉREZ, ANA MA. BLANCO
Sala la Compañía, 12 midnight
At midnight, two dancers shared the stage of the Sala Compañía with discreet shows based on the most traditional sort of flamenco.
In 2004, Lola Pérez won the "Matilde Coral" prize at the venerable Concurso de Córdoba.  She came to this year's Festival de Jerez with her martinete and siguiriyas with palillos, and alegrías with bata de cola and shawl (exhibiting the influence of her maestra Blanca del Rey), with the cante of El Güeni, the guitar of Niño Seve, the palmas of El Mori and an overbearing cajón played by José A (sic).  This dancer is as competent as she is lacking in imagination, and her dancing was a catalogue of platitudes.
Ana María Blanco's guitarist, Juan Parrilla, was unable to perform due to health reasons, which left Jesús Alvarez the job of accompaniment.  This dancer had a little more personality, and brought along three interesting voices, Luis Vargas "El Mono", Agustín Mancheño and the impressive Cádiz singer, Miguel Rosendo.  With siguiriys, tangos and soleá she never quite got into what she was doing, nor even appear to have that intention, and looking back on this long day that began in the early afternoon, the most moving moment remains the appearance of Moraíto hours earlier at the Villavicencio.
---