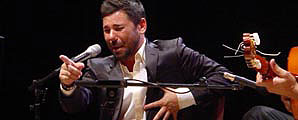 XLIV Gazpacho Andaluz
Centennial of the birth of Joselero de Morón
Saturday, July 31st, 2010. 2230h.
Plaza de toros, Morón de la Frontera
Text and photos: Estela Zatania

Cante: Miguel Poveda. Guitarra: Chicuelo. Alfonso Luna and his group with Paco de Amparo, Domi de Morón, Ignacio de Amparo, Jesús and Domi Junior. Solo guitar: Francisco José Gómez.  Dance: Pepe Torres' cuadro: cante, Moi de Morón, "El Galli", Miguel Lavi and guitar, Eugenio and Paco Iglesias
WITH FEW INGREDIENTS, A FLAMENCO BANQUET
Programs can be just as unpredictable as a paella; regardless of the ingredients, until it's on the table you don't know how it's going to come out.  On this occasion, people who flocked to the forty-third edition of the Gazpacho Andaluz to see and hear their idol, Miguel Poveda, had no reason to complain about the rest of the evening.  This was largely due to the organization's wise use of limited resources.  If in previous years there were six or seven high-flying artists, this year's Gazpacho was well-rounded and sufficient unto itself precisely because of the diversity offered by just three main ingredients: the festive cante of Alfonso Luna, the impeccable dancing of Pepe Torres and professional social phenomenon, Miguel Poveda.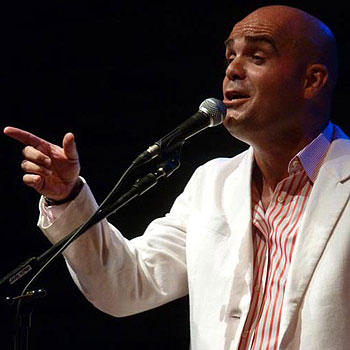 From up in the bleachers you could see dozens of people fanning themselves to palliate the intense heat of this typical Andalusian summer evening when the show got underway at half past ten.  Before speaking briefly of Joselero de Morón, the person to whom the Gazpacho was dedicated this year and whose mysteriously innocent voice had earlier filled the air, emcee Juan Ortega mentioned the recently approved Catalonian law banning bullfighting, and the irony of being in a bull-ring to celebrate another deeply-rooted cultural manifestation.  As is the custom in this guitar town, the program opened with a mini recital by soloist Francisco José Gómez who played soleá and bulerías with the unmistakable sound of Morón, and a sort of danza mora.
Another facet of flamenco in Morón has always been the popularity of bulerías songs at fiestas and informal gatherings.  Young Alfonso Luna, with a new recording titled appropriately enough, "El Gusto por la Bulería", had no complexes about delving into this festive form which is not necessarily as frivolous as you might think.  This is a singer who grew up listening to good cante, and with his group sending out waves of flamenco feeling, he rendered classics like "Ojos Verdes" and "Toda una Vida" apt for consumption by flamenco fans.
A second guitar soloist was offered as a "surprise"; young Luis Torres, grandson of Joselero played soleá with the most intense flavor of Morón.  Following this, another grandson of the beloved singer, Pepe Torres, lest we forget that the current generation in Morón has produced excellent dancers, most notably Juana Amaya, Juan de Juan and Torres himself.  Three interesting young singers, David el Galli, Moi de Morón and Miguel Lavi, and the solid guitar accompaniment of Eugenio and Paco Iglesias, backed up alegrías and soleá danced with the sober elegant style and good compás that characterize one of the few young people who follow a traditional line of dance nowadays.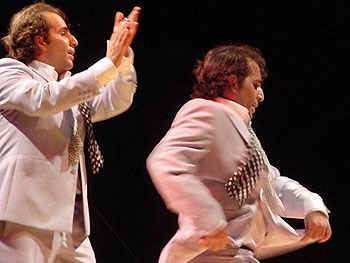 Pepe Torres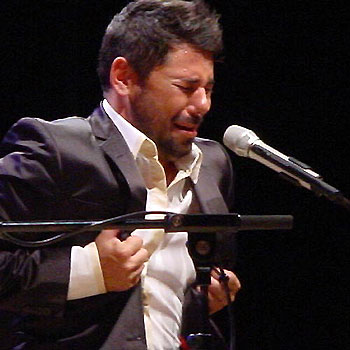 After a glass or two of gazpacho in the intermission, we were all prepared to receive the Poveda experience.  Even hardliners have succumbed to this singer's talent and charm.  The most intransigent gypsyphile and the most chauvinistic fan from Jerez.  Miguel Poveda has convinced nearly everyone with his impressive command of cante, knowledge the Catalonian has managed to transfer from theory into practice.  If other artists started out with nothing but their family and brackground, and went on to hone their skills over the years, Miguel reversed the process; after the imperfect perfection of his beginnings, based necessarily on recordings, he came to have enough wisdom that he could say to himself "I only know that I know nothing", and made it his business to gather as much real-life experience as possible to become what he is today: the most prestigious, the most admired and sought-after flamenco singer, the one who triggers the longest lines and fills the biggest venues.  The first non-Andalusian to reach such a level of popularity and success in this genre, Poveda has nearly as much box-office draw as Camarón twenty years ago.  In recent editions of the Gazpacho, including tributes to Diego del Gastor and Antonio Mairena on their centennials, there were only about 400 people.  On the night of July 31st there were well over a thousand, with all the associated problems of insufficient tables and chairs that such a dramatic increase poses.  Clearly the change could not be attributed to Joselero, but only to the presence of don Miguel Poveda. 
With his faithful sidekick and guitarist Chicuelo, and the palmas of Luis Cantarote and Carlos Grilo, Miguel once again showed his constancy and capacity.  Cantiñas, malagueña de Peñaranda (a welcome respite from so much Mellizo) with jabera, soleá, "Tres Puñales" in the version of Gaspar de Utrera, a lengthy assortment of bulerías a capella, encore of "Alfileres de Colores" with his tasty little dance, and all the while hundreds of blinking telephones documented the moment audiovisually.
More information:
Special centennial report on Joselero
---