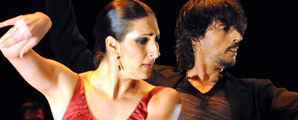 XIII FESTIVAL DE JEREZ 2009
Laura González, Marga de Jerez
Miguel Ángel Berna, Úrsula López, Rafael Campallo
"Flamenco se escribe con jota"
Pastora Galván
Monday, March 9th, 2009. Jerez de la Frontera
Special XIII Festival de Jerez 2009. All the information
Text: Estela Zatania / Photos: Ana Palma Photo gallery
Laura González, Marga de Jerez
Palacio Villavicencio, 7.00pm
For those readers following the series of recitals by women guitarists being offered by the Festival de Jerez, let's clarify something.  Historic female singers who used to accompany themselves on the guitar with basic chords, cannot be compared to concert soloists with high technical level and ample repertoire.  At the Palacio de Villavicencio young women of the second type have been programmed, professional guitarists who can stand on their own.  Laura González from Córdoba, a city with a strong guitar tradition, last night offered a dignified recital, exhibiting a dynamic touch and good execution throughout complex material that included granaína, zapateado, alegrías and a beautiful guajira.
| | |
| --- | --- |
| | |
In the second part, young Jerez singer Marga de Jerez surprised us with her experienced and instinctive delivery.  Even more surprising is to discover from her curriculum that she learned at one of the many schools which tend to turn out young ladies with lots of cante and little personality. In fact, Marga is all personality…chatting up the audience, joking with her group, singing with a voice that sounds like none other, even when interpreting old cantes she had to have learned from recordings.  It was an unfortunate miscalculation to have brought heavy-duty percussion to the intimacy of the small room at the Villavicencio, and in any case, I'd say Marga is self-sufficient enough to stop a train. Debla, toná, updated farruca, bulería por soleá without guitar, personalized and very much in the Jerez style, tangos, fandangos, bulerías with well-administered cuplé, something rare in Jerez singers (they tend to sing complete songs, which isn't the same thing), full of authentic flavor….and a fiesta ending with the singing of guitarist Manuel Yunque, and dancing by the palmeros included.  Young Marga de Jerez sings with her eyes open…literally…a sign of her self-confidence and the desire to be recognized as she deserves.
Miguel Ángel Berna, Úrsula López, Rafael Campallo
"Flamenco se escribe con jota"
Teatro Villamarta, 9:00pm
Dance: Miguel Ángel Berna, Rafael Campallo, Úrsula López. Cante: Juan José Amador, Miguel Rosendo. Guitar: Jesús Torres, Javier Patino. Aragonese musicians: jota singer, Lorena Palacios, Spanish guitar, Guillermo Gimeno, bandurria, Alberto Artigas, percusión, Josué Barres.
I love jota…anything wrong with that?  Years ago, nearly all the flamenco dance companies included a jota dance in their repertoires, and I learned to appreciate the only Spanish folkloric dance, with the exception of sevillanas, that can compete with flamenco.  The half-innocent, half crude way of singing, the sound of the bandurria, those impossible jumps and cabrioles, the castanets, the subtle flirtation between young men and women, the popular humor…"Is that the road to Zaragoza?"…"Nooo…that's the road FROM Zaragoza!"
| | |
| --- | --- |
| | |
But just as has happened in flamenco, the Aragonese folkdance par excellence, now seeks the sophistication that will allow it to be accepted by a broader audience.  Dancer Miguel Ángel Berna has done a lot to renovate and domesticate the jota, eliminating the traditional Aragonese costume and adding the elegance of his figure and power of his talent. "Flamenco se Escribe con Jota" is visually entertaining, if a bit short on pretext.  Historians tell us that flamenco's alegrías are a direct descendant of the jotilla of Cádiz, by way of the jota, with the important intervention of Enrique el Mellilzo…so far so good.  But it makes no sense to harp on the shared scale and compás when a large part of the Western world's folklore has the same three quarter time and major key.
Once you assimilate the contrived pretext (there is much overlapping of jota and alegrías), you settle into your seat to appreciate the feats (no pun intended) of Berna, the sharp dry style of Rafael Campallo and the beauty of Úrsula López.  Berna pulls off astonishing sounds with the castanets he wears on his middle finger, managing a continuous roll as good as anyone ever did wearing them on the thumb – it's the equivalent of typing faster with two fingers than someone using all ten.  He doesn't use the typical leaps for easy applause, but administers them with taste.  The sweetly rancid voice of Lorena Palacios, the jota singer, raises more goose-bumps than some flamenco singers.
Rafael Campallo is unique, one of the best-prepared dancers of his generation, with a personal and very flamenco style, movements of old men, distilled and adapted to his age and faculties, reflecting the excellent training from his maestros, Manolo Marín and José Galván.  Úrsula López interprets a long tientos tangos, but her most important function is in unifying the two genres in this admirable and entertaining show.
Pastora Galván
Sala la Compañía, 12 midnight
Dance: Pastora Galván. Cante: David Lagos, La Tobala. Guitar: Ramón Amador. Percussion: José Carrasco.
Pastora Galván, far from being "the sister of…", is a miracle.  A great dancer with much to draw on, she is alternately classic and conventional, avant-garde and surreal, and physically beautiful.  I can't recall any performance of hers that has not left me impressed.  In a certain sense, she has the same quirky genius as Israel, house-broken and digested for consumption by the kind of audience that is suspicious of anything announced as "a daring work".
The first number is just plain perfect.  A family gathering is represented: Pastora, dressed as a frumpy housewife, gets up and dances the dance of old neighborhood patios, including typical suggestive movements, good humor and intuitive knowledge of a past she can only have heard about or seen in old footage, far-removed from the flamenco dance of cafés cantantes and tablaos.  In fact, a certain process of distillation can be observed, from that autochthonous Andalusian dance, to today's Galván style.
David Lagos is splendid with soleá de Triana.  Then follows siguiriya, fandangos with the compás knuckled out on a table, bulerías… La Tobala sings malagueña and abandolao, and Pastora returns in bata de cola for alegrías.  She does another complete dance, tangos, with cantes of Repompa and Triana, full of flavor, but the pace never achieves the level of the first scene which seemed to promise something more that good dancing.
For the inevitable encore, Pastora, seated, in profile to the audience, sings without accompaniment, for palmero Bobote whose dancing takes us once again to those neighborhood patios where he grew up.
The night still offered the show of Carmen Herrera, Esteban Guerrero "Caracolillo de Cai" and Miguel Salado at the venerable peña Los Cernícalos.
Special XIII Festival de Jerez 2009. All the information
---