Vicente Amigo's tribute to the Cante de las Minas where he triumphed 25 years ago
Diehard fans paid tribute to the brilliant guitarist from Córdoba upon his return to La Unión, the place where he won the Bordón Minero in 1988.
August 7, 2013
Photos and video: Rafael Manjavacas
Twittear
After a sensational performance, his link to this town was forever immortalized when he unveiled his "Lámpara" on the Avenida del Flamenco.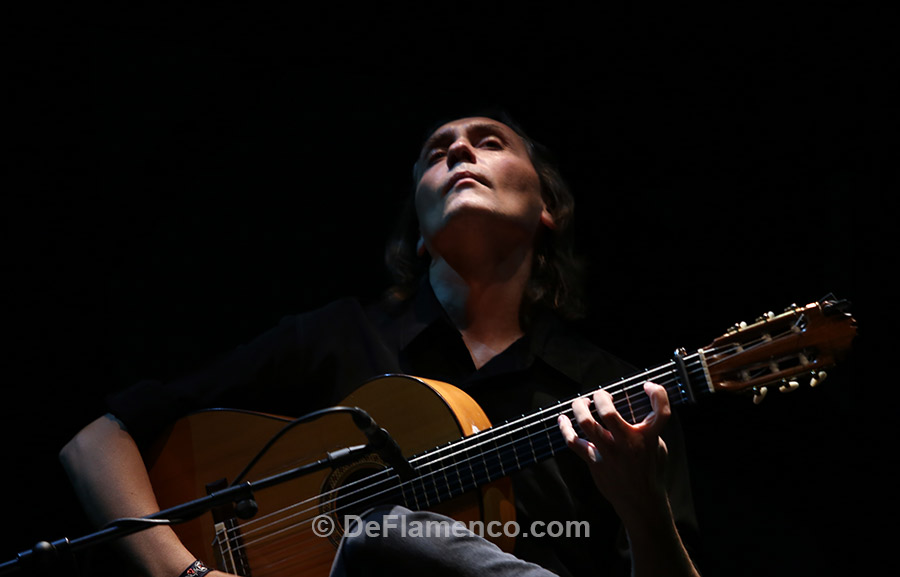 The Catedral del Cante was in awe of Vicente Amigo in a performance that got the audience to their feet in this town that treats him as a native, and saw his artistic birth twenty-five years ago when he was awarded the Bordón Minero, the festival's highest guitar prize.

The Córdoba guitarist came to the stage of the Catedral del Cante to begin with a taranta solo titled "Reino de Silia", the same composition that earned him the Bordón Minero in 1988. On this occasion the taranta was linked to a soleá, "Córdoba", considered the traditional opening number he uses to test the waters of his audience. In the words of Vicente himself, "I began with that taranta because that's where it all started, and I can't forget where I'm coming from. It's a way of stepping on firm ground".

After this solo, Vicente Amigo spoke to the audience saying he was "delighted to return to La Unión, where I owe so much and feel so at home. It is a very special place where many dreams have come true, something which has always motivated me to continue in this struggle which is not always the bed of roses it appears to be".

After some 15 minutes, the regular group came on, composed of singer Rafael de Utrera, guitarist Añil Fernández, percussionists Paquito González and Patricio Cámara, bass-player Juanma Ruiz, violinist Alexis Lefevre and flautist Agustín Carrillo. Together they reprised pieces from earlier recordings such as the fandangos "Mensaje", followed by material from his new record such as "Tierra", "Bolero Padres", "Campos de San Gregorio" and "Río de la Seda". Halfway through the concert, Amigo player another taranta, "Un Momento en el Sonido", ending with "Azules y Corintos" and "Roma".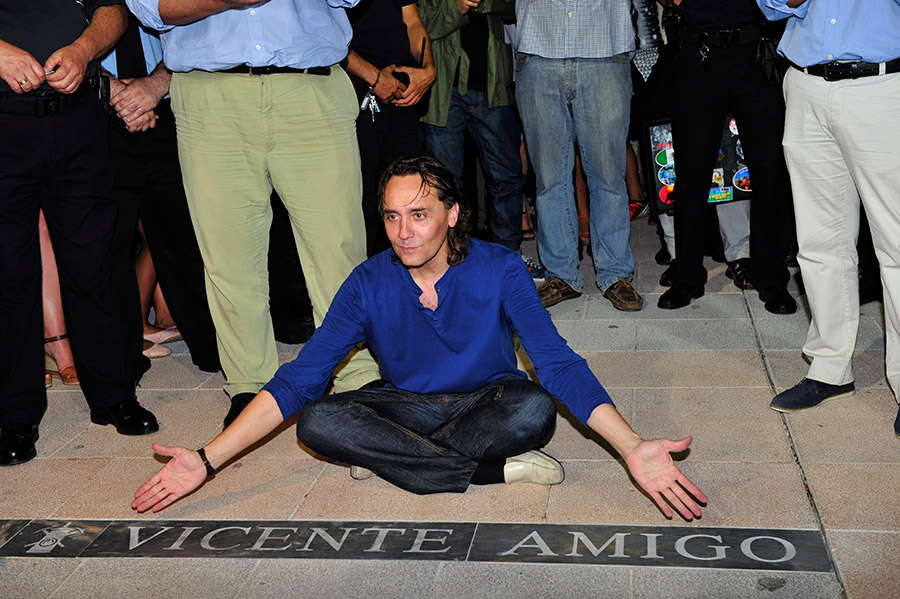 The evening concluded with the unveiling of the "Lámpara Vicente Amigo" on the Avenida del Flamenco, a new recognition conceded by the festival, and which Vicente amigo accepted as a surprise: "if only my father could see this!, I hope he feels as honored as I do. I hadn't expected anything like this, I'm going to have to come and live here".
Special 53 Festival Internacional del Cante de las Minas