`Suite´ Belén Maya and Olga Pericet Jueves Flamencos Cajasol
April 15, 2010
Twittear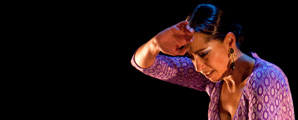 Jueves Flamencos Cajasol
`Suite´ Belén Maya y Olga Pericet
Thursday, April 15th, 2010
Sala Joaquín Turina, Seville.
Text: Gonzalo Montaño Peña.
Photos: Remedios Malvarez.
Dance: Belén Maya, Olga Pericet; Cante: Jesús Corbacho, Miguel Ortega, Miguel "El Picúo"; Guitar: Javier Patino, Antonia Jiménez.
The concept of a "suite" is a piece that includes various danceable orchestral movements. This musical form is used by Belén Maya and Olga Pericet so that within one single work, in this case flamenco, dance and cante alternate in an aesthetic musical discourse that seeks a contemporary look without forgetting form and technique, but trying to communicate.
Al igual que en la Suite Barroca, esta obra comienza con un preludio instrumental a cargo de Javier Patino donde el músico muestra su guitarra de sonido limpio y dentro de unos cánones clásicos de buen gusto. La voz de Jesús Corbacho recrea el cante fielmente sacando los bonitos graves que su garganta tiene. En este momento sale Belén. El entorno escénico sobrio, oscuro y ella plateada. Ella en si misma es una suite de conceptos que ha sabido aunar dentro de un baile muy flamenco.
Just as in a barroque suite, this work begins with an instrumental prelude played by Javier Patino in which the musician produces a clean sound with good taste, keeping to the classic forms. Jesús Corbacho's voice delivers the cante faithfully, making use of the fine low range his voice is capable of. And then Belén appears. The staging is sober and dark, she is in silver. She herself is a suite of concepts she has managed to bring together in a very flamenco style of dance.

From this moment on, the dancer exhibits her command of bodily expression, continually making use of every muscle, using feet, arms, elbows, wrists – everything is in movement but always in context. But the best part of this discourse is not only what she says, but what she silences. This is one of the things I like most about her, the use of silence. Silence can be understood as death, the big nothing. She shows that silence has music, that it can be danced, and she is on top of it all the time as demonstrated in the siguiriya.

Tangos is one of this dancer's strong points where she draws on all her ethnic roots. Granada and the Albayzín are on display with rhythmic movements that complement the cante, and on this occasion, some comic moments are included, something not customary in Belén Maya.

The musical arrangements are not complicated, but they get you right into the mood, for example in verdiales, where Olga Pericet wears a flowered hat and bata de cola. In actual fact, this dancer appears little throughout the show, although she makes a very good impression, not only in the verdiales, but in the closing fandangos of Toronjo where she exhibited great power and command of the castanets, and her movements filled the entire stage, just as in the duet with Belén where even though she overshadowed her partner, her dancing was elegant and symmetrical.
Overall, there was a lot of talent on display, intelligent use of technique and the expressive resources of one of the most important stars of flamenco dance today, namely Belén Maya, of another who will surely become known soon, Olga Pericet. The singers were correct within the concept of singing for dance, though not moving, and the guitarists assumed their roles with some noteworthy moments.
More information: