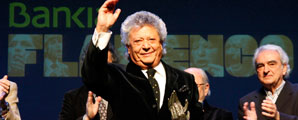 Niño Josele / Mariana Cornejo / Pansequito
20th Festival Bankia Flamenco 2012
February 10th, 2012 – Teatro Circo Price (Madrid)

Text: Isaac Rodriguez
Photos : Rafael Manjavacas
VARIETY IS THE SPICE OF LIFE
Tonight was another great night in many ways; plenty of variety, and occasional good taste.  We travelled in the space that separates Almería from Cádiz, we alternated between guitar, cante and character dancing and journeyed through beauty, vulgarity, grace and mysticism.  A night of good singing and masterful guitar-playing, although diametrically opposed.
The evening began with the Calle de Alcalá award to the maestro Pansequito, presented by Manuel Ríos Ruiz with the presence of the venerable panel of judges: Velázquez-Gaztelu, Álvarez Caballero, Gutiérrez Carbajo, Félix Grande, Caballero Bonald and Alejandro Reyes.  The first wave of good taste.
And then appeared the young guitarist Niño Josele from Almería, to play a taranta rich with feeling.  This was, I believe, the best piece of his performance, along with the upbeat siguiriya that followed, backed up by the solid singing of David de Jacoba and Cristo Heredia.  The rest, including a monotone bulerías with the whole group he normally works with, barely went beyond Josele's humdrum accompaniment.  Special whispered mention for the machine-gun dancing of Juan de Juan: twenty minutes, up and down and all around, stomping his feet and carrying out grotesque pirouettes that only managed to show that Juan de Juan doesn't suffer from bunyons.  Baltasar said it four-hundred years ago: "Short and sweet is doubly good…and even what's bad, isn't all that bad if it's short.  Essence goes further than overkill".  That's basic.
With the always effective, virtuoso and expert guitar of Antonio Carrión, veteran Mariana Cornejo gave us a fine good time with her festive singing full of graceful wit and luminescence.  Alegrías good and "alegres", bulerías por soleá, bulerías de Cádiz with jota expertly put together, more bulerías and some very tasty tanguillos were the lady's credentials to back up a well-deserved place on the program.  So her singing isn't as profound as so-and-so's…whatever…who cares?
To close out the night, no one better than the recently honored José Cortés Jiménez, "Pansequito" .  This well-seasoned singer from Cádiz clearly deserved the "Calle de Alcalá" because of his artistic maturity, his experience and his long professional relationship with Madrid.  And on this occasion he more than demonstrated what he's worth.  He began with alegrías, very slow, almost the opposite of what his fellow-Cádiz singer had done only a short time before, demonstrating from the outset his control and good taste.  Afterwards, he did a soleá that could serve as a prototype of this cante.  "What is 'classic'?" someone once asked Marcial Lalanda.  "Classic is that which cannot be improved" answered the maestro.  (This anecdote is borrowed from Félix Grande who told it to me during intermission).  The taranto that followed, the bulerías and the fandangos were all delivered by Pansequito with the same carefully measured phrases and evenhanded temperament shown earlier in the soleá, carressing the verses and bordering on classicism.  And of course, none of this would have been possible without the guitar of Diego Amaya, so enthralled with the cante, such a treasure.
---