Text: Estela Zatania
Photos: Ana Palma
20th FESTIVAL DE JEREZ
Manuel Liñán "Reversible"
José Valencia "Directo"
Sunday, February 28th, 2016. Jerez de la Frontera
Special 20 th  Festival de Jerez – All the information
A flamenco feast, courtesy of Liñán and Valencia
MANUEL LIÑÁN "REVERSIBLE"

Teatro Villamarta, 9:00pm
Director:  Manuel Liñán. Director's assistant: José Maldonado. Dance and choreography: Lucía Álvaro "La Piñona", José Maldonado, Manuel Liñán. Guest artists: Lucía Álvarez "La Piñona", José Maldonado. Special collaboration: El Torombo. Cante: Miguel Ortega, David Carpio. Guitar: Francisco Vinuesa, Pino Losada. Percussion: Miguel "El Cheyenne". Music: Francisco Vinuesa, Pino Losada, Miguel  "El Cheyenne", Miguel Ortega, David Carpio and popular.

The Festival de Jerez follows its course, now in the home stretch.  Last night, at the Villamarta Theater, Granada dancer Manuel Liñán proved that flamenco and the avant-garde are not at odds.  At all.
The freshness of an open mind and a flamenco spirit, in one single individual overflowing with imagination, and guided always by knowledge, home-grown art yielding a result unlike any other, while at the same time bowing to existing codes.  Because there has always been that latitude in flamenco, you just have to find it and receive it with honesty.  Because yesterday's avant-garde is tomorrow's cliché, that's how brutal experimentalism is, and only that which is truly worthwhile endures.
Many works boast of breaking the mold, or throwing off prejudices, but they lose their way amidst unbridled novelty dressed up with crazy pranks for the mere sake of being different.  Liñán's flamencometer is nearly infallible.  When he comes out in his famous bata de cola, it's not even surprising any more.  The surprise would be if it were missing.  There are other gender-ambivalent elements that are subtle but coherent.
The custom of the presentation number is spectacularly recuperated.  A burst of bulerías, full speed ahead, that seems more like a fiesta finale.  An explosion of energy that has the audience jumping out of their seats just a couple of minutes after the curtain has gone up.  The repetition of theatrical elements, such as red carnations, multi-use ropes and the "Romance de la monja", fulfill their mission of creating mystery without being distracting.
Many folkloric elements provide dimension without taking away depth.  You begin to see how the barrier between popular customs and flamenco may not be as clearly defined as people might think.  According to the dancer, the title "Reversible" alludes to the lack of direction of time.  This is reminiscent of Vonnegut's masterpiece "Slaughterhouse 5" in the way time loses definition, and the past may take place after the future.
And some terrific singing.  The small market these days for solo flamenco singers, has had the effect of putting these artists at the service of dancers.  None other than Miguel Ortega and David Carpio, two young accomplished singers, give substance and credibility to a work that deserves nothing less.  And if anyone were questioning the flamenco nature of "Reversible", there's always Torombo, that free spirit, more flamenco than flamenco itself.  Also admirable are the two guest artists, José Maldonado and Lucía Álvarez "La Piñona", and guitarists Francisco Vinuesa and Pino Losada who have some novel and efficient musical ideas.
Tientos tangos, alegrías cantiñas, bulerías, guajira, soleá and soleá por bulería…the form is the least of it.  Manuel Liñán stirs the great flamenco soup without spilling a drop.  Rather than reinvent flamenco from scratch, he lets us see it with untainted eyes.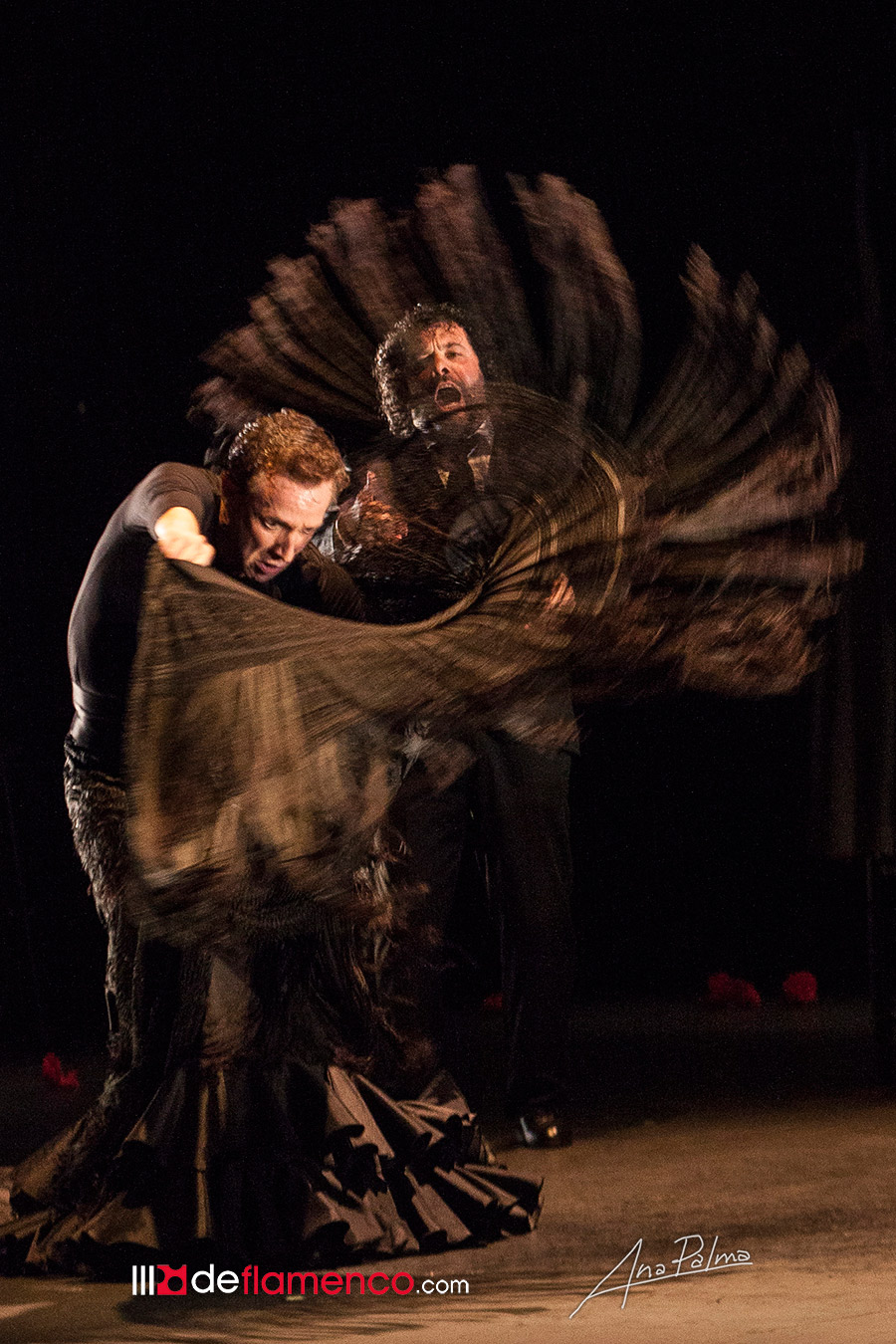 Photo Gallery by Ana Palma – Video 
---
JOSÉ VALENCIA "DIRECTO"

Bodega González Byass, 12 midnight
Another tremendous artist was waiting for us at the González Byass bodega.  The Pavarotti of flamenco singing, the man from Lebrija, none other than José Valencia.  On guitar, two young masters, Juan Requena and Manuel Parrilla.
The title "Directo" reflects the fact that this repertoire was recorded on CD-DVD during a live performance at the last Bienal de Sevilla.  On that occasion, the weight of responsibility limited the freedom of this singer who likes to prowl around the stage like a caged panther, searching for the right place to let loose his boundless energy, arms flying and gesticulating.  Last night there was no holding back.  Valencia delivered his cantes, some of them little-known:  pregones, fandango por soleá del Mellizo de Lebrija, granaína, soleá por bulería with that familiar whiff of Lebrija and wrapped up with El Gloria, sublime, taranta with bulerías-like abandolao, livianas…  Also, alegrías cantiñas, and abundant bulerías, handkerchief in hand, like an Iberian Louis Armstrong.  What a dizzying flamenco ride.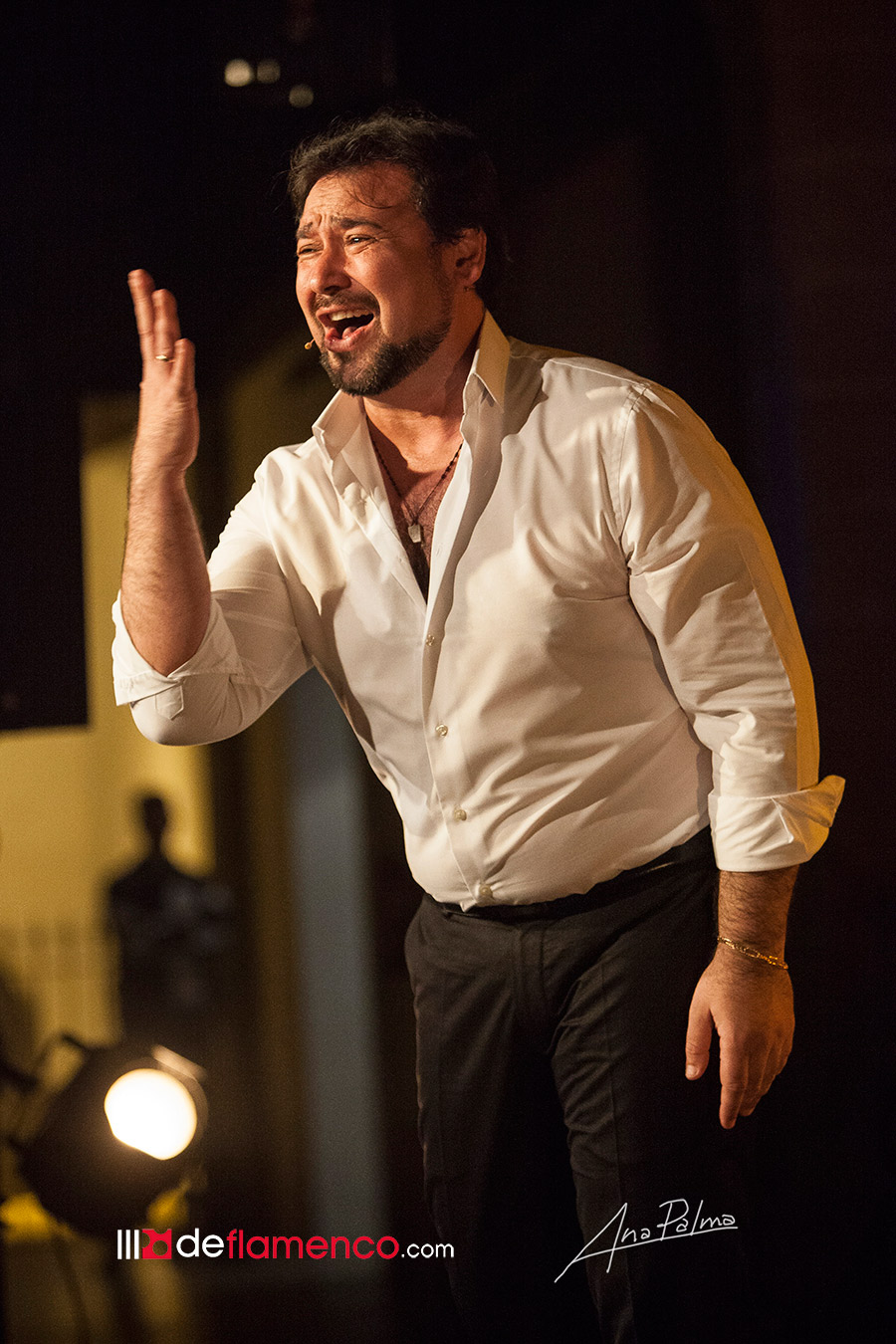 Photo Gallery by Ana Palma – Video
---