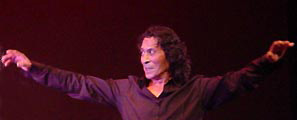 8th Festival de Otoño de Granada
Manolete
Friday, December 7th, 2007. 2200h.
Teatro Isabel la Católica, Granada

Text and Photos: Estela Zatania.
Dance: Manolete. Dancers: Judea Maya, Susi Parra, Mónica Fernández, Pol Vaquero, David Paniagua. Cante: Jony Cortés Pepe Jiménez, Leo Treviño.  Guitar: Basilio García, Jesús Losada, Juan Jiménez. Chelo: Vatio. Artistic director and choreography: Manolete.
DIGNIFICATION                                                                                                                          
Decades ago, Manuel and Juan Santiago Maya, dancer and guitarist, were among the first flamenco artists to travel to Japan to satisfy a quickly growing demand.  Juan Maya "Marote", who passed away in 2002, reached the top of his profession thanks to an unmistakable style, and today, his kid brother, Manolete, equally original and creative, is one of flamenco's most revered dancers.  Last Friday the living legend danced once again in his hometown demonstrating the timeless quality of his art.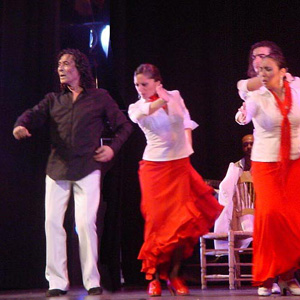 Percussion, excessive angst, energetic dancing, moments that approach chaos.  Manolete's company whirls and swirls around the maestro who moves intensely but serenely through time and space.  Untouchable, unshakable.  The cané song of Alosno, Huelva, is the first cante that opens the program, which, mercifully, bears no message other than the music and dancing itself.  And more percussion, and the dancers exhibit an aesthetic which is pure Farruquito (because it's no longer old Farruco they imitate, but the grandson who, at barely 20, changed the look of flamenco dance forever).  The corps de ballet is more frenetic than inspired, but Manolete's composure puts things in order.  Seated, severe, his face sculpted in granite, his proud erect posture illuminated by an overhead spot, white suit and cane, the perfect image of an elegant patriarch triggers a warm ovation.  He dances seated, than standing, with aplomb, gravity and contained power, with greater command than a few years ago.  Despite the best collective efforts of the group of young dancers who close out the dance, they don't come close to what Manolete manages with his overwhelming dignity; that's one thing about flamenco, its capacity to unleash the "duende", wherever it may be found, and it's not always in youthful bodies.
| | |
| --- | --- |
| | |
His face sculpted in granite, his proud erect posture…the perfect image of an elegant patriarch
When the dancer remains alone for farruca, his svelte form fills, not only the stage, but the entire theater with a majestic presence.  Farruca without singing, the way it used to be done, and emotional shouts of "maestro!" sprinkle the theater's silence.  Soleá por bulería for a facing-off between the two young male dancers, two Michael Jacksons, white shoes included and free-flowing adrenaline, and the contrast with Manolete's intense serenity is an ode to the nature of flamenco.
And another solo dance by Manolete.  This has nothing to do with putting a famous name at the top of a bill for its nostalgic and box-office value; the Granada dancer is in excellent form and is the spinal column of the show, all the rest is filling.  In alegrías his style is well-defined and personal, he continues to be impressive and thus ends the show, with a symbolic "fiesta finale" in slow motion, in the style of Antonio Gades.
To find the much-touted "dignification of flamenco", a catch-phrase Spanish politicians now use to justify the generous government handouts available for dubious avant-garde works, one needs go no further than the inspired dancing of Manuel Santiago Maya, "Manolete".
---