Karime Amaya & Paloma Fantova & Jesús Carmona - Bienal de Flamenco
18th Bienal de Flamenco de Sevilla
Friday, September 26th, 2014. 830pm. Teatro Lope de Vega.
September 27, 2014
Text: Estela Zatania
Photos: Antonio Acedo
Twittear
YOUNG DANCERS EXPLORE TRADITION AND AVANT-GARDE
Dance: Jesús Carmona, Karime Amaya, Paloma Fantova. Guitar: Carlos de Jacoba, Jony Jiménez. Cante: David de Jacoba, Esaú Quirós, Miguel de la Tolea. Percussion: Lucky Losada. Violin: Thomas Poitiron. Choreography and stage director: Jesús Carmona. Music: Lucky Losada.

On Friday at the Bienal de Sevilla, while Estrella Morente reprised her show of the previous day at the Teatro de la Maestranza, a trio of young dancers offered their concept of flamenco dance with an intelligent mix of traditional and contemporary elements.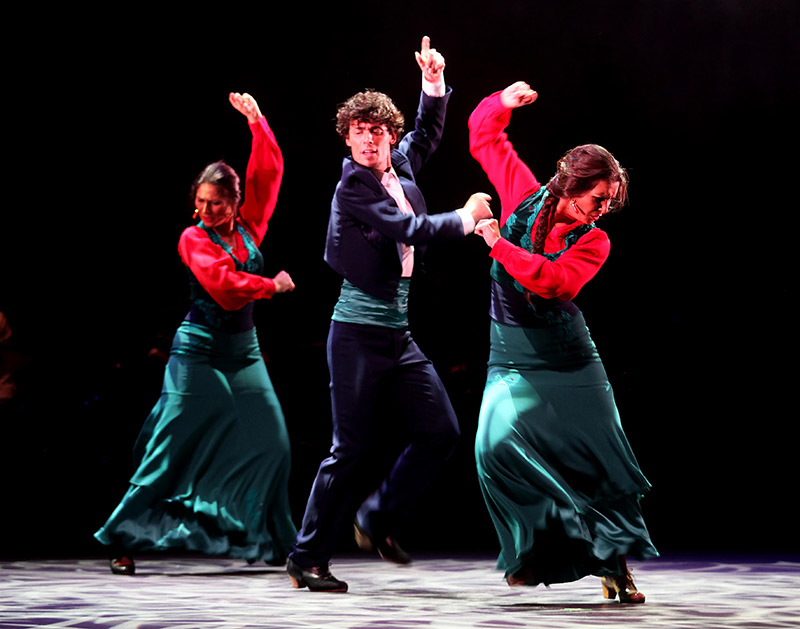 Karime Amaya, grand- niece of Carmen: I don't know if the human genome holds they key to flamenco greatness, but surely, having such an illustrious relative inspires the dancer to give her best in a line which is similar to that of aunt Carmen. After an upbeat presentation number, the young woman who had been able to hold her own as dance partner of the galactic Farruquito, danced a very long soleá that ended with the sudden acceleration so reminiscent of her great-aunt.

An interlude of mining cante held the interest thanks to the fine voices of David de Jacoba, Esaú Quirós and Miguel de la Tolea, and after a brief transition with the three dancers, Jesús Carmona placed chairs around a small table to accommodate some knuckle-rapping which led seamlessly to his dance of cantiñas. The has some original moves, and a personality of his own. According to the program, Jesús was responsible for the stage direction, which was admirable, with natural ttransitions and carefully designed lighting attributed to David Pérez.

A brilliant guitar duo by Carlos de Jacoba and Jony Jiménez paid tribute to Paco de Lucía. Also noteworthy was the beautiful violin music supplied by Thomas Potiron.

Paloma Fantova created a stir with her inspired siguiriyas. Feline and intense, with a penetrating facial expression and the look of one possessed, she enthralled the audience at the Lope de Vega theater.

A brief bulerías ending rounded out this respectable, and discretely original work.