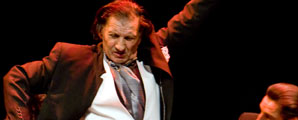 JUEVES FLAMENCOS DE SEVILLA
José Losada "Carrete"
"CARRETE" EN SEVILLA
SALA JOAQUÍN TURINA. Thursday, December 18th, 2008. Seville
Dance: José Losada "Carrete", Carmen Ríos "Meli"; Cante: Soraya, Raúl, Juan José Amador; Guitar: Luís Santiago, Joaquín Losada "Carretillo"; Percussion: "El Yaya".
Text: Gonzalo Montaño Peña
Photos: Remedios Malvarez
Málaga danccer "Carrete" closed the scheduled program of Cajasol for 2008 with a memorable performance, something we're not accustomed to seeing in a theater: flamenco in its natural state. The Fred Astaire of flamenco left us awestruck with a torrent of art and compás without technical tricks, based on pure talent and personality.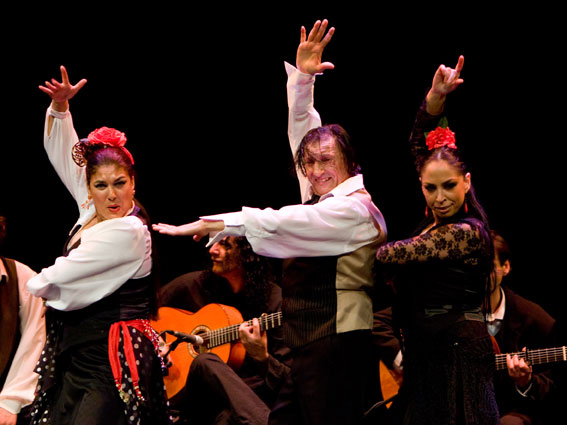 The show itself was relatively short, or so it seemed.  Little more than an hour.  After an introduction by José Luis Ortiz, the dancer came out to do a taranto sung by Juan José Amador, a Seville singer always characterized by his good taste (everything he sings takes on a beautifully natural sound, mostly thanks to his excellent low tones).  Carrete parades around the stage emanating art with his personal aesthetic, compás and a certain comic element that does no harm and lends originality to the end result.
Then, Soraya interpreted some primitive tangos, although she was frequently off-tune and her dance was short and uninteresting.  Perhaps it just wasn't her night.
A soleá cante in the voice of Raúl, with Meli dancing. This young dancer was frankly quite good, with excellent technique, and expressive arm movement, although she too brought no surprises, and audience response was lukewarm.
Carrete returned to the stage for alegrías.  His movements are unpredictable, he might just as soon use his hands to imitate a violinist, as end a dance with practically no movement at all, or with heelwork carried off like a Hollyward tap dancer.  Following this, and adding to the surprising nature of the entire show, José Losada jumped and lunged, dancing in crouched position like a Russian, and did footwork seated in a chair.
The ending was a small fiesta finale of Christmas-flavored tangos in which Carrete even sang, although this is by no means his strong point.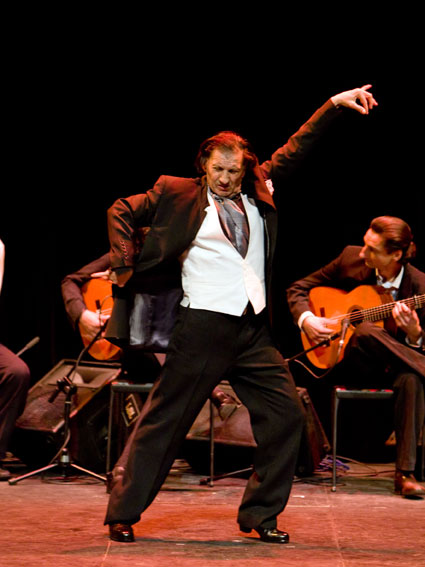 It's so easy to be flamenco!  And yet, so hard.  And how unusual to see an entire theater cheering a dancer for each little move, each flourish.  "Ole!" they shouted, "give it everything you've got, Carrete!"  And every face with a glowing smile, and the repeated comment "what an artist this man is!"  And Carrete continually understating, ending with a slight gesture of the hands or feet, everything in its place, just enough, never too much.  You get so used to seeing technique for the sake of technique, virtuosity used to impress, endless heelwork and technically difficult moves, all adding up to so little in the end.  But when you go to a theater and see flamenco dance that is truly entertaining, and makes you laugh and cry, this is an experience worthy of note, because it's not that technique is harmful – on the contrary – but it is becoming the main objective of dance instead of being a means to a more important end.
---