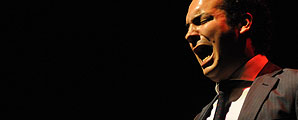 FESTIVAL DE FLAMENCO DE NIMES
Jesús Méndez
Antonio Soto
Wednesday, January 19th, 2011
Téâtre de Nimes (Francia)
A cold wind has begun to blow in the south of France, but cante and guitar are keeping us warm in the flamenco microcosm of the Nimes festival.
On this occasion young Jerez singer Jesús Méndez was the star of the first part of the recital, and Málaga guitarist Antonio Soto, the second.  It's not easy to present a concert of traditional flamenco singing and solo guitar to a foreign audience, but the Nimes theatre was filled with French followers of the art anxious to enjoy these two ambassadors from Andalusia.
Like other towns of the flamenco territory, Jerez de la Frontera struggles to keep up appearances in a changed world in which the traditional settings that nurtured classic forms, no longer exist.  The golden era, we're not even talking about Torre and Chacón, but artists nearly any flamenco fan today could have heard live…Terremoto de Jerez, Paquera and Tío Borrico among others…names with a strong aroma of wine cellars and taverns…that era can be chalked off as having come to an end.
This is the landscape that was awaiting Jesús Méndez of the San Miguel neighborhood of Jerez, upon whose shoulders, almost exclusively, has fallen the historical weight of carrying on his city's flamenco tradition.  Lots of responsibility for just one person, and a fine job he's doing.  He was to have been accompanied by the popular Moraíto who, for medical reasons, was substituted by his son Diego del Morao.  Méndez dedicated his performance to Moraíto, and those of us in the audience shared that sentiment.
| | |
| --- | --- |
| | |
Diego opened with a bulerías guitar solo, then Méndez arrived to interpret the classic song "Soleá de mis pesares" popularized by Paquera de Jerez, the most famous Méndez of the familia.  Jesús' clean natural voice illuminated an assortment of cantiñas including styles of Pinini, alegrías de Cádiz and romeras, and malagueñas de Chacón end with abandolao cante.  After soleá apolá, not typical for a Jerez singer, he moved into more familiar territory with siguiriyas and cabal.  The French audience failed to react to fandangos that followed – in Spain there is a certain fandango cult foreigners do not share.
Bulerías with a powerful San Miguel flavor, "La Salvaora" to do a little Caracol sound, a Jerez dance bit, an encore of tonás and more bulerías to make clear what Jerez once was, and what it still has the potential to be thanks to the tireless dedication of Jesús Méndez.
Antonio Soto, born in Barcelona in 1966 and brought up in Málaga, winner of the Bordón Minero of La Unión and the guitar prize of Córdoba, has been regular accompanist for Fosforito and Agujetas, which gives an idea of his capacity.  In fact, he is more widely known in his facet as accompanist than soloist.  He came to Nimes with a group of five, Bonela hijo and Isabel Soto doing the vocals, Rafael Heredia on percussion, Juan Santiago providing palmas and Alejandro Mateo on flute. 
Soto began with a solo composition of taranta before summoning the rest of the group.  A tanguillo in flamenco key with the high-pitched voice of his sister Isabel, alegrías in A position, swift and breezy with Bonela's singing, and a different feel from the usual.  Without a doubt this guitarist is more at home with the rhythmic forms.  Tangos with voice and flute – it would have been nice to hear Piyayo forms with the peculiar flavor people from Málaga give, but the piece was strangely beautiful in its own way.
Throughout the recital, Soto employed an energetic attack, aggressive delivery and powerful thumb as you would expect from someone of his generation.  Bulerías had modulations and musicality firmly anchored to earth, so different from the ethereal sound of younger players.
Soto's sister Isabel had an interesting bit.  Towards the beginning she turned the audience off with a sharp and frankly annoying voice, but went on to demonstrate her art with bulerías cante and dance in the best tradition of Cañeta de Málaga who is a relative of hers.  Noteworthy was the dancing of Juan Santiago who provided the palmas.
The afterhours fiesta at the hotel bar was inevitable, and each day more flamencos arrive from Marseilles and other French towns to take part in the informal flamenco ambience of the Nimes festival.
---