September 26-27, 2012. Colegio de Médicos. Madrid
Text: Isaac Rodriguez
Photos & video: Rafael Manjavacas Lara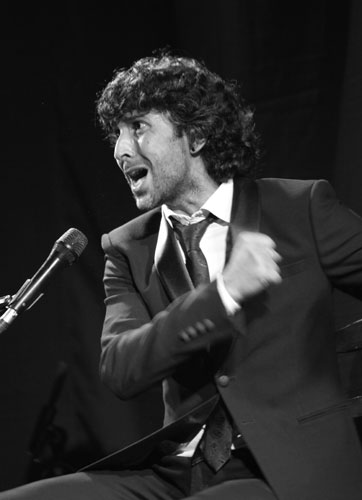 After a two-year "sabbatical" due to the dearth of cold hard cash, this festival, which has given us so many good memories, has returned. We showed up at the regular venue, the Colegio de Médicos, to enjoy flamenco in all its manifestations, and as always, the gala was presented by Juan Luis Cano. With the admirable objective of collecting money for the Fundación Gomaespuma, a good bunch of flamenco artists and a batallion of supporters gathered in this unassuming space.
On Wednesday, Juan Valderrama opened the series, and once again did everything possible to please fans who love his intricately adorned melodies. Talkative and joking with the crowd ("critics, like doctors, perform autopsies"), he took on debla and siguiriya. He immediately went on to what he called "colonial cantes", in other words, sweet, in other words, "ida y vuelta", in other words milonga and farruca. Then, malagueña with Frasquito Yerbabuebna ending, marianas ended with tangos, a string of fandangos and for a smash ending, "El Emigrante", the song popularized by his illustrious father, and which today, like it or not, continues to circulate.
Rocío Márquez' recital began immediately, she of the crystal voice as one member of the audience shouted out. Her perfect pitch and sweet voice, while at the same time being so flamenco, shone through from the start with an original piece that mixed fandango and jota with sounds of Huelva. Malagueña, tanguillo with guajira, seguiriyas, cantiñas and fandangos made up the rest of the show. Everything was done with feeling and good taste, the singer was a very big success and she earned the audience's warm ovation.
After intermission, Arcángel appeared, probably the most popular figure of the night. This man from Huelva is always right there to give his best, and to deliver everything he's got inside, an abundance of cante and generosity. Bulerías por solea, tangos, seguiriya, alegrías and fandangos de Huelva in the voice of Arcángel are a voluptuous fragrance, richly enhanced by the masterful guitar of Miguel Ángel Cortés and the compás of his backup.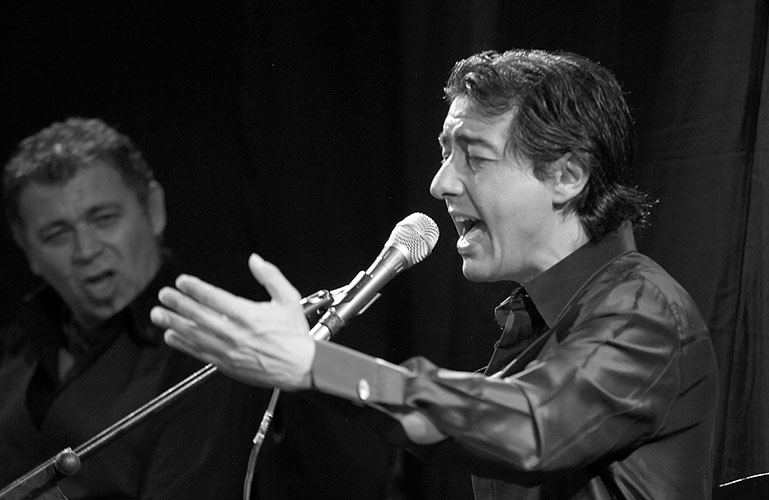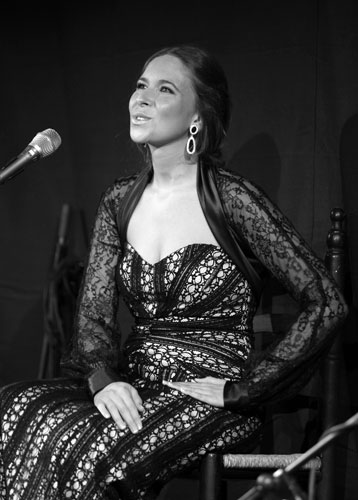 To make this wonderful night complete there was still dance as expertly offered by Marco Flores. A young dancer who little by little, with sure footing, is carving out a privileged place in this narrow world of dance. With just two pieces, rondeña and alegrías, it was enough to certify his command of every facet of dance: the footwork, the hands, the waist and the joy that shows in his face. The audience members standing and shouting were grateful for his talent and honesty.
The following night Juan Verdú programmed three completely different artists: Amós Lara, a boy of twelve who is a fabulous guitarist, and who played a brave spontaneous version of Paco de Lucía's "Zyryab"; singer and pianist María Toleda who, despite her histrionic gesturing has a good voice and plays and composes well and punctuates her songs with tributes to past stars; and dancer María Juncal, who has a very stylish way, and was excellent in soleá and alegrías.
All in all, two evenings of good flamenco that we hope ease the way to another long stretch of the Festival Flamenco Pa'tos. For the children, it's all for the children of our Foundation.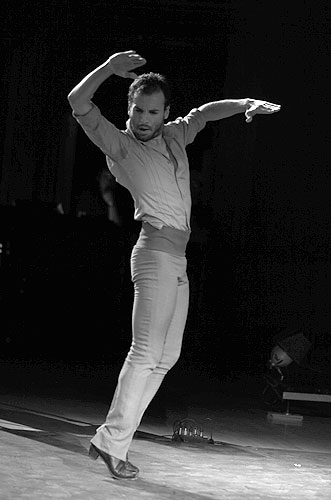 ---
Rocío Márquez
Marco Flores
Arcángel