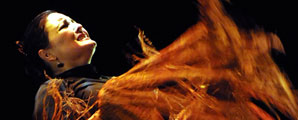 14th Festival de Jerez 2010
Compañía María del Mar Moreno "Quiero tu cante"
Juana la del Pipa, Dolores Agujetas, La Macanita "Mujerez"
Saturday, February 6th, 2010. Jerez de la Frontera
'WOMEN OF JEREZ'
COMPAÑÍA MARÍA DEL MAR MORENO "QUIERO TU CANTE"
Teatro Villamarta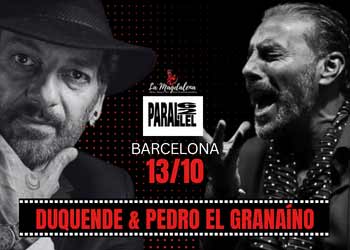 Publicidad DeFlamenco
Dance, script, choreography: María del Mar Moreno; Cante: Antonio Malena, Manuel de Malena, David Lagos with the special collaboration of Tomasa Guerrero "La Macanita" and Juana la del Pipa; Guitar: Santiago Moreno, José Luis Montón and Malena Hijo; Palmas: El Bo and Luis de la Tota.
Text: Manuel Moraga
Photos: Ana Palma
María del Mar Moreno continues to be committed to Jerez.  We all know how hard it is to receive recognition in one's hometown, but this dancer is completely militant about Jerez and its place in the world of flamenco, which is an integral part of the Jerez identity.  This is a commitment that no doubt is beneficial for Jerez, since the dancer finds here all the inspiration she needs, and lays it out for the world.  And it's only fitting that this effort is valued more and more highly.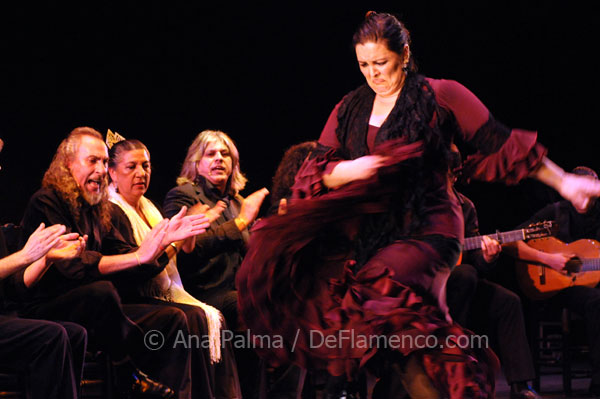 All options are valid if defended honestly and with solid, straightforward arguments.  Rather than choosing to charge forward to explore new idioms or traumatic break-away concepts, María del Mar Moreno preferred to delve more deeply, to search again and again in the artistic foundation she defends, which is nothing more than the Jerez concept of flamenco.  Or at least, one of the Jerez concepts, because there may be many "Jerezes".  But subtleties aside, make no mistake: María del Mar Moreno's option isn't easy, since she puts forth a delicate formula in which the sustainable risk factor is high and needs to be bravely defined.  On this occasion, she decided to place her bets on cante: 5 singers, 5 ways of feeling and expressing the art that points directly at María del Mar Moreno's heart.  This is, in my opinion, the true script of this show.
Concepts aside, the work has a story line that I must report is completely unnecessary.  We would have enjoyed the show just as much without it, or perhaps even more so, because as we said so many times before, on stage, everything that doesn't add, subtracts.  The results would have been more satisfactory in less time.
Having said that, let's get more deeply into what "should" have been in "Quero tu Cante".  First of all, the place given to the cante had a very different place from the subordinate role, at times excessively so, in carefully choreographed shows designed to show off a dancer.  María del Mar Moreno proposes a direct and almost horizontal relationship between cante and dance, and brings back the pleasure of dancing to cante, instead of the reverse.  Then, the choice of artists, who add a great deal while at the same time offering interesting contrasts, such at the sensitive guitar of José Luís Montón compared to the more "earthy" style, and no offense intended, of Santiago Moreno; or the melodic cante of David Lagos as opposed to the rough-hewn Juana la del Pipa, etc…
All the singing was excellent, but some especially good moments took place between dance and cante in the tientos tangos of Juana la del Pipa and Antonio Malena, the mix of cantiñas interpreted by David Lagos and of course, the final soleá danced by María del Mar Moreno.  And it's only fair to point out the professionalism of Juana la del Pipa and Tomasa la Macanita; in my opinion the latter ought to receive far greater attention, but programmers are not always flamenco connoisseurs, and media tend not to break the inertia of big names who may not necessarily be the top singers.  And I mention professionalism because one hour after giving their all for María del Mar Moreno, both singers were at the Bodega de los Apóstoles to present their recording "MuJerez" along with Dolores Agujetas.
So I think we have to value not only the risk-taking of María del Mar Moreno who defends her constant looking inward towards Jerez, but also the way in which she constructed the show, giving the spotlight to all the performers in order to depict an accurate overview of the flamenco world of her town, both in cante and in dance.
Juana la del Pipa, Dolores Agujetas, La Macanita "Mujerez"
MUJEREZ.  Cante: Juana la del Pipa, Dolores Agujetas, Tomasa Guerrero "Macanita". Guitar: Manuel Moreno "Moraíto", Diego Agujetas. Palmas and dance: Luisa de Regiles, El Bo, Chícharo.
Text: Estela Zatania
Photos: Ana Palma
Nowadays, the flamenco sock has been turned inside-out; novelty has become the norm, and classic flamenco has become novel.  In this sense, the project "Mujerez" is the most novel undertaking of the current scene.  Although the "flamenco industry" (can there be a more offensive phrase?) does not consider the viability of classic cante (don't be alarmed, I'm not going to use that hated word "pure", as it has become meaningless), the innate power of the genre causes it to float to the surface again and again.  A voice and a guitar, or even without guitar, the structure of cante as it has reached our times, enables an artistic expressive pattern which, in the hands of people who know how to use it, makes a clean sweep of opportunistic derivatives.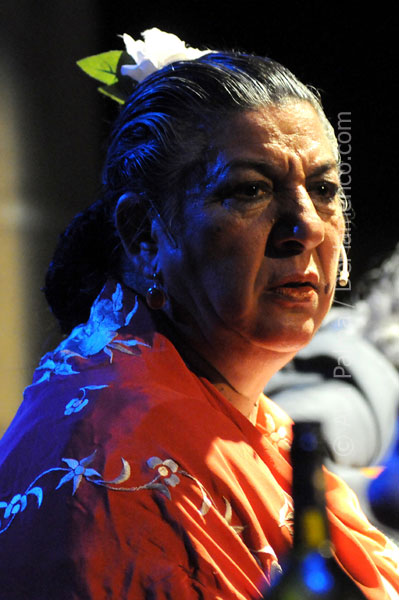 At midnight, in the Bodega de los Apóstoles, Juana la del Pipa, Dolores Agujetas and Macanita were the three "mujerez" ("women" or "very Jerez", depending on how you read the ingenious title) who joined forces on one stage to put all their cards on the table.  Juana begins with moving words for Fernando Terremoto to whom she dedicates "all the force of everything we are about to do".  The most representative guitarist of Jerez, Moraíto, breaks the silence with bulería por soleá, and Juana, the only one of the three wearing an actual costume (white dress and red shawl) lets rip her fascinating voice.  Next, an acceptable interpretation of tientos tangos, although in Jerez four-quarter compás is little cultivated.
Dolores Agujetas with her son Diego accompanying on guitar, sings soleá and siguiriyas with all the raging intensity that characterizes the house of Agujetas, and father Manuel is present for the occasion, like any doting dad.  Moraíto returns to accompany Macanita por soleá at the her preferred tempo of soleá por bulerías at 6 "por medio" where the plaintive pitch of the guitar inevitably conjures up memories of great feminine voices of the past.
After Macanita's bulerías, the three women came together on stage, standing, for a round of tonás.  Who could have imagined such a thing only a couple of decades ago: not one, but three women taking turns singing a form considered best left to men.  And a fine job they did, thank you.
All that was left was the inevitable fiesta ending of bulerías with dancing and good humor, and not even the serious amplification problems could diminish the impact of this "novel" show.
---