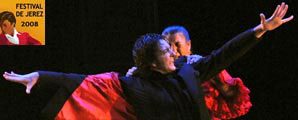 Antonio el Pipa "Puertas Adentro"
Lola Greco "Delaoperalflamenco"
José Menese
Saturday, February 23, 2008. Jerez de la Frontera
Text: Estela Zatania
Photos: © Ana Palma
The second day of the Festival de Jerez, and we've entered the fast lane with a full menu of activity.  After the press conference with Marco Flores, Elu de Jerez and the lead dancers of the Nuevo Ballet Español, the book "Flamencos de Gañanía" by yours truly was presented with the help of a flamenco dream team composed of Luis el Zambo, Fernando de la Morena and Ana Peña.
"Delaoperalflamenco" Lola Greco
Sala la Compañía. 7:00pm
Dance: Lola Greco, Carmela Greco, Francisco Velasco. Cante: Tony Maya. Guitar: Antonio Gabarra. Piano: Cristina-Alba Radial. Classical singing: Norina Greco.
When the youngest daughter of the great José Greco comes out on stage, the first thing you notice is her long arms and legs, and the surprising flexibility with which she moves them.  Then, you realize the extreme sensitivity of her body movements; each cell obeys the artist's mental vision, perfectly worked and brought to reality.  Only then do you notice the beauty of her face that is so reminiscent of the famous father who revolutionized Spanish dance in the middle of the last century.  And at certain moments, a generous authentic smile communicates the warm humanity of Lola Greco.
Her delicate interpretation of Goyescas, a dance Lola rehabilitates from the traditional repertoire of classic Spanish dance, recalls images of Argentinita and Pilar López, and the live piano music is a genuine luxury in this day and age.  Her sister Carmela's first dance, a guajira, shows she's a real pro, but also nervous and little out of practice, but her second dance, a taranto, suddenly reveals a complex inner life, and the dancer reaches moments of great intensity that send an electric charge to everyone in the theater.  Lola returns for an exquisite dance with Francisco Velasco.  One welcome detail, something Lola surely learned from her father: organized, well-rehearsed bows, like in the old days, what a difference it makes!
A higher level of guitar and cante are needed, but we hope to see more of the Greco sisters.
"Puertas Adentro" Antonio el Pipa
Teatro Villamarta.  9:00pm
Dance: Antonio el Pipa, Ma. Del Mar Moreno (special collaboration),  Macarena Ramírez, Christian de los Reyes. Corps de ballet: Claudia Cruz, Beatriz Morales, Natalia Meiriño. Sandra Rosán, Ana Utrera. Cante: Montse Cortés (guest artist), Juana la del Pipa, Enrique El Extremeño, José de Joaquína, Joaquín Flores "Kini".  Guitar: José Luis Montón (soloist), Pascual de lorca, Juan A. Gómez.  Choreography, artistic director: Antonio el Pipa.
At the Villamarta theater this second day of the festival, Antonio el Pipa, the most charismatic dancer of Jerez and an international figure, offered his pseudo-biographic work "Puertas Adentro" which debuted last autumn at Málaga en Flamenco
I always approach Pipa's works with a certain foreboding, because despite his usually excellent dancing, there have been some misguided works.  So you take in the first minutes as if you were at a horror film, watching without really looking, hoping and praying the dancer will simply dance, even though you know there will be "theater".
This time there was nothing to fear.  Despite the theme based on three scenes respectively titled Death, Life and Love, a minimum of theater offered a maximum of good dance and singing, but more significant: Pipa is more focused and mature.  Some gestures and tics for which he has been criticized, were absent, and what's left is a dark tranquility, silences and insinuated intensity that we even see him demonstrate to little Christian de los Reyes who is presented as a young Pipa receiving his first dance boots, or learning the secrets of flamenco from his elders.  Child prodigies can be cloying, but Christian is almost as promising as little Macarena Ramírez, who at 11 or 12 (?) already moves like a pro and has a big personality.
The Camarón sound of Catalonian singer Montse Cortés seems out of place at first, but you get used to it, and the thick voices of Enrique el Extremeño and Juana la del Pipa provide the necessary center of gravity.  María del Mar Moreno returns to the stage of the Villamarta for the second time in 24 hours, and on this occasion there's absolutely nothing to criticize.
The repertoire ends up being the same as always, God bless him: bulerías, soleá, siguiriyas, and at this stage of the game it can be said that Antonio el Pipa is the closest thing to a Jerez "school" of dance in this city full of guitar and cante, but short on dance.
José Menese
Bodega de Los Apóstoles. 12 midnight
 

At the González Byass bodega, there was a cante recital by José Menese.  The child prodigy of long ago, that serious, formal young man anointed by Francisco Moreno Galván to be the flamenco singer of La Puebla de Cazalla, is now the old lion, Mairena-follower to the end and faithful defender of the most classic sort of cante.  He was the only one of his generation not to be enticed by Camarón or the avant-garde movement, and for this we can be grateful.  With the wise and well-seasoned guitar accompaniment of Antonio Carrión, and his vocal faculties nearly at peak, he delivered a repertoire of nearly forgotten cantes such as mariana, rondeña and caracoles, as well as other essential ones such as soleá or siguiriya, ending with guajira for an encore.
It all comes to an end just in time to hurry over to the Peña La Bulería for the performance of the group "Sabor a Plazuela" to round out the day with a more laidback sort of flamenco with "denomination" of Jerez.
---