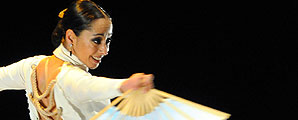 XIV Festival de Jerez 2010
Compañía Belén Maya "Bailes alegres para personas tristes"
El Londro
Monday, March 8th, 2010. Jerez de la Frontera
COMPAÑÍA BELÉN MAYA "BAILES ALEGRES PARA PERSONAS TRISTES"
Teatro Villamarta
Dance: Belén Maya; Guest artist: Olga Pericet; Cante: Juan José Amador, Jesús Corbacho, Miguel Ortega; Guitar: Javier Patino, Antonia Jiménez; Choreography: Belén Maya, Olga Pericet; Music director: David Montero; Stage director: Juan Carlos Lérida.
Text: Manuel Moraga
Photos: Ana Palma
The collaboration of a great dance talent, Olga Pericet, has joined forces with the trio Maya-Lérida-Montero.  The result is highly recommended – I would even say absolutely necessary – for anyone enamoured of dance.
Since nearly two decades ago when Belén Maya laid out her way of understanding flamenco dance, her mind has not ceased to investigate.  Along the way she showed special interest in aspects of movement or expression, while on a parallel plane there was a growiing interest in exploring the interrelation between different bodies and the common area of choreographic ideas from diverse genres.  That point in her career has arrived, and her colleague in the investigation is another inquisitive mind: Olga Pericet.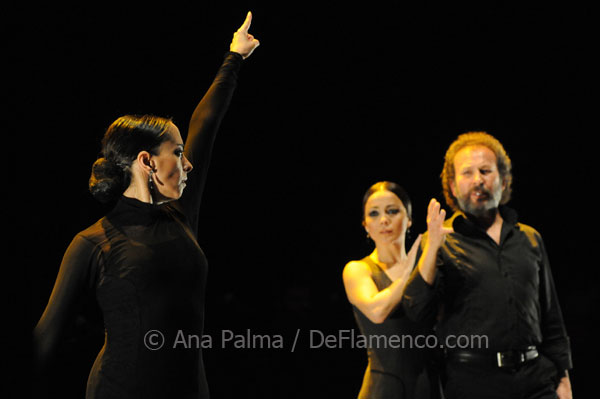 It is very interesting to follow the evolution of Belén Maya in as far as how she puts her shows together.  Her mind works better and better, taking off from abstract ideas she tries to bring into reality with choreographic forms and stage elements.  On this occasion, "Bailes Alegres para Personas Tristes" (happy dances for sad people), approaches the duality between pleasure and desolation, although the outcome has more to do with that state of permanently assimilated low-level sadness which is melancholy.
The dual elements are those which make the action move.  Duality of colors, of lights, dances, dresses, cantes, interpreters, etc.  But oddly enough, all those pairs of elements transmit, in my opinion, a strange feeling of loneliness, perhaps because both states of mind – joy and sadness – together inhabit the essence of every individual.  And all this expressed via extensive visual, musical and dance work.
In the artistic realm, the show is of great beauty.  Probably the most visual work of any Belén Maya has done recently.  Musically, the duality of the music is also highly original.  For example, the well-crafted transitions from tangos to tientos, and also from siguiriya to guajira.  Noteworthy is the soleá "El espejo en que te miras" (once again the duality of the mirror, which is nothing more than a reflection of one's individuality). Interpreted three times – but differently – by Juan José Amador.  Or the difficult guajira of Jesús Corbacho – by the way, a singer to keep your eye on – or the memorable fandangos of Miguel Ortega, or a colossal cartagenera, also from Corbacho…  Meticulously selected music, woven together and interpreted so as to validate Belén Maya's premise.
And last but not least, the most important thing of all: the work of Belén Maya and Olga Pericet.  Each one in her own way, or in the various duets, they offer a rich selection of resources, movements and gestures.  Belén Maya has long been, and continues to be a pioneer in the evolution of the language of flamenco dance.  Her modesty and intelligence are what cause her to always point to other dancers as the most important references of the moment, but that doesn't keep the rest of us from holding the opinion that Belén Maya is, at the very least, a necessary figure for understanding the evolution of dance in this century, and also of contemporary dance.  Nothing in her is cliché, and everything is born of the deepest reflection and dedication.
Here Olga Pericet also shows her artistic quality, her versatility and commitment to the current forms of establishing a discourse.  Her dance and her personality on stage are the perfect counterpoint and complement for Belén's approach.  Olga has all the talent and qualities to take on the difficult task of exploration.  That is exactly what she does, and we hope she continues to follow the same path.
Belén Maya was anxious to mount works in collaboration with other artists in order to investigate dance from other perspectives.  The tandem works.  All the duets are wonderful, as are some of the solo efforts which are rich with artistry.  A good example is the end of the work which features a Belén Maya completely drenched in water, dragging along her equally drenched bata de cola.
I wouldn't want to end this review without mentioning the excellent staging, lighting and wardrobe of "Bailes Alegres para Personas Tristes".  A work which is a surprising and original reflection on human duality, and an exceptional vehicle for exploration of the language of dance.
---
El Londro
Palacio Villavicencio. 7:00pm
Text:Estela Zatania
Photos: Ana Palma
At the Palacio Villavicencio, Miguel Ángel Soto, "El Londro", normally a singer who backs up dance, offered a varied acoustic recital with Santiago Lara on guitar, and the palmas of Carlos Grilo and Luis Cantarote.
Beginning with caracoles, there is a freshness that can mostly be attributed to the accompaniment.  From where I was sitting, it looked like Lara was playing in A position with a partial barre on the second fret, but what is certain is that he achieved a thoroughly original feel that went well with the musicality of this dusty form that even Chacón would have been glad to see updated.
Lara continued creating novel forms in the serrana Londro sang next.  It's not clear whether the singer chose the breakneck speed, or the guitarist was working on his own initiative, but even Periñaca, who used to beat out a very up-tempo siguiriyas compás with her cane, would have been surprised.  The thing is, without music the speed is not felt in the same way – add guitar, and although the cante continues its solemn march, the accompaniment becomes airy and loses density.  I don't mean to say this is good or bad, but the voice was eclipsed by the aggressive bulería-like sound.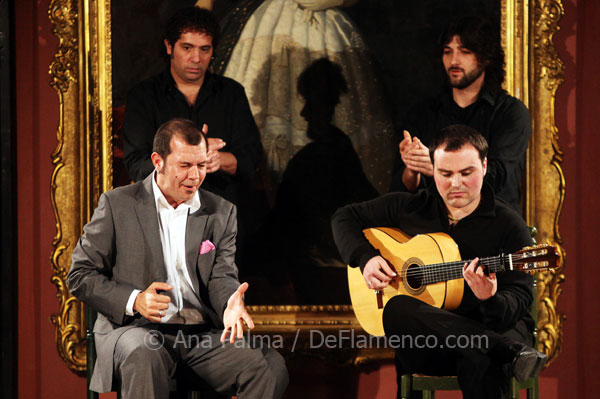 "Vino Amargo", the song popularized by Rafael Farina, gave a greater opportunity to Londro to sing in a relaxed way, although the voice continues to obey the orders of Lara who seems he would be more comfortable playing on his own.  Londro dedicates the soleá from his record to maestro Paco Cepero who collaborated on same, and is present in the salon.  This is the second singer in the space of only a few days, who has taken advantage of the recital to promote a new record in this series of acoustic recitals.  I think I liked it better when a cante recital was more than just a publicity op.
Peteneras, and here Lara's extended chords alleviate much of the natural dramatic charge of this cante.  Perhaps the worst thing about the overuse of contemporary harmony is that all the cantes become equalized to have the same color.  Cante de Levante ended with marianas is another "theme" from Londro's record (the quote marks are in deference to the maestro Juan Maya "Marote" who always protested the use of "theme" for "cante").
After fandangos of Cepero and Pichichi dedicated to Miguel Poveda who was also present in the small room, bulerías rounded off this ambitious recital in which cante was at the beck and call of the guitar.
---