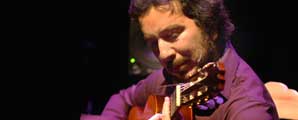 FESTIVAL DE FLAMENCO DE NIMES
Alfredo Lagos, Alicia Gil
Wednesday, January 21st, 2009. 8:00pm. Odéon, Nimes (France)
Part one. Alfredo Lagos, guitarra. José Carrasco, percusión. Lúa, Carlos Grilo, palmas.
Part two. Alicia Gil, cante. Lito Espinosa, guitarra.
Text: Estela Zatania
Photos: Copyright Jean-Louis DUZERT
Another big day at the Nimes festival.  The organization has always had the goal of giving opportunities, underwriting, opening doors for young artists or those who simply fell through the cracks in a competitive market that is intensely populated with candidates for stardom.  The charming Odéon café cantante was the perfect venue to appreciate the flamenco delights of a guitarist and a singer, neither of them young hopefuls, but nor are they established stars.
Alfredo Lagos, the thirty-something guitarist from Jerez, is well-known by flamenco followers in his role as dance and cante accompanist, a function he fulfills with great professionalism, knowledge and good taste.  All this, and musical sensitivity backed up by technical virtuosity.  So it's not surprising to see him giving a solo recital, although he has seldom done so over the years.
In the great tradition of Paco de Lucía, he opens with a rondeña.  Before the man from Algeciras upset the apple cart, it was customary to begin flamenco guitar recitals with granaína or malagueña, but the beauty of the exotic harmony, and the altered tuning required by rondeña, make this form a perfect ear and mind opener.  It is a classic rondeña, yet original and fresh in concept, lovely, possibly the best thing in the recital.  Lagos seeks out the resonance of his instrument with a decisive flamenco touch.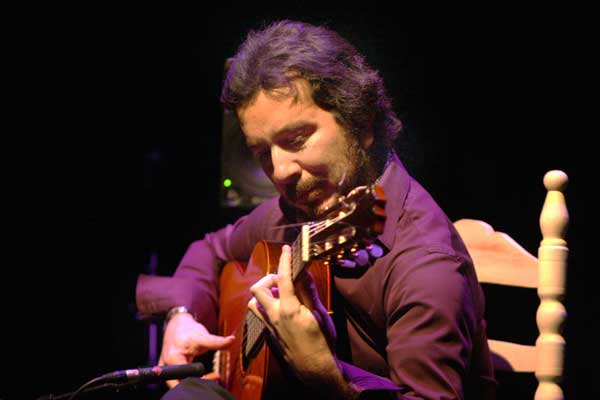 A long lyrical introduction leads into a soleá that reveals the countless hours spent accompanying the best singers and dancers of our time.  Only those who have not gone through that process deny its importance, or even defend the indefensible saying it is harmful.
Siguiriya: solemn, mature, grave, flamenco.  Brief melodic passages promise the relief of sweetness, but are quickly contradicted by the implacable flamenco scale.  José Carrasco adds his tasteful percussion for some tasty alegrías in E position, followed by contemporary tangos, and, Jerez man that he is, Lagos ends with bulerias accompanied by the palmas of Luis Cantarote and Carlos Grilo.
Alter a long intermission with lively flamenco conversation between sips of Pernod, vin rouge and bière, the audience took their seats once again for Alicia Gil's recital.  At 34, the woman from Sevilla can't be described as a young hopeful, but she is undervalued in these precarious flamenco times when the mere fact of cultivating a classical repertoire is enough to attract attention.  I confess I was expecting the typical cante-academy product, young women who now come out of Seville faster than the market can deal with them.  Sweet voices with technical polish that have the odd capacity to turn even the most rustic cante forms into lyrical song, and who scoop up prizes wherever they go.  No.  Alicia Gil's artistic path has taken a different route.  Not born into a flamenco atmosphere, she's had to learn from recordings.  But she had the wisdom to choose those recordings well, and then disguise having learned in this way.  So it was a pleasant surprise when Alicia opened with tonás with a convincing sound, and a voice on its way to becoming flamenco.  Some nervousness led to rushing, and an unmistakable 'canastero' style that doesn't combine well with these forms marred the delivery somewhat, but all is forgiven because you sense her great love of the art, and her sincere desire to communicate.
Tientos tangos with some excellent winks and nods to Pastora Pavón, and mining cante in her own quirky style.  Bamberas which the singer announced as "cante de ida y vuelta" raised eyebrows among some audience members (bamberas is a purely Spanish creation, not 'ida y vuelta' which means of Hispanic American origin), but a guajira ending justified the label.  Soleá accompanied 'por medio' follows the obligatory route of Alcalá, Utrera and Lebrija, and a little soleá por bulería sneaks in as well.  Song-type alegrías with some classic styles in between, adheres to the current fashion of setting songs to alegrías-like melodies, and in the bulerías she used to end, the excellent flavor of some short forms is overshadowed by an overdosis of cuplé, or pop.  These are small details that will fix themselves with experience, and do not subtract from this interesting singer.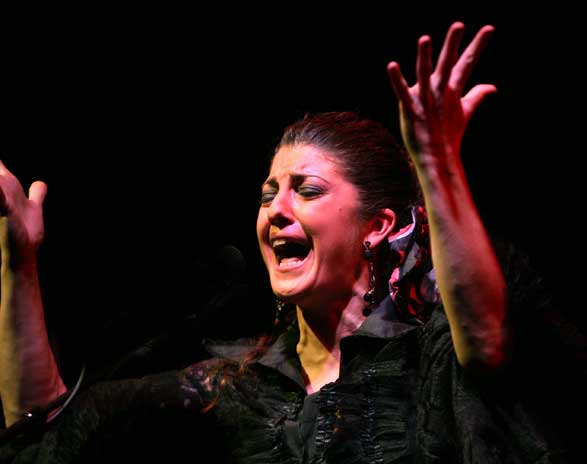 ---