October 19th, 24th and 27th. Dublín – Irlanda
DUBLIN, CAPITAL FLAMENCA
Text: Manuel Moraga
Photographs: Damian Power
For the second consecutive year, Dublin has proven itself to be another city among the flamenco elite of the world. The Irish capital embraces and applauds quality flamenco such as that offered by Belén Maya, María del Mar Moreno (Jerez Puro) and Juan Antonio Suárez "Cano". A reduced budget, inevitable in these times, didn't take away one bit of quality from a program which, as in the last edition, tried to offer a broad vision of this artform, from the most traditional aesthetic to the most avant-garde.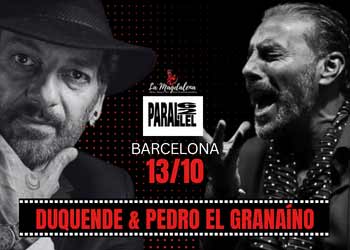 Publicidad DeFlamenco
After some fits and starts in a variety of attempts to bring a flamenco feeling to Ireland, the Indalo Peña Flamenca has shown that high standards do not preclude good entertainment, but rather, quite the contrary: criteria based on quality is the only way to build credible programs that pave the way for the successful staging of this type of event in the future.
Needless to say, the inevitable cutbacks in cultural activities also affected the coast of Ireland, and the Dublin Flamenco Festival of 2012 deployed a reduced format with respect to last year's. The organization opted for fewer days and a smaller venue, the Smock Alley Theater located in the central zone of Temple Bar. A smaller theater than the Helix used last year, but also very versatile – it has two performance spaces – and a cozy atmosphere. It used to be a gothic church located in the zone of ancient Viking settlements. And for even more atmosphere, a sarcophogus is still preserved in the crypt. It's said to be empty, but no one dares to find out. In the first place, because of the heavy stone that covers it and, in second place, because on Halloween night the Dublin Festival of Bram Stoker was being celebrated, the Irish author responsible for Dracula. So between one thing and another, it was no time to be opening anything.
How that woman can dance!
Despite all the obstacles, we saw a festival of great dignity and artistic efficiency. "How that woman can dance!" dancer Mistela commented recently about María del Mar Moreno. By the way, he is preparing a new show for December. And it's true, María is a good dancer. If within Spain someone like Mistela had those words about her, imagine how much the Irish audience at the Smock Alley Theater enjoyed the Jerez dancer's performance that opened the festival.
The Jerez Puro company came with a barebones format: singer Antonio Malena, guitarist Santiago Moreno and dancer María del Mar Moreno. Antonio Malena has a new recording, be on the lookout for it. María, as usual, gave her all, and even dared to sing a bit, interpreting "María de la O". A complete artist.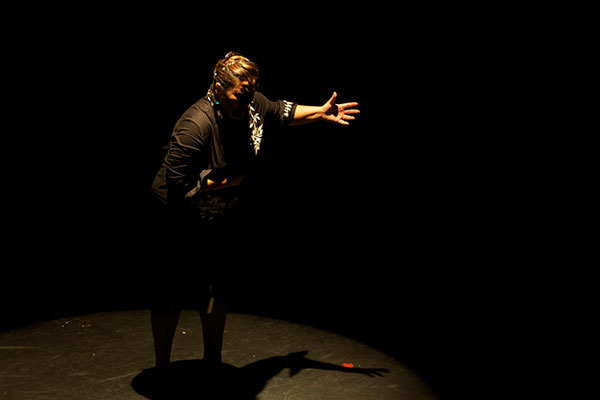 A soul with six strings
On October 24th guitar took center-stage. The title of the show was "Seis Cuerdas", six strings and no additives. It was the guitar of Juan Antonio Suárez "Cano". This is an important point, because there are many flamenco guitarists, but none like Cano. He inhabits a special musical world impossible to copy. His ideas, his techniques and his sound are completely original. Cano took advantage of the opportunity to play some compositions that will form part of his next recording whose generic title will be "Atlante". A piece of work which, according to Cano himself, will be exclusively guitar with no backup instruments whatsoever.
Cano performed in the small area of the theater, which is an intimate charming place where stone and wood exist in harmony. It's a space very well-suited to this man's music. In his dedications we see names like Rafael Riqueni and Paco de Lucía. Cano's music isn't the kind that stirs passions. In my opinion, his main virtue is as a creator of music. A sort of music full of color, and nooks and crannies, connections between his inner self and the need to express it. And that's what he had to offer: the musical beauty from within his soul.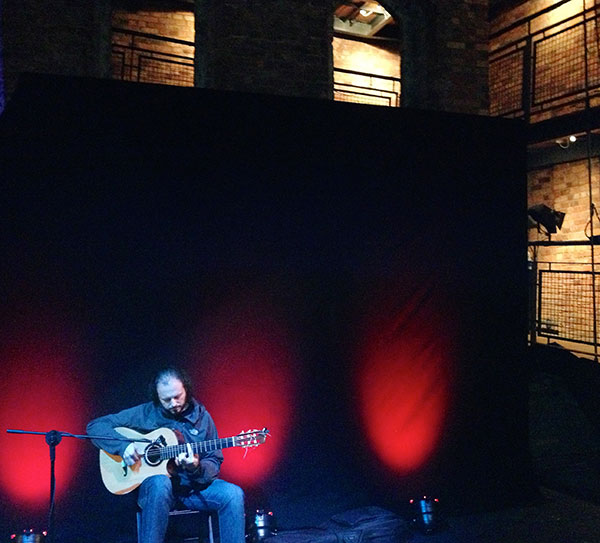 Belén Maya's divan
And in the same line of connecting the stage with one's inner life, Belén Maya went one step further in "Habitaciones". It was Friday the 27th, the closing night of the Dublin Flamenco Festival. This work of Belén Maya and actor David Montera is actually a play more than a dance show, although dancing certainly forms an integral part. More than illustrate the action, Belén's dancing is an element that moves the story along and, as such, becomes part of the drama.
"Habitaciones" is a voyage through the inner world of the daughter of Mario Maya and Carmen Mora: her infancy, the relationship with her father, with her mother, with the critics, with show business…in this nearly psychoanalytical context, dancing, as we said before, is a dramatic resource more that a purely aesthetic element, and to be sure all of Belén's dance segments are a delight. But it's that in addition to dancing, Belén interprets, observes, talks, interacts with the various parts played by David Montero. And what's more complicated, she interacts with herself, seeking out her own emotions on this introspective journey. And she sought so earnestly, she finished in tears, literally. And this wasn't in the script.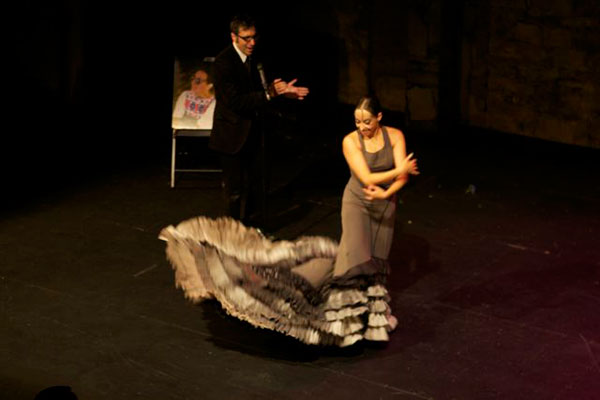 Flamenco in the theater
Belén Maya and David Montera had the original idea of laying out flamenco as just another narrative element. Flamenco at the service of narration, and not vice versa as occurs when dance is adorned with a story-line. Noteworthy is the fact that both performers made the extra effort of doing most of the texts in English, so the audience could follow the work without a problem. It's a question of professionalism. In the end, most of the audience was deeply moved by Belén's emotional out-pouring. I'm sure most of the spectators expected another type of show, but no one seemed disappointed. The problem was there was no getting them out of the theater. That's what happens when emotions are given free rein.
As in the last edition of the Dublin Flamenco Festival, the Indalo flamenco association wanted the city of Ireland to be exposed to a variety of flamenco tendencies, from the most traditional to the most experimental. There were also workshops and conferences with Jerónimo Utrilla, compás teacher who gave cajón and palmas classes in addition to a conference.
Spain's image
You couldn't give more for less. In times of economic crisis we have to do like the bulls, these animals who are the image of Spain, they huddle tightly with each other to keep standing. And that's what the organization and artists of this year's edition demonstrated. Everyone did all that was possible to make the festival happen. Avoiding the folklore and pseudoflamenco clichés that have saturated Ireland, and which do so much harm to flamenco and to Spain, the Indalo flamenco association once again showed that armed only with criteria of quality can you export flamenco that is truly worthwhile. This private enterprise has it all, and assumes risks in order to show flamenco and Spanish culture to the Irish people, and in this sense, one misses the participation of organizations like the Dublin Cervantes Institute which is passing up a great opportunity to fulfill, via the work of others, objectives laid down from Madrid. After all is said and done, to export flamenco is to export Spain. Let's take care of it.
---