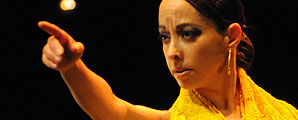 FESTIVAL DE FLAMENCO DE NIMES
Diego Carrasco
Belén Maya "Tres"
Navajita Plateá
Saturday, January 22nd, 2011
Téâtre de Nîmes (Francia)
Text: Estela Zatania
This morning when we left Nimes to head for the airport, the fiesta begun last night in the hotel was still going strong.  But the 2011 edition of the Festival Flamenco has come to a close, and an excellent triple program was the gala flourish that wrapped it all up.
DIEGO CARRASCO, A MAN OF MANY TALENTS
Once again, as is happening with other festivals and similar events, the need for belt-tightening led to results that were as admirable as they were surprising.  Who would ever dream of programming Diego Carrasco for a solo guitar recital?  Mister Flamenco Showbiz without his boys behind him to construct an ambience for the happenings that always materialize…  He couldn't even believe it himself, but there he was in the intimate surroundings of the Espacio Pablo Romero, a kind of Spanish cultural center with bulls' heads on the walls and the feeling of a flamenco club.  Diego began by saying that it was a sacrilege to present him in the festival as a guitarist after Moraíto's recital just a few days earlier, but he offered an original piece, explaining that it would unify all the rhythms of flamenco, and so it was.  Bits of soleá dissolved into bulerías, tangos or even granaína, bamberas, caña…all convincing and with a sure touch.  It was like peering into his mind and contemplating his way of feeling the compás that so firmly inhabits therein.
| | |
| --- | --- |
| | |
| Diego Carrasco | Diego Carrasco |
Continuing in his surreal style, two pieces were dedicated to Fernando Terremoto and Moraíto respectively, with moving verses and interpretations that got through to each and every one of us.  "The Cachorro of Triana is going to make him get better" were his words for Moraíto, before a dense version of Las Tres Hojas.  Then, speaking about Terremoto, he assured us "he's here right now, really!", and a bare lightbulb which at that precise moment glowed brightly before burning out, seemed to confirm it.
WORLD PREMIERE OF BELÉN MAYA'S "TRES"
I've said it many times, I can't understand all the hoopla about premieres which are nothing more than shows that need to be broken in.  However I am glad to have been present for the debut of Belén Maya's newest work.  Following a practical minimalist formula that will permit this show to be programmed in a diversity of venues, the title is "Tres" (three), in reference to the three main interpreters.  Belén the dancer, Rafael Rodríguez, guitarist and Jesús Méndez, singer.
| | |
| --- | --- |
| | |
| Belén Maya | Belén Maya |
After a long slow beginning that had the audience somewhat distracted, suddenly there was dance, and it's Belén in all her splendor.  Fresh, original and bravely innocent with alegrías.  It's fascinating to observe how this dancer periodically becomes enthralled with certain details – right now she appears to be exploring wrist movements.  She works up each obsession to its ultimate consequences, squeezing out everything she can, and then moves on to something else…fans with a trail of filmy fabric, clever finger movements, sliding across the stage as if on rails, obsessive repetition of steps…all this we've seen appear and disappear throughout Belén Maya's career, indicating superior intelligence to feed her seemingly endless creative urge.  The most surprising thing is she doesn't lose sight of flamenco.  In fact, she may be the only dancer who has been capable of incorporating concepts of modern dance without allowing flamenco to be upstaged in the process.  Intelligence and exquisite taste.
Rafael Rodríquez on guitar is again irreplaceable with his knowledge, his personalized traditional sound and his unmistakable cleverly applied pizzicato.  Jesús Méndez shows he is capable of handling the difficult job of putting voice to the show.  Difficult, because there are long cante solos and a lot of singing for dance.
The tangos danced by Belén are pure delight.  The soleá, fascinating – it's not the gypsy approach that some people might prefer, but an alternative evolutionary route that is equally flamenco.  With no grand ambitions beyond the grandest of all – that of making high art.
'NAVAJITA' HAD THE LAST WORD
 
At the Odéon Café Cantante, Pelé and Curro, which is to say "Navajita Plateá", added the finishing touch.  Laidback and full of creative energy, it was flamenco rock filtered through Jerez, chewed up, digested and born again to delight the young sector of the Nimes audience.  Terrific musicians, Jorge Vidal on electric guitar, Ignacio Cintado on bass, Ané Carrasco, José Manuel Angulo Peña and Luis Carrasco on percussion and palmas and Juan Grande on drums.  Famous songs of theirs such as the hypnotic Noches de Bohemia had the audience singing along with a French accent, other newer ones, a little street-smart martinete and fiesta finale por bulerías.
And thus ends the Festival of Nimes.  I don't know about the economic balance, but the artistic one has left a great deal of richness in this corner of the south of France where the title of World Cultural Heritage is taken seriously and each year flamenco receives the warmest possible welcome.
| | |
| --- | --- |
| | |
| Navajita Plateá | Navajita Plateá |
---