Estela Zatania
Photos: Ana Palma
XXI FESTIVAL DE JEREZ
Pastora Galván "Mírame"
Thursday, March 9th, 2017. 9:00pm. Teatro Villamarta, Jerez de la Frontera
Special 21 Festival de Jerez – All the information
Dance: Pastora Galván. Cante: Alicia Gil, Ana de los Reyes, Jeromo Segura. Guitar: Juan Requena. Upright bass: Álvaro Ramos. Accordion and hurdy-gurdy: José Manuel Vaquero "El Pájaro". Percussion: José Carrasco.
At 7pm at the Sala Compañía, within the program of the Festival de Jerez, dancer Guadalupe Torres presented her small-format work "Acuérdate Cuando Entonces", a title that inevitably recalls the well-known soleá of the revered flamenco singer, Tomás Pavón, and that entire generation, that of Fernanda, Perrate, Periñaca, el Sordera, Borrico, Paquera, Terremoto, Mairena and Caracol among others whose faces were projected onto the upper curtain throughout the show.  It's a past experienced by many people of a certain age, and which the dancer has chosen to honor.  Soleá por bulería, siguiriyas, a variety of cantiñas, tangos del Piyayo and of Triana, bulerías and fandango por soleá form the basis for this discreet but interesting work.
For generations of flamenco followers, the name "Pastora" has always been an unmistakable reference to the great Pastora Pavón, "Niña de los Peines".  But nowadays, you'd have to ask which one is being referred to.  Because the Pastora whose surname is Galván has become a major figure of flamenco dance.  And like her brother, Israel, her head is full of original, daring, at times outlandish ideas, which she fearlessly lays out for an audience mentalized to permit all of it.
The opening presents Pastora, wiggling in an exaggerated way, dressed in a glittery white dress, to the sound of suggestively exotic percussion.  Suddenly, the dress is pulled up and away to reveal a short polkadot dress underneath evoking the 1950s of flamenco, and the first hearty laughter comes from the audience.  Dressed in this way, she dances a taranto with flat shoes that lack heels.  Soleá, with upright bass, accordion, guitar and percussion.  The insistent powerful rhythm of 'romance', and just when you think things have settled down, Pájaro, the accordionist, with a fake French accent and the airs of a cheesy showman, announces "Jerome", who turns out to be none other than singer Jeromo Segura, who comes on like Liberace in a white satin suit to treat us to his fine fandangos de Huelva as only singers from Huelva are able to do.  At another point in the show, he offers a medley of once popular rumba/tango, ending with Buana buana King Kong, and leaving the audience exhausted from laughter and applause.
Pastora in a red bata de cola, evokes Ravel's bolero.  But no.  Now it's "Ne me quitte pas" to refer to "La Francesa", her brilliant work of ten years ago.  The program notes mention three acts: I-What I've done, II-What I'm doing and III-What I'm still going to do, but what's most noticeable are references to "La Francesa".
Pastora Galván is a flamenco fantasy unleashed. She has the knowledge and preparation to do almost anything she wants…and no qualms about it.  If you get the idea. Because that's the tone of most of the show; humorous or just plain madcap details, odd little jumps and gestures, insinuation… The work feels like a challenge to Lorca's dark brooding concept of flamenco.   At times, imitating kitsch to satirize it, runs the risk of becoming kitsch plain and simple.  But somehow, and by the skin of her teeth, Pastora knows just how to salvage those moments and give them new meaning.
I could go on describing the show, but it would be too long.  Noteworthy is the carefully chosen back-up, with the versatile Juan Requena on guitar, and the too-seldom heard, but quite enjoyable voices of Alicia Gil and Ana de los Reyes, por siguiriyas, bulerías or just being cabaret girls.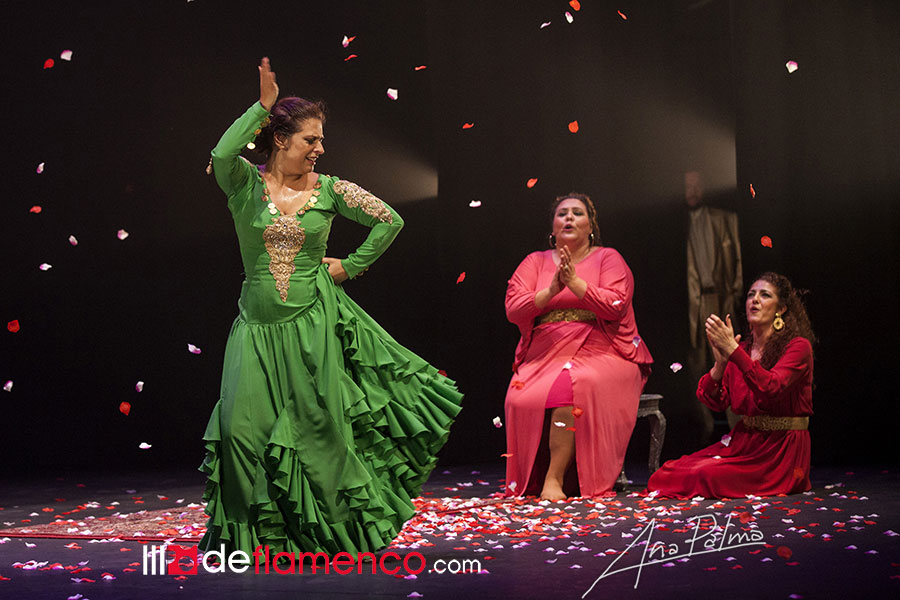 Photo Gallery Pastora Galván, by Ana Palma
Video:
---