Text: Estela Zatania
Photos: Ana Palma
18th FESTIVAL DE JEREZ
Belén Maya "Los invitados"
Londro
Monday, February 24th, 2014. Jerez de la Frontera
Special 18th Festival de Jerez – All the information
BELÉN MAYA "LOS INVITADOS"
Teatro Villamarta, 9:00pm
Belén Maya. Guest artist (dance): Manuel Liñán. Special collaboration (cante): Carmen Linares. Guest artists (cante): José Valencia, Tomás de Perrate, José Anillo. Cante: Gema Caballero. Guitar: Javier Patino; Rafael Rodríguez. Palmas: Laura González, Marina Valiente. Actor: Javier Centeno. Collaboration of the Coro Polifónico Ars Nova directed by José Manuel García Martínez. Original music: Javier Patino. Choreography: Belén Maya, Manuel Liñán, Chloe Brulé.
The main show of the fourth day of the Festival de Jerez, may well end up being one of the most memorable.
Until the age of 18, Belén Maya, daughter of dance stars Carmen Mora and Mario Maya, claims to have hated flamenco.  But she managed to resolve that inner conflict, made her peace with the genre, invented her own identity and along the way triggered a new era of flamenco dance in which viable communication was established with contemporary dance.  If other dancers do not always achieve a happy marriage of classic and avant-garde, Belén has the virtue of knowing just who she is, and serve as a catalyst.
And the invention just keeps bringing good things.  Honest and direct, always with a touch of daring and even devilishness (in this work she spends a lot of time carrying chairs around the stage), she never loses sight of that essence so brilliantly defended by her parents.
"Los Invitados", 'the guests', is the self-defining title of the show that last night debuted at the Villamarta theater.  Belén is both hostess and participant, taking turns in a series of interpretations with a magnificent assortment of guest artists including Manuel Liñán, Carmen Linares, José Valencia, Tomás de Perrate and José Anillo among others.  As well as some who don't figure on the program as "guests", such as Granada singer Gema Caballero, whose sweet voice is never cloying, and the fine guitar of Rafael Rodríguez whose particular style gives the perfect flavor to the bulería romance danced by Belén.
The most powerful moment of the evening, without a doubt, was the sudden appearance of Manuel Liñán in a fire-engine red bata de cola with shawl, dressed in black trousers with suspenders over a white T-shirt, thus presenting a perfect hermaphrodite amalgam that was soon answered by Belén with her white bata de cola and red top.  They dance cantiñas as a duet (don't forget the fabulous caracoles choreography Liñán created for the show "Mujeres" a few years ago), a couple for the history books, electrifying, and the elated shrieking of the audience barely let up for a moment.  The whiff of prizes is in the air.
Another special moment was the performance of Tomás de Perrate who continues to move forward with his belated but unrelenting path towards the heights of Utrera cante inherited, if indeed art can be "inherited", from his legendary father Perrate, and with clear references to another maestro in his family, Gaspar de Utrera.  Once again Rafael Rodríguez gives just the right touch for these singing forms of the interior.
Belén's sense of humor has her dressed up as Ginger Rogers to dance "Cheek to Cheek" with an actor who imitates Fred Astaire.  It's all very cute, and Tomás delights the audience when he sings the complete song with the large Polyphonic Chorus Ars Nova on-stage in Spanglish.  But the joke goes on too long, and it's a clear case of less being more.
From humor to drama.  We cannot fail to mention the martinete and siguiriya of the always admirable José Valencia, and the soleá he sings to Belén, ending magnificently with Triana cante.  A certain contained sadness is always present in Belén's stage presence.  Her seemingly serene dancing – there are no grimaces or mussed-up hair – is tinged with a bittersweet quality.  The dreamlike quality that colors her creations, in this work takes the form of a projected image of her mother Carmen Mora, a magnificent dancer in her day.  At this point, the sadness becomes focused, and we all momentarily share it with Belén.
Carmen Linares interpreted a stylized granaína and mining cante for "hostess" Belén, ending with tangos de Granada to which the dancer always gives that little extra something they do to tangos in Granada, and the show comes to an end with the entire cast singing the final tango chorus.
Nearly two hours, and very little down-time.
---
LONDRO
Palacio Villavicencio, 7:00pm
At seven in the evening, we attended the first acoustic cante recital of this year's Festival in the charming intimacy of the Villavicencio Palace, with singer Miguel Ángel Soto "Londro".  This is one of the many singers for dance striving to establish a solo career in these difficult times when so few have managed it.
The singer received a warm welcome when he entered the cozy venue packed with people, and that enthusiasm was maintained through the recital that included alegrías de Cádiz, malagueñas with abandolao, tientos tangos, soleá, siguiriyas and bulerías with an intelligent mix of cuplé and traditional short styles.  Young guitarist Jesús Guerrero accompanied the singer with his sensitive guitar-playing, rich with tasteful contemporary details, and the palmas of Carlos Grilo and Javier Peña.
---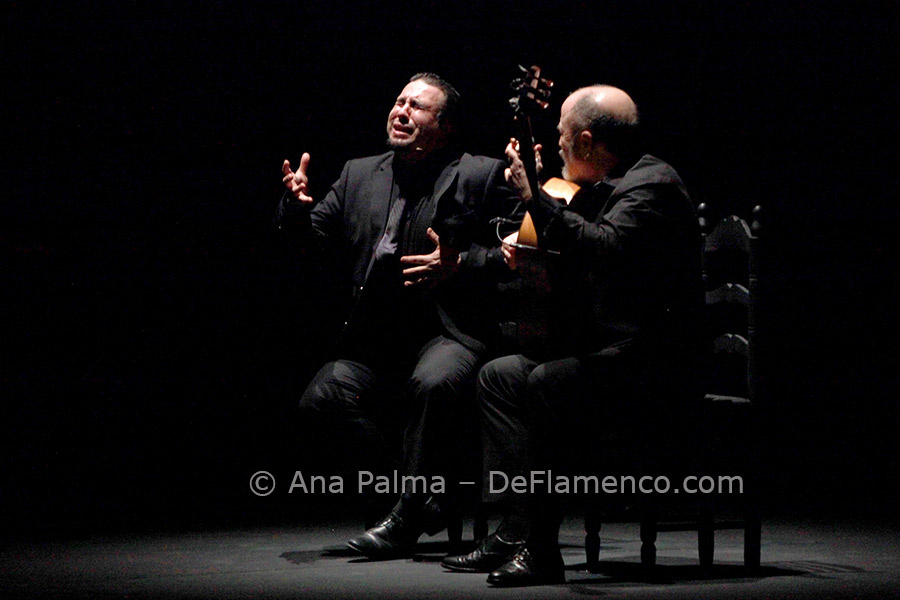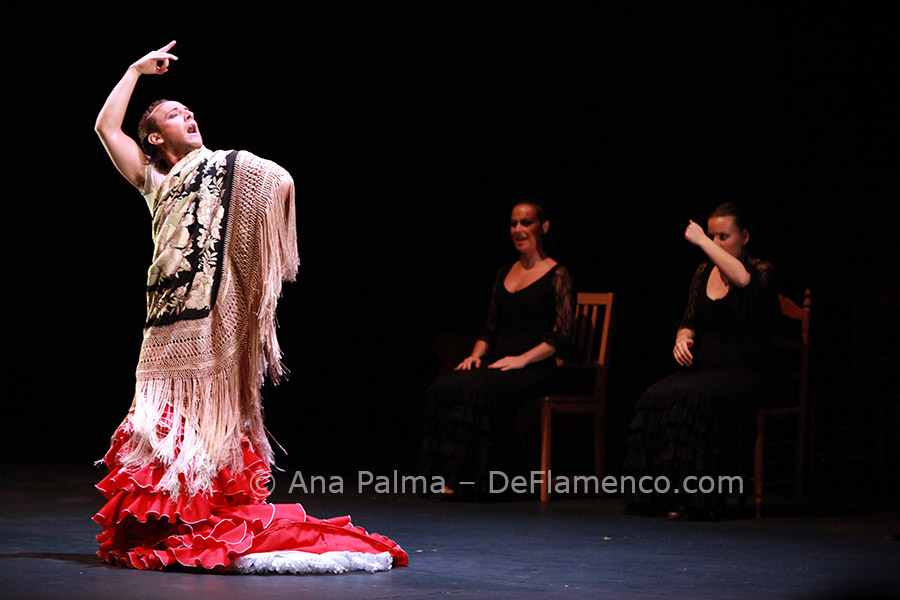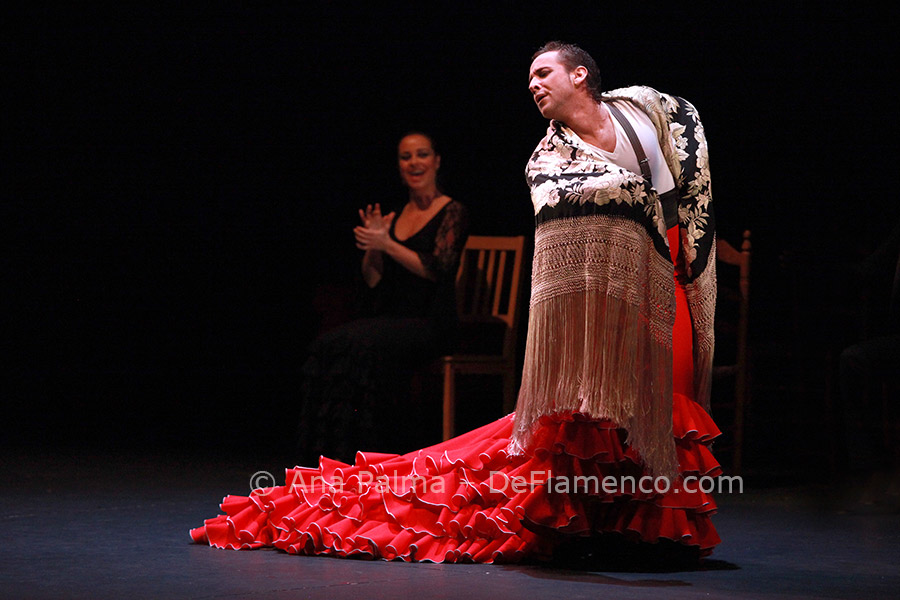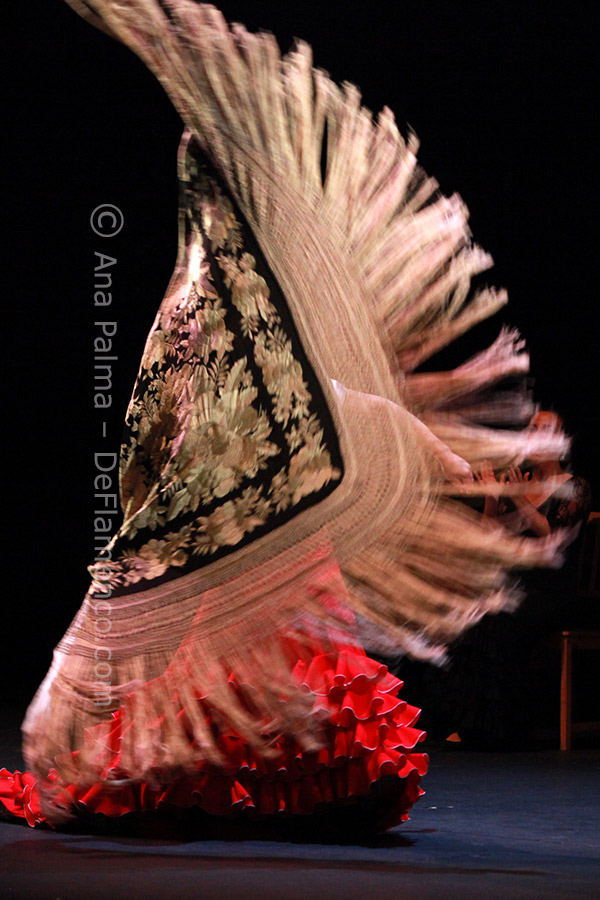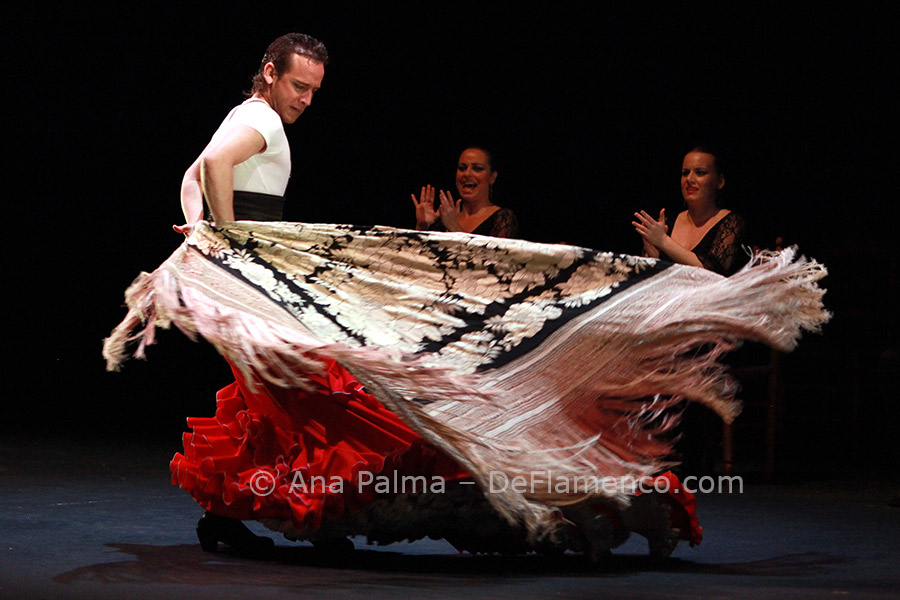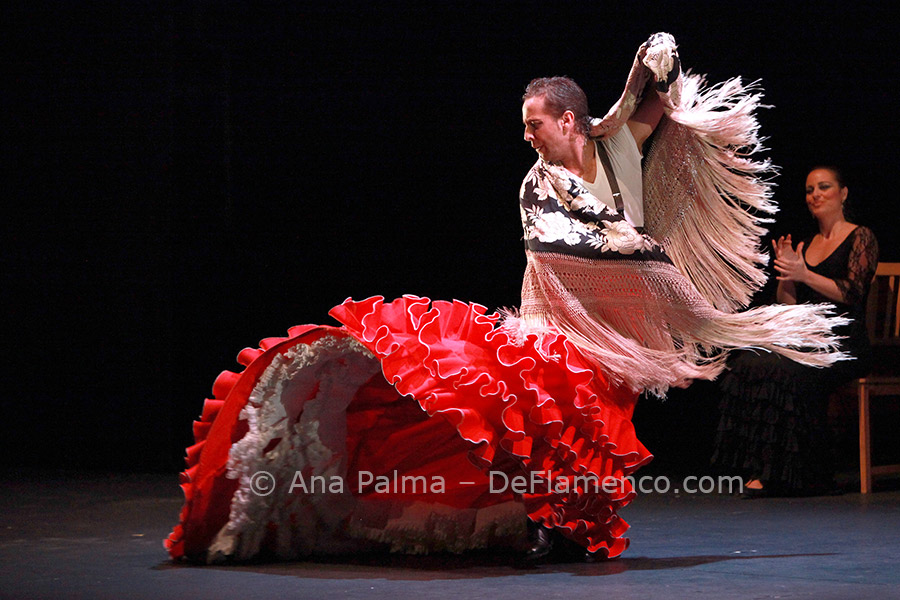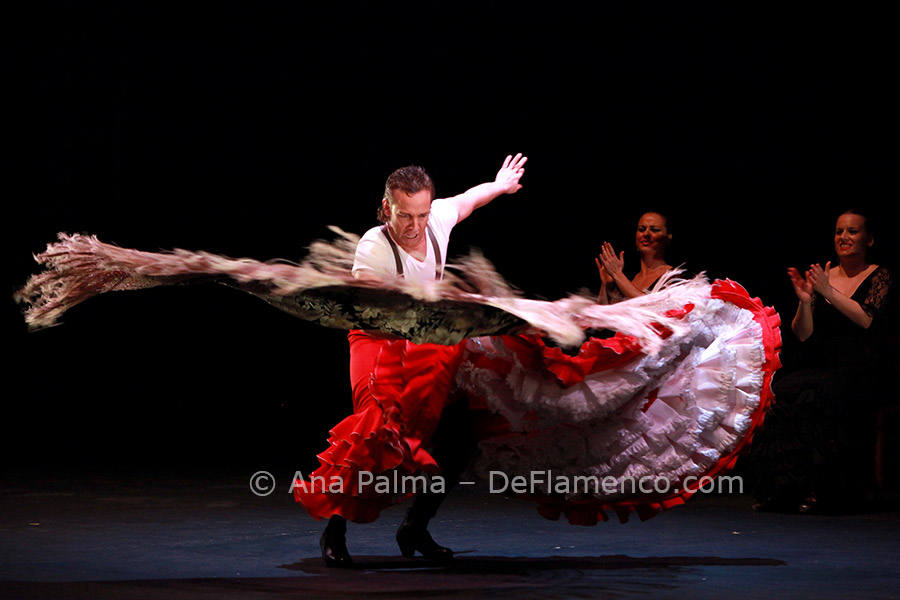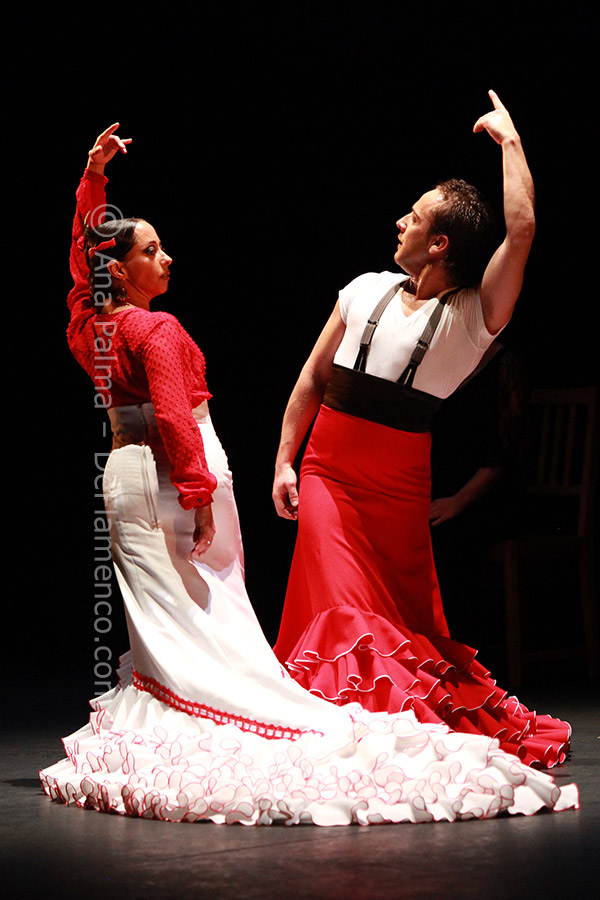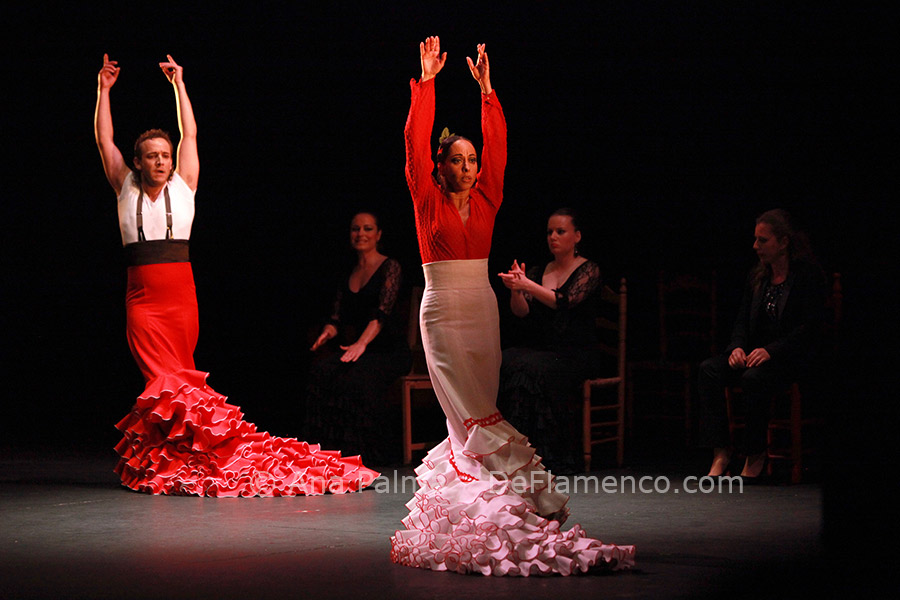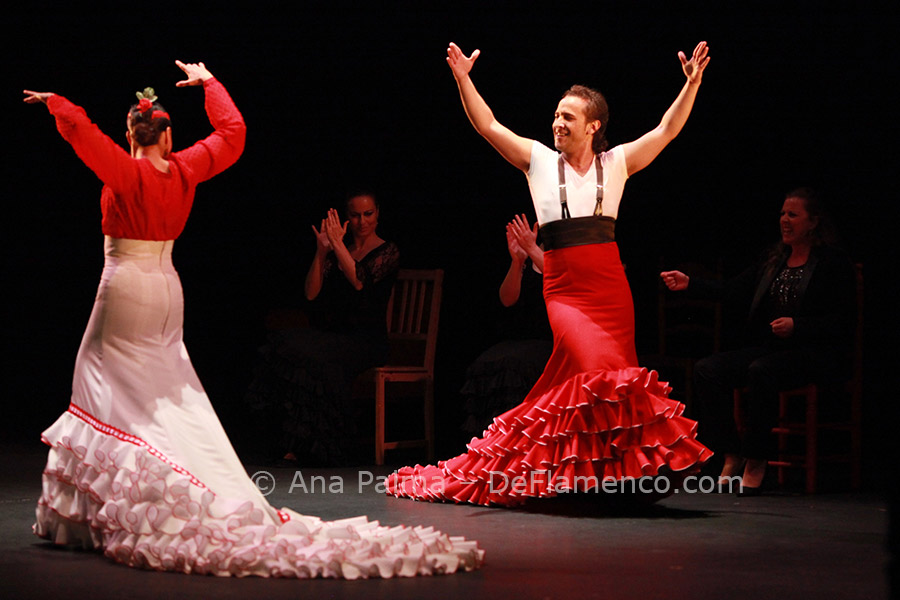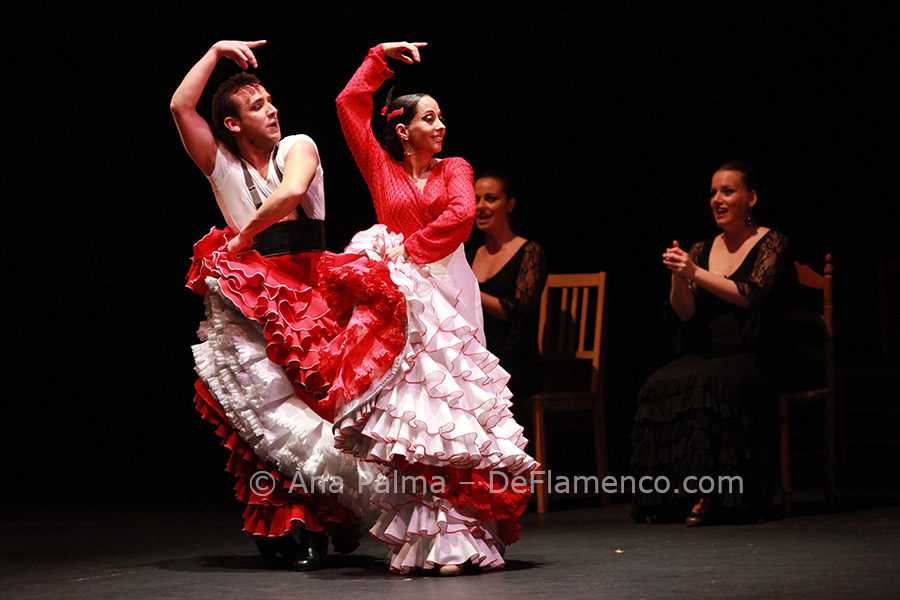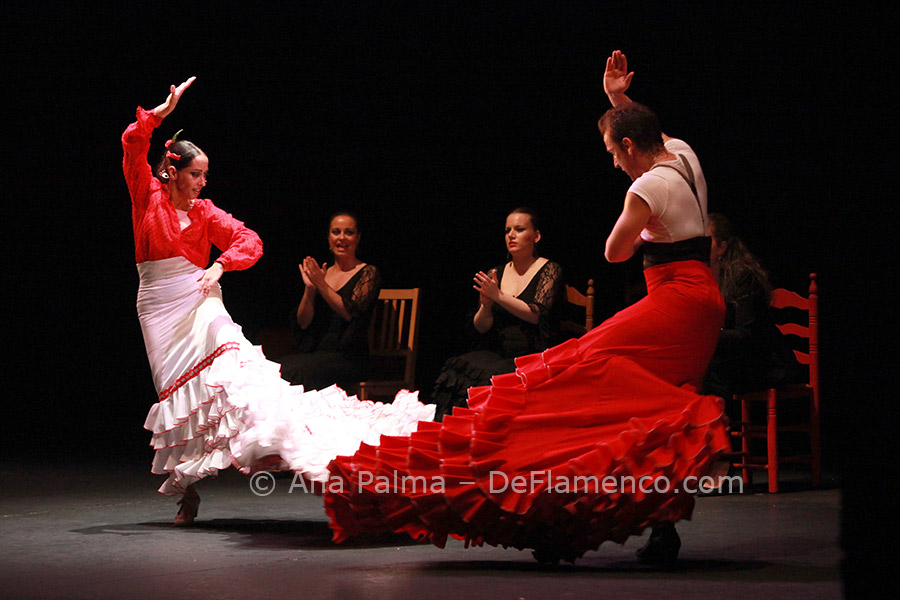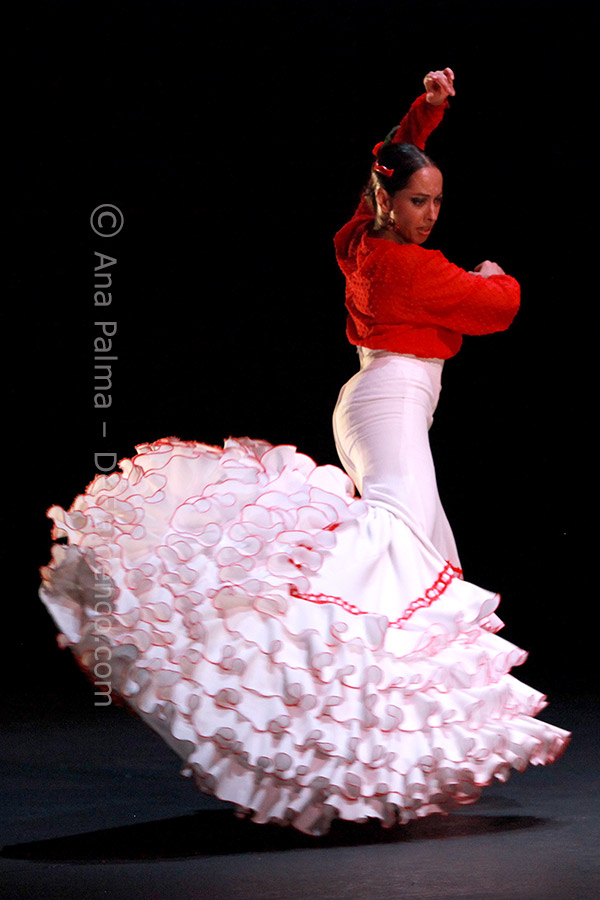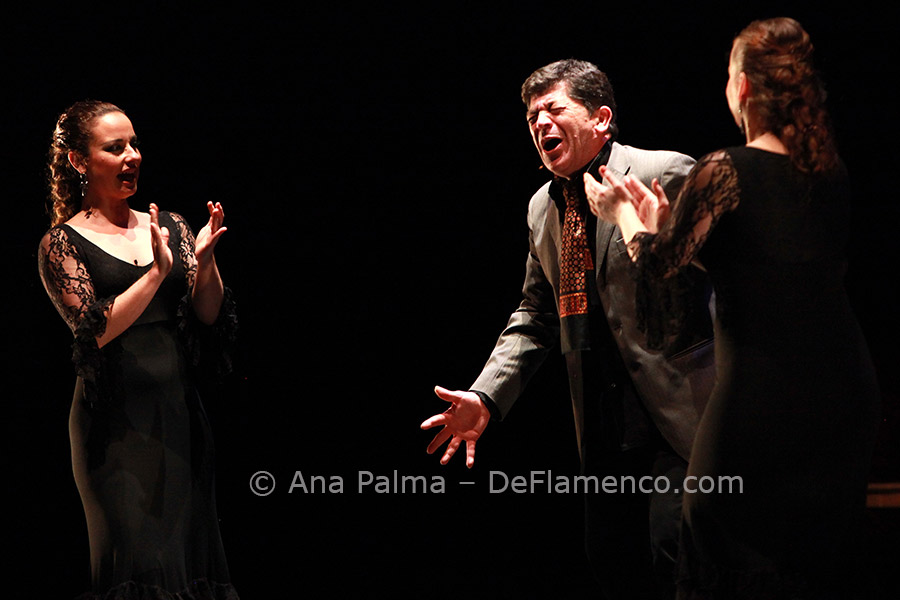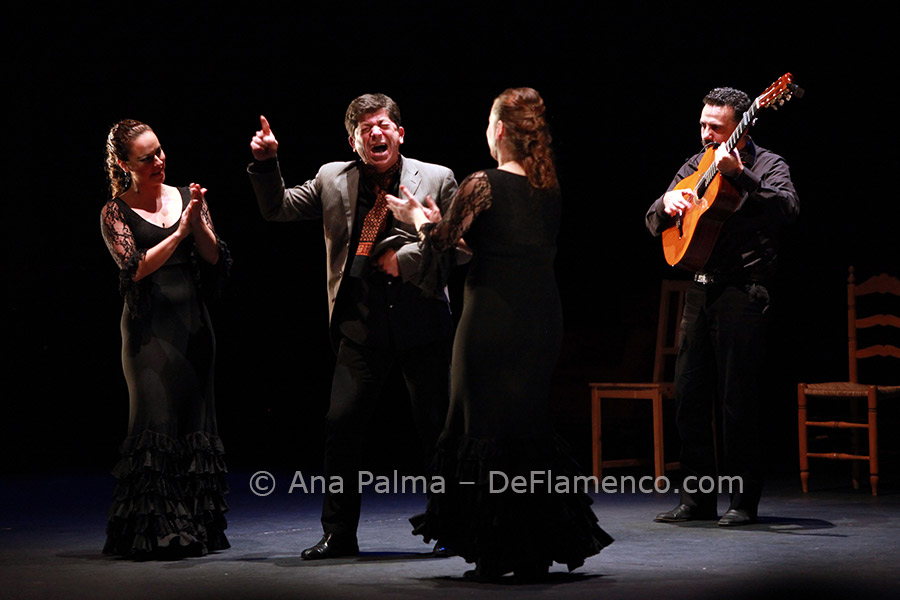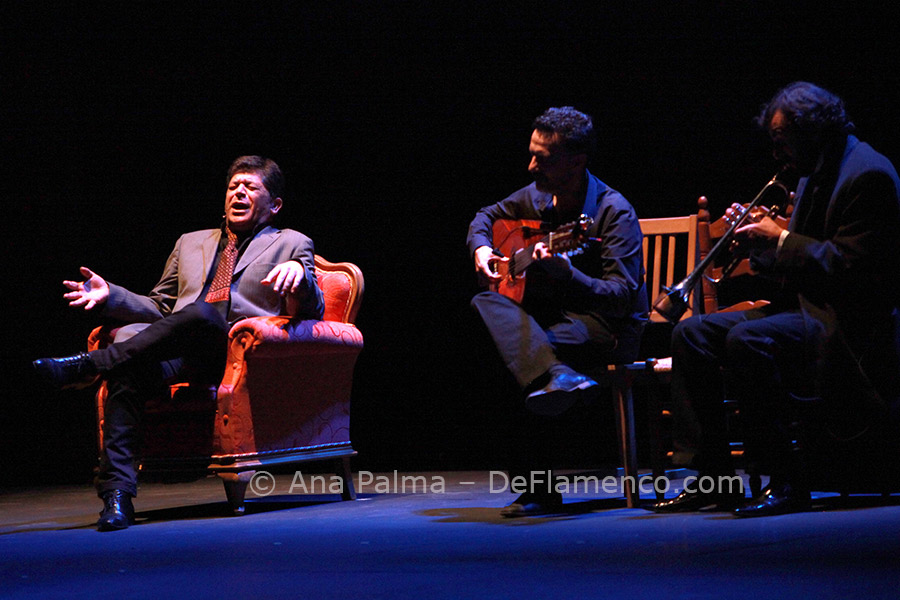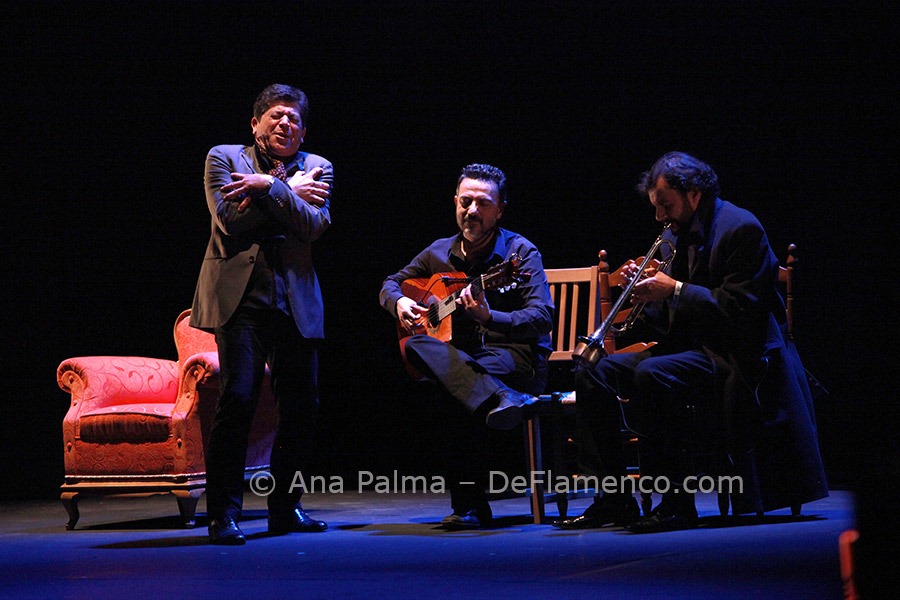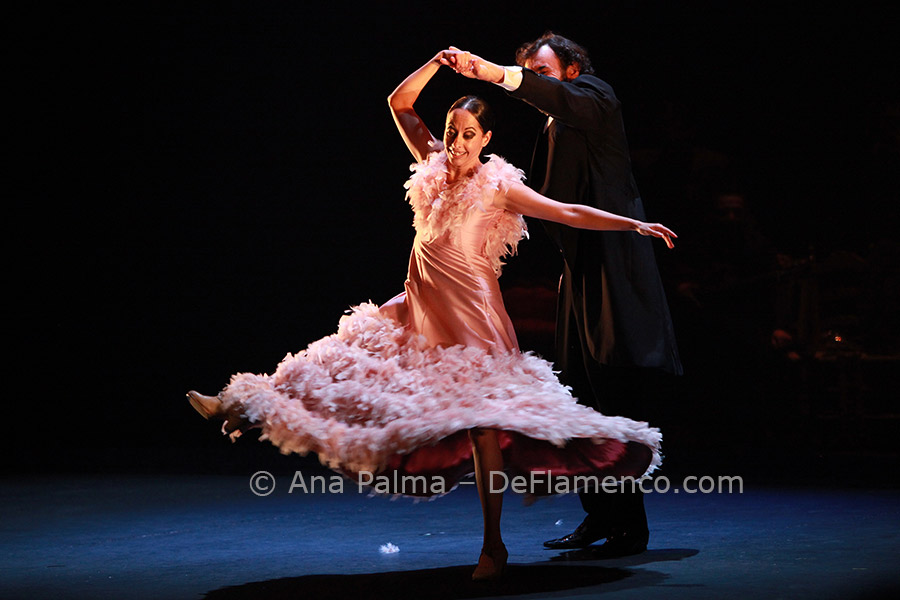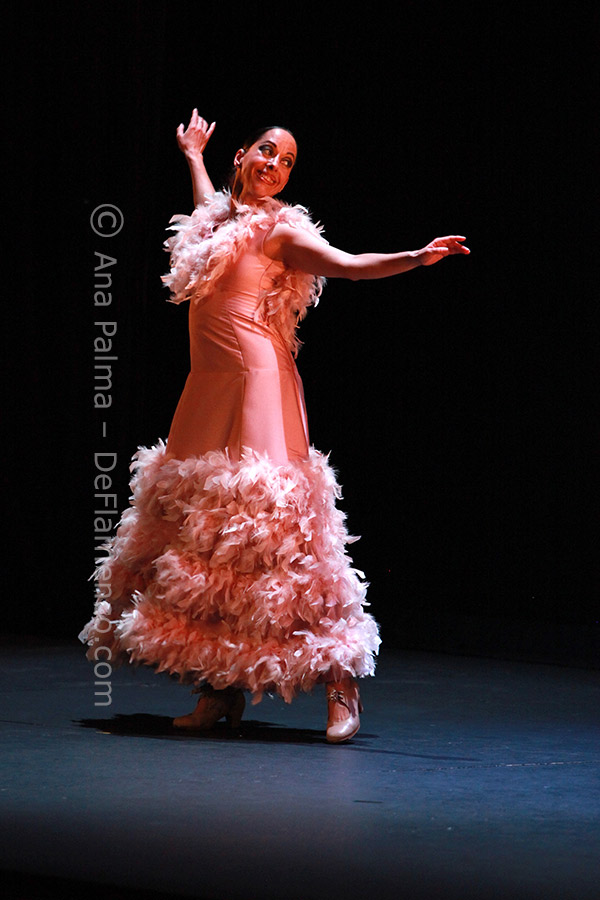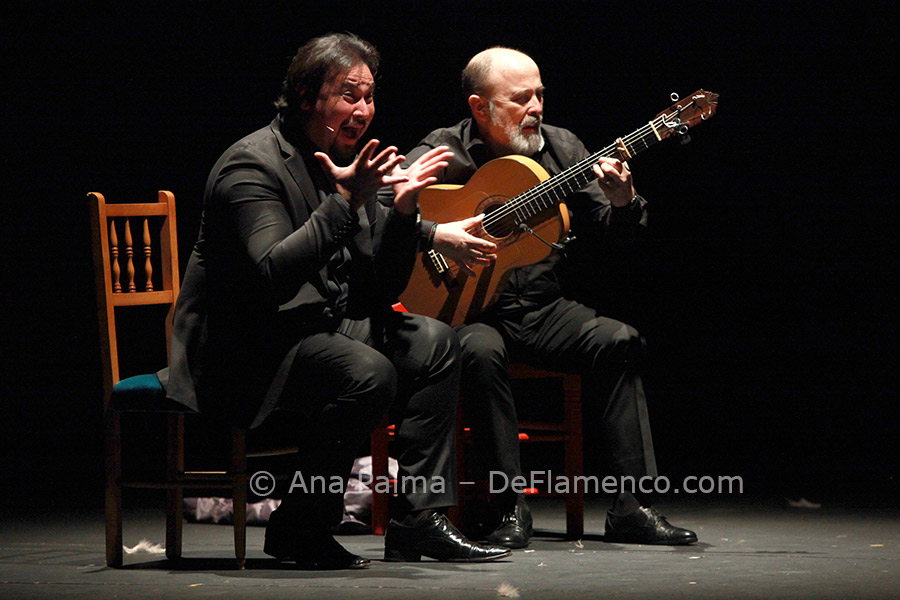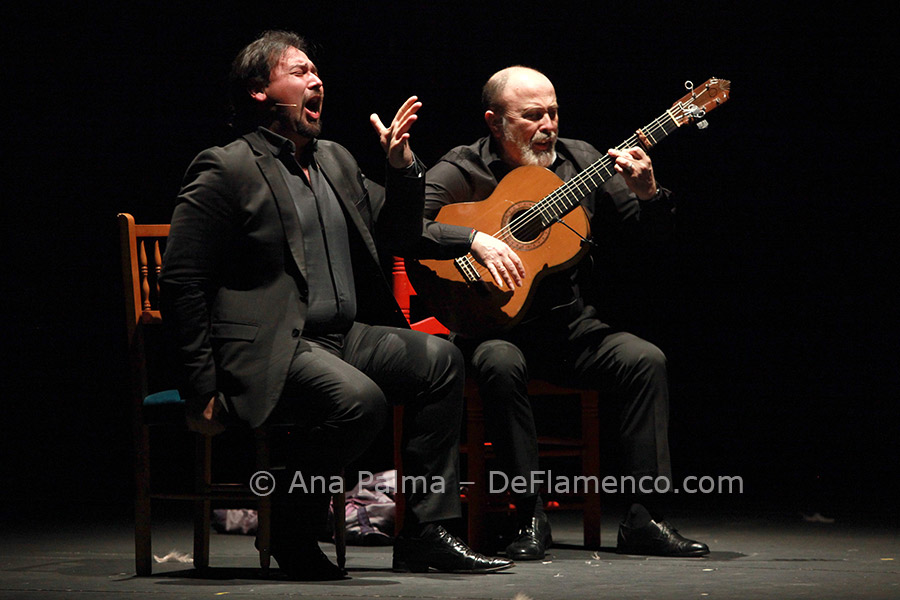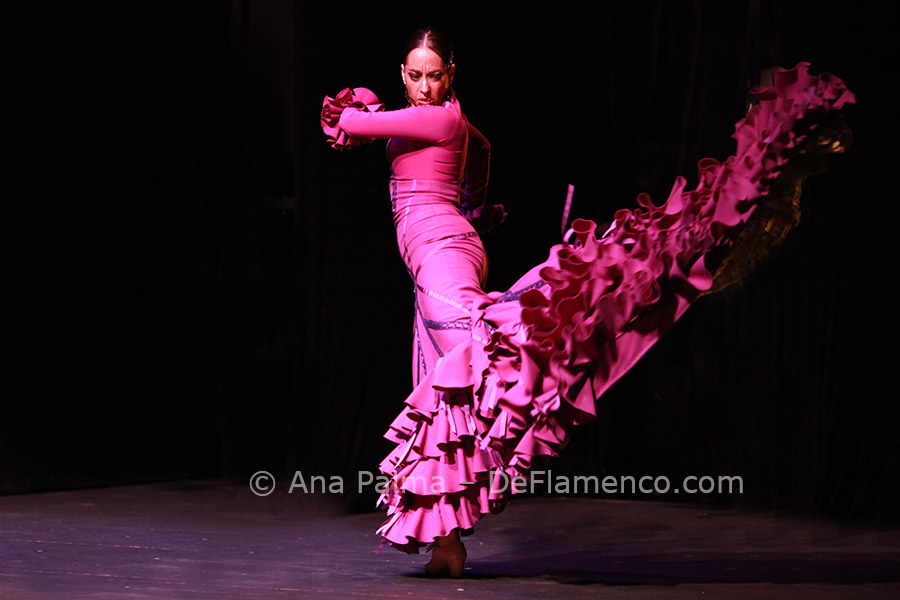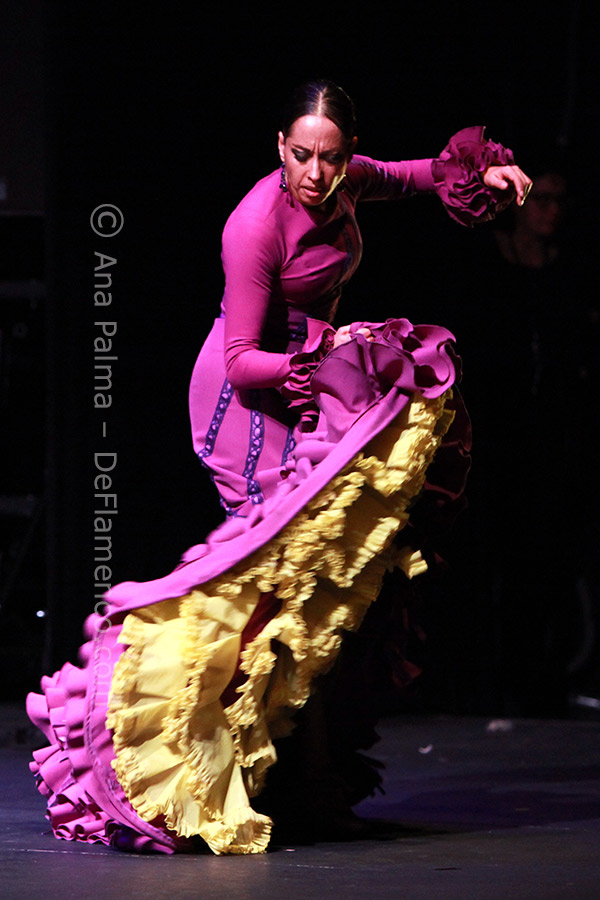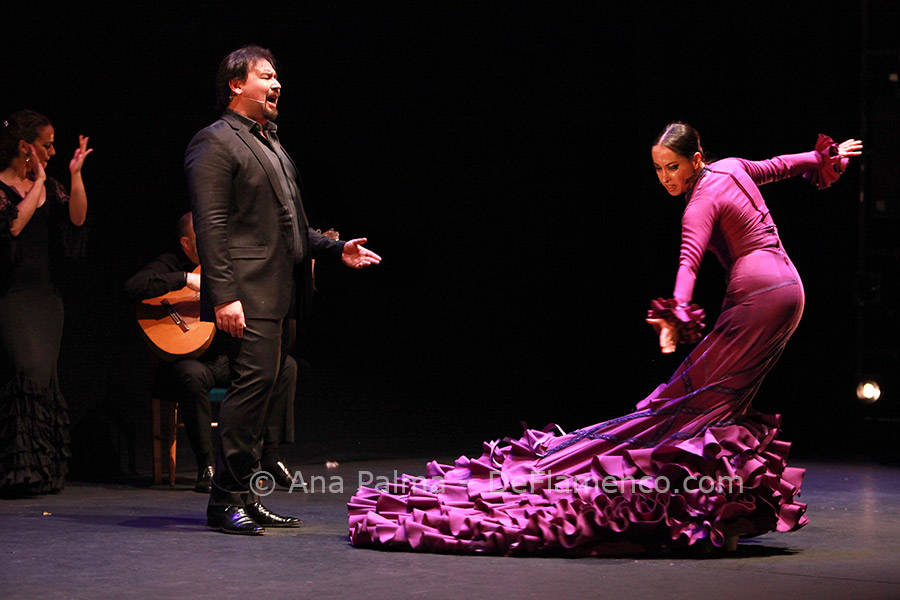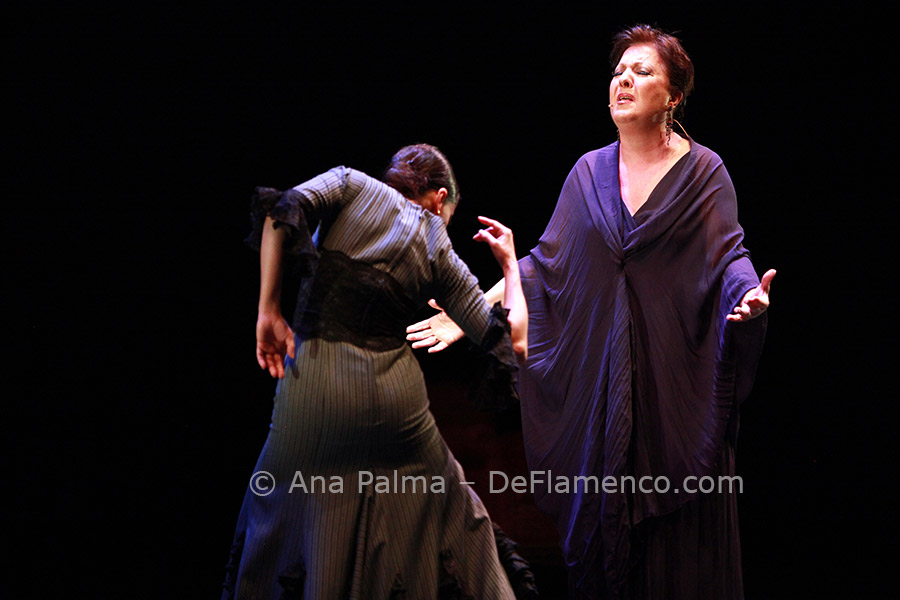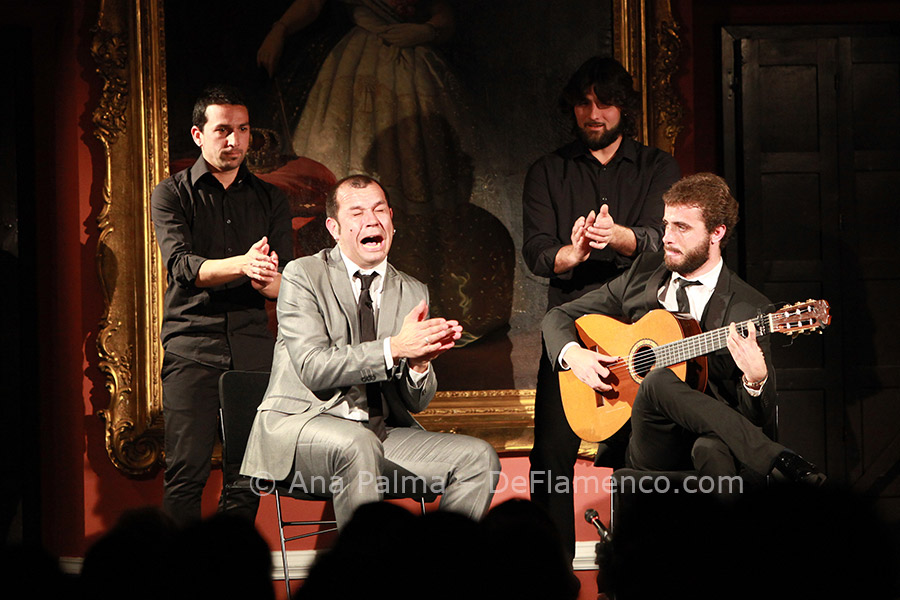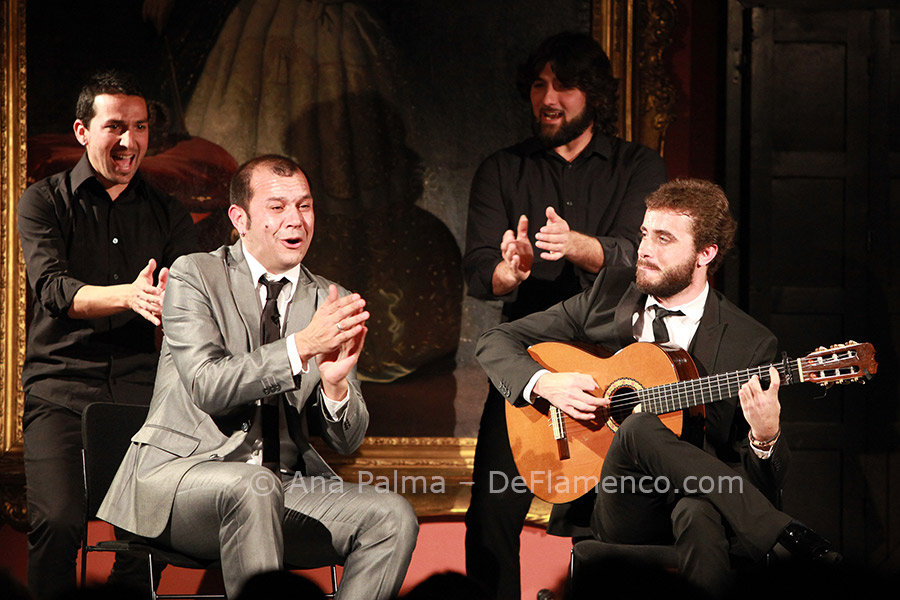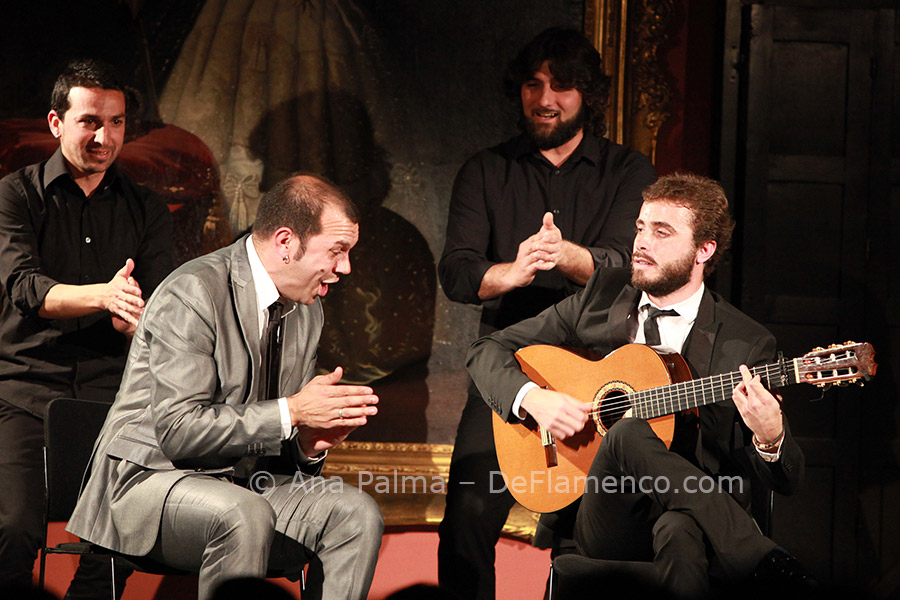 El Londro – Festival de Jerez