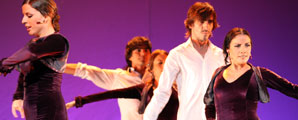 Ballet Flamenco Daniel Navarro
"CÁLIDA HONDURA"
Teatro de la Latina. July 2009
July 15-26, Wednesday, Thursday and Friday, 9:00pm
Saturday 8:00pm and 10:30pm;  Sunday 7:00pm

"LA POESÍA TAMBIÉN SE BAILA"
Text: Pablo San Nicasio Ramos
Photos and video: Rafael Manjavacas
Choreography: Daniel Navarro and Javier Latorre; Original music: Juan Requena; Dance: Daniel Navarro, Lorena Franco, Mara Martínez, Mercedes de Córdoba, Pedro Córdoba, Pol Vaquero. Cante: José Ángel Carmóna, Antonio Campos and Guadiana. Guitar: Juan Requena, Percussion: Lolo Pajaro; Violin: Bernardo Parrilla.
We arrived from Córdoba with an overall good impression of their Festival de Guitarra, and with some information about a young dancer from the city of the Mezquita.  "Make sure not to miss Daniel Navarro, he's the best thing to come out of Córdoba in a very long time".
That was all it took to get me to see him.   Especially knowing how we human beings are, not overly protective of our own.  Daniel has been making a stir for quite some time, and not yet thirty years old, he holds some of the most important prizes in flamenco dance.  He is recognized on his home turf, and let's hope it continues.
He's at the Latina Theater in Madrid.  He and his five dancers, all from his hometown, as well as two singers, a guitarist, violin and percussion.  Well, some of them are heard but not seen.
"Cálida Hondura" is his offering for the summer.  A youthful overwhelming kind of flamenco with three men and three women from the new generation giving flamenco form to eleven texts from eleven Spanish writers.  Eleven poets who have sung the praises of flamenco in one way or another, and whose verses are expressed in eleven short choreographies.
Flamenco in scenic sobriety, free of capricious pipe-dreams, inappropriate eccentricities or any lack of imagination.  A literary scene with few concessions to easy applause.  In itself, perhaps the most relevant thing of the show is the bravery of its unadorned presentation.
Seventy minutes is all it takes to interpret eleven flamenco styles with technique, continuity and integrity.  The men dance like men, and the women, like women.  The Cordobans were right, this Daniel and his people are worth seeing.
The show leaves no room for resting, and the continuity is only broken by the audio cuts.  Violin, guitar and percussion are not visible, which gives the feeling of recorded music in the transitions from one number to another, as if someone were turning a radio off and on.  This is the only negative point in an overall good backup, headed by the guitarist responsible for the music, Juan Requena, the electric violin of Bernardo Parrilla, the percussion of Lolo Pájaro and the singing of José Ángel Carmona, Antonio Campos and special guest artist, Guadiana.  
Supported by an off-stage voice, a carefully dosed effect, and the running theme of the image of each scene and author, the connection with the audience is continuous.  Javier Latorre, co-author of the work with Navarro, has a lot to do with it all.
The show, which is based on traditional duos, reaches its highest point in the tangos that allude to Pio Baroja, the jaleos of Pedro Córdoba and the ending bulerías.  Daniel's "family" (Lorena Franco, Mara Martínez, Mercedes de Córdoba, Pol Vaquero and the above-mentioned Pedro Córdoba) interpret the music of Vicente Amigo putting to rest the fears of doomsayers who predict a murky future for flamenco dance.  All bets are on flamenco, sobriety, depth and good dancing.
It's a lot to ask.  Here it's served on a platter, and so should it always be.  Lest we forget.
---