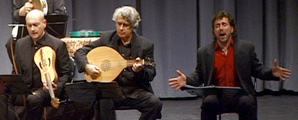 Axivil Aljamía with Pedro Sanz
Special epiphany concert
Toledo. Teatro de Rojas.
January 4th, 2008
Text: Manuel Moraga
Photos: Guillem Ventura
"Perfume Mudéjar"
Flamenco expression doesn't only generate its own beauty, but is also a natural resource for establishing musical discourse with other aesthetics and genres.  This was evident last week at the Rojas theater in Toledo – the city of three cultures – with the group Axivil Aljamía with singer Pedro Sanz.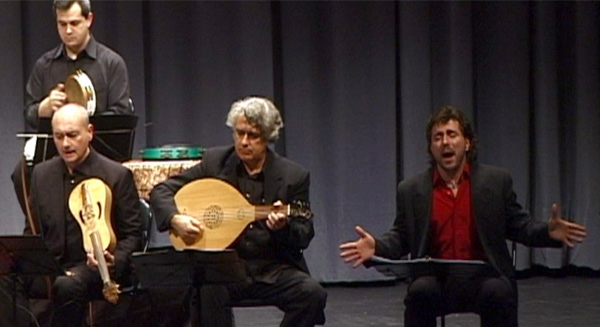 Axivil is a prestigious group that was founded in 1997, led by Felipe Sánchez Mascuñano whose goal is the reconstruction, recuperation and recreation of historic Hispanic music.  The name of the group comes from the Jewish musician Juceff Axivil, who in August of 1352 was hired to accompany prince Juan of Aragón on a trip from Huesca to Zaragoza.  Throughout its career, the group Axivil has undertaken a diversity of projects, and this latest one, titled "Perfume Mudéjar", and for which the group took the name of Axivil Aljamía, is focused on Andalusí music, epic romances from the frontier and some pieces from the Cancionero de Palacio (a collection of Renaissance music).
The unusual thing is that along with the lute, fiddle, hurdy-gurdy and Andalusí songs, we have the flamenco voice of Pedro Sanz, one of the maestros of the younger generation, a knowledgeable singer in the traditional style, extremely studious, and familiar with a wide range of styles, winner of the prize "Silla de Oro del Cante" and regular collaborator of maestro Früebeck from Burgos.  The texture of his voice, the drama and the sensitivity of the flamenco interpretation give a new dimension to historic music, especially pieces like "Paseábase el Rey Moro" or the impressive – both as music and literature – "De Antequera Sale el Moro".  It is truly a delight to hear these old romances brought back to life via Axivil, with the addition of a flamenco voice, the barroque nature of the melodies and the warm interpretations of  Pedro Sanz, who has always taken a special interest in romances that have undergone the transformation to flamenco.  Romances which, as we all know, have been situated by scholars in the protohistory of this artform.  Some of the pieces are harmonized in two or even three voices, multiplying the vocal richness, as happens in "De Antequera Sale el Moro", a romance full of timeless lyricism.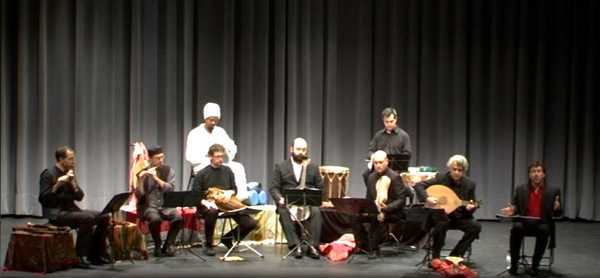 Among the members of Axivil, noteworthy are Jaime Muñoz, founder of the legedary group La Musgaña, and Javier Paxariño, another big name in traditional Spanish music.  In all, nine interpreters on stage, all of high quality and from a diversity of backgrounds.  The audience that practically filled the Rojas theater got to its feet to demand an encore which took the form of a Sephardic piece.  Flamenco, Andalusí music, the Cancionero del Palacio, Sephardic songs…  Very highly recommendable this musical tête-à-tête in the city of three cultures.
---