Silvia Cruz Lapeña

Cover photo: Clara Cardona

Concert photo: Albert Bach
The Catalonian group presented their first recording at «Emergents», a series that is showcasing young performers at the Auditori de Barcelona through April 23rd.
Being young is not, in itself, a virtue.  Beginning this review with something so obvious is a sign of the times.  Being young doesn't need to be synonymous with freshness, nor being green, nor naïve.  And this is becoming clear en Emergents, a series taking place at the Auditori de Barcelona through April 23rd, and in which professional musicians who have not yet made their name, present their work.  The tickets cost between 5 and 12 euros, and some of the presentations have nothing to envy of elder or more famous colleagues.
And such was the case of Aurora, a quintet led by the voice of Pere Martínez who presented his first record, also called Aurora, in which we also hear the piano of Max Villavecchia, the percussion of Joan Carles Marí and the bass of Jave Garrabella.  They are accompanied by a local dancer, José Manuel Álvarez, who just opened a dance school in L'Hospitalet, La Capitana, and is in great form.
The concert they offered at the Tete Montoliu space was the repertoire from the álbum.  They opened powerfully with a polo.  Martínez started out with the strongest version of his voice, with a verse by Manuel de Falla, a composer on whom he has based nearly the entire project.  The dancing of Álvarez marked the rhythm, although the drums, piano and bass gave a rock feel that came out a various times throughout the night.  Rock, yes, with psychedelic touches, popular songs…  All this, while centering on the recording and the scene, getting cozy with the genres, embracing them and getting out just in time to seek something else.  It's not a lack of depth, but sheer curiosity.  And it's welcome.  The most flamenco element of the group is Martínez' voice, and the dance feats of Álvarez, but you don't have the feeling that the musicians are disconnected.  You get the impression that they've reunited after each one has followed his own particular path.
A voice full of shading
Mention must be made of Pere Martínez' daring voice, and thank goodness for that, breaking the sound by soaring high and swallowing it with a roar that is unmistakably profound, but he is also capable of singing.  Just plain singing, because flamenco is a howl, and sometimes you just need something different.  Martínez sings like many of his peers, moving away from the lament, without anyone being surprised.  But that change of register isn't as common among male interpreters, nor that variety of textures among the so-called flamenco ones, and which lead Pere to frequently emit an "ay" as if he were about to expire, afterwards doing "Cántigas de Santa María" of Alfonso X El Sabio, a precise and austere piece, with a taste, like the voice, that has also grown with Martínez in recent times.
The group added effects reminiscent of Morente's "Omega" to Felip Pedrell's "Otra", without actually copying it, and in that, as well as other pieces, you hear shades of the early Niño de Elche, the performance, although in Aurora you don't have the impression that anyone is going to devour flamenco.  These men, who had no intention of making a record that was pure or orthodox, took flamenco head-on to produce a kind of work in which the classic forms fade away, but without offense, or any desire to offend.  The pieces, the arrangements and the intent seem more like the fruit of an extensive study, and careful observation of what predecessors have done at the cutting edge, and to whom they've given thanks, while following their own instincts, which is what all artists must do, regardless of how green they are.  For all these reasons, Aurora is a magnificent first recording, one that Taller de Músics is placing all its bets on, and with good reason.
A coherent project
Villavecchia's piano is luminous, and his impatient and demanding mind is obvious in the interpretation.  Marino's percussion is fine and entertaining, neither solemn nor noisy nor boring.  As a show, Aurora needs a little more breaking in, but the idea is good, as is the focus: just rethinking the staging, giving more importance to the lighting and correcting the order of some pieces, would turn this concert into a show that would fill any stage. The idea of employing dance from the beginning, not as a filler, and the coherence between what is spoken, played, dance and honored, goes a long way to making the group work.
In the second part, Pere sang barefoot, half child, half vagabond, like someone who has nothing and asks for nothing.  At times he was lacking in expansiveness, but it's clear he has grown three sizes.  He also showed this in the encores, where he sang "Chiquilín de Bachín" by Horacio Ferrer and Astor Piazzola, moving away from tangos in a natural way, without subtracting angst, and ended, to everyone's surprise, with sevillanas.  You can be sure it was no accident, Pere is very clear about the details with which he announces the future.
Martínez is no longer the guy who sang in Ciutat Flamenco 2014, where he didn't bring out the string of subtlety we see in Aurora.  There, he was directed by Enric Palomar, who is behind many of the arrangements on this record, and a composer whom we cannot thank enough.  He wrote "Bajo Lluvia Ajena", a piece dedicated to poet Juan Gelman who also appeared last night in the Auditori. In that song, Pere had to add flamenco touches to Ovidio and Dante, and do so in Latin and Italian.  Fearlessly.  Anyone not able to imagine it, should buy the record, and listen to this man roar:
Per me si va ne la città dolente,
per me si va ne l'etterno dolore
per me si va tra la perduta gente…
And then say whether Dante's La Puerta del Infierno doesn't suit flamenco to a T.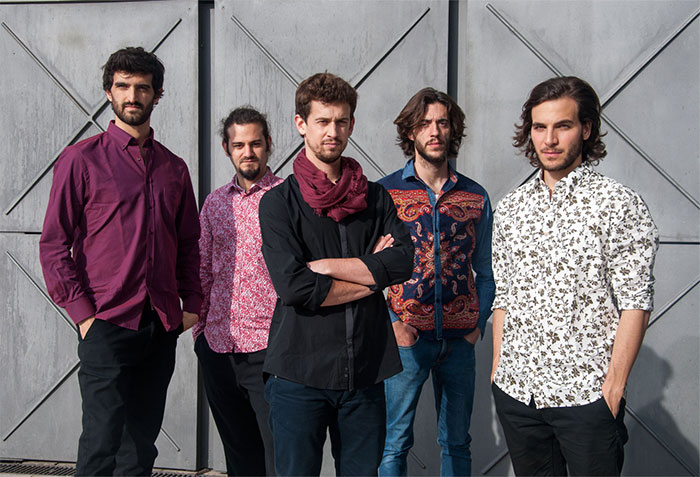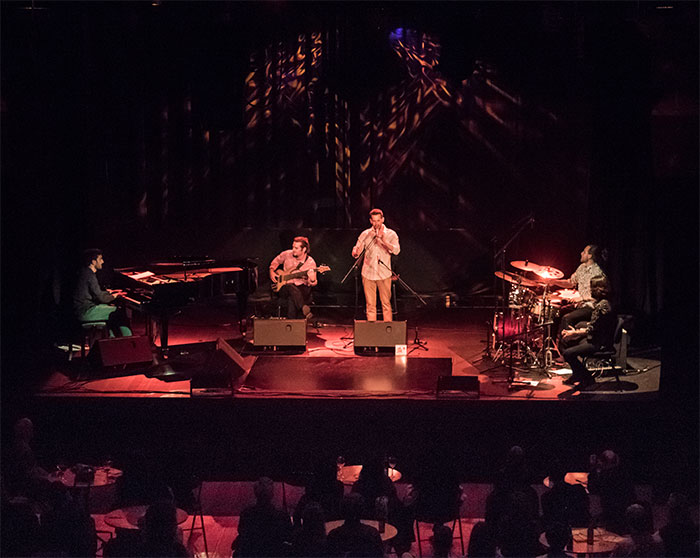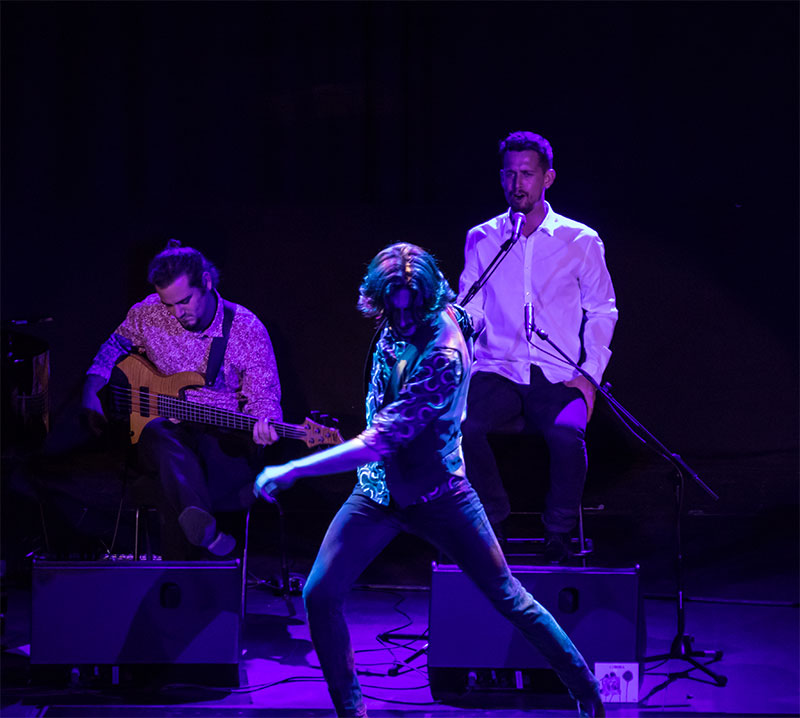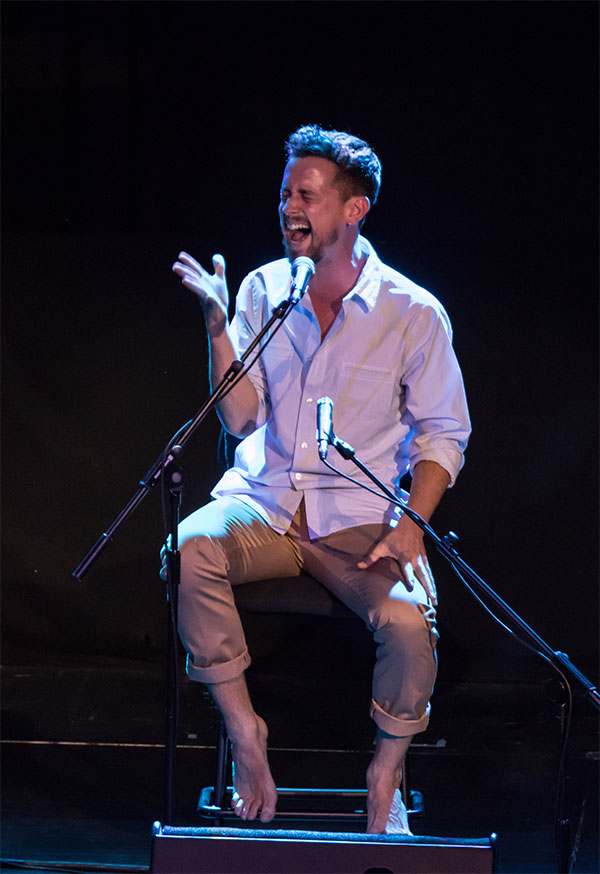 ---