Andrés Marín - Carta Blanca
Septiembre es flamenco, Teatro Alameda, Seville, Wednesday, September 16th
September 18, 2015
Text: Sara Arguijo
Photos: Bienal de Flamenco - Antonio Acedo
Twittear
Dance and choreography: Andrés Marín. Assistant: Salud López. Guest artists: José Valencia and Segundo Falcón. Flamenco guitar: Salvador Gutiérrez. Percussion: Daniel Suárez. Hurdy-gurdy and electric guitar: Raúl Cantizano. Clarinet: Javier Trigos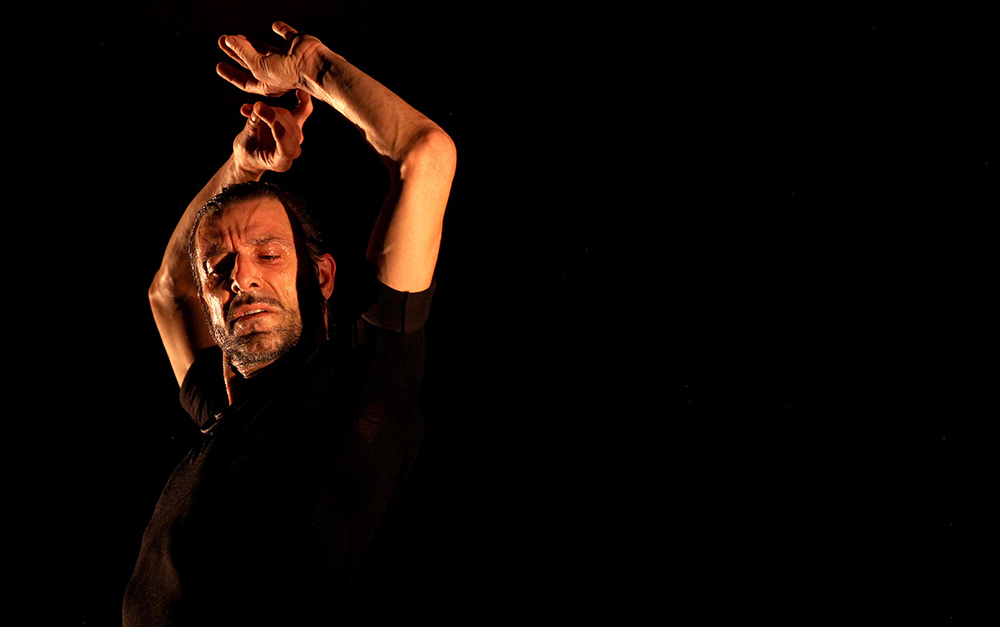 Psychedelic virtuosity
Andrés Marín's dancing is a treatise on art. His creative universe draws from as many aesthetic lines as he needs, because through his discourse he likes to propose topics which he then defends or destroys. He takes from that which is primitive, classic, Gothic, baroque, and revels in the 'isms' of the avant-garde. But more as a conscious need to lay out his philosophy than taking refuge in anything. In fact, seeing him on Wednesday recalls the words of Fernando Arrabal which could have been Marín's on this occasion: "I've created an anarchist party with one single member, myself, and sometimes I kick myself out".

"Carta Blanca" is a good summary of who Marín is, and what he represents. A work which is at times dark, dense, even disconnected, but which, nevertheless, perfectly defines a concept all his own. Furthermore, it allows him to reflect the level of genius he reaches, both artistically and technically (he continues to be impressive with the virtuosity of his feet and the use of the floor). In this way, with choreographies at the service of the music, the Seville dancer had some wonderful moments, such as the siguiriyas with the singing of José Valencia, and the farruca sung by Segundo Falcón. Likewise, his representation of Picasso's harlequin, absolutely melancholic; the humorous number, "la loseta obsoleta", with winks to the theater of the absurd, and his folkloric references with the hymn of the Rocío included, clearly showed how much this man has to offer to dance.

By contrast, the pace of the work was irregular, especially at the beginning, and there were moments that were inevitably disconnected. Possibly due to the overload of elements. But the music, the actual connective line of the work, was like a handle and a required narrator for Marín's dialogue. Strident, histrionic and subtle sounds needed to accompany the eclectic, sober and even grotesque dancing of the man from Seville. Cymbals, percussion and the excellent electric guitar of Raúl Cantizano invited us to journey through the depth of the psychedelic atmosphere that enveloped everything.

My friend Vane, who may even have coffee with the "grandfather" in the conversations of Manuel Bohórquez, says this is music for whales. That it's so strange, she says, that it's not pretty, nor can it be understood, and you don't even know when to applaud. It's true that often I have no choice but to agree with her appraisals, but not this time. First of all, because Andrés Marín is a very good dancer, and secondly because his strangeness is in his intelligence, his rebellion and his personal need to be free, so everything is understandable. Furthermore, I'm sure she would have ended on her feet, as did the entire audience that filled the Teatro Alameda.