Text: Estela Zatania
Photos: Ana Palma
Ana Morales "Los pasos perdidos"
Dani de Morón "El sentido de mi libertad"
Ma. José Franco "Canela y fuego"
Sunday, February 21st, 2016. Jerez de la Frontera
Special 20 th  Festival de Jerez – All the information
Sunday at the Festival de Jerez brought the new projects of three young but seasoned artists, who continue to build their careers and broaden their horizons.
---
ANA MORALES "LOS PASOS PERDIDOS"
Teatro Villamarta, 9:00pm
Original ideal, choreography, artistic director, dance: Ana Morales. Cante: Juan José Amador, Miguel Ortega. Guitar: Rafael Rodríguez. Piano: Pablo Suárez. Percussion: Daniel Suárez. Special collaboration: Salvador Gutiérrez. Guest artist: David Coria. Participation of the Escolanía de Los Palacios. Music director of the Escolanía: Juan Manuel Busto.
At the Villamarta theater, main venue and headquarters of the festival, young Catalonian dancer, Ana Morales, presented her most recent work, "Los Pasos Perdidos".  This dancer has been facing challenges and earning the admiration of the general public for about fifteen years, and last night at the theater she ascended to another level.
"Los Pasos Perdidos" is in the line of the "black" works: scant illumination and an abundance of conceptualism.  The show is structured in three scenes, with no explicit subtext.  In the first section, the serrana was noteworthy, backed up by the angelical voices of the Los Palacios choir, very beautiful.
In the second part, Rafael Rodríguez played a danza mora which included his famous pizzicato, and accompanied Morales' long soleá danced with bata de cola.  She is one of the few dancers who manages to control the long train without jumping, something which used to be frowned-upon.
The insufficient lighting was maintained for guajiras and vidalita, and Rafael played the farruca of Sabicas for Ana's dance, followed by tangos del Piyayo.
As often occurs, the key to success was the excellent back-up.  The voices of Juan José Amador and Miguel Ortega don't need my praise because all flamenco fans know how good they are.  And the same can certainly be said of Rafael Rodríguez with his delightful vintage sound, in the best sense of the word, in addition to Daniel Suárez and the special collaboration of Salvador Gutiérrez.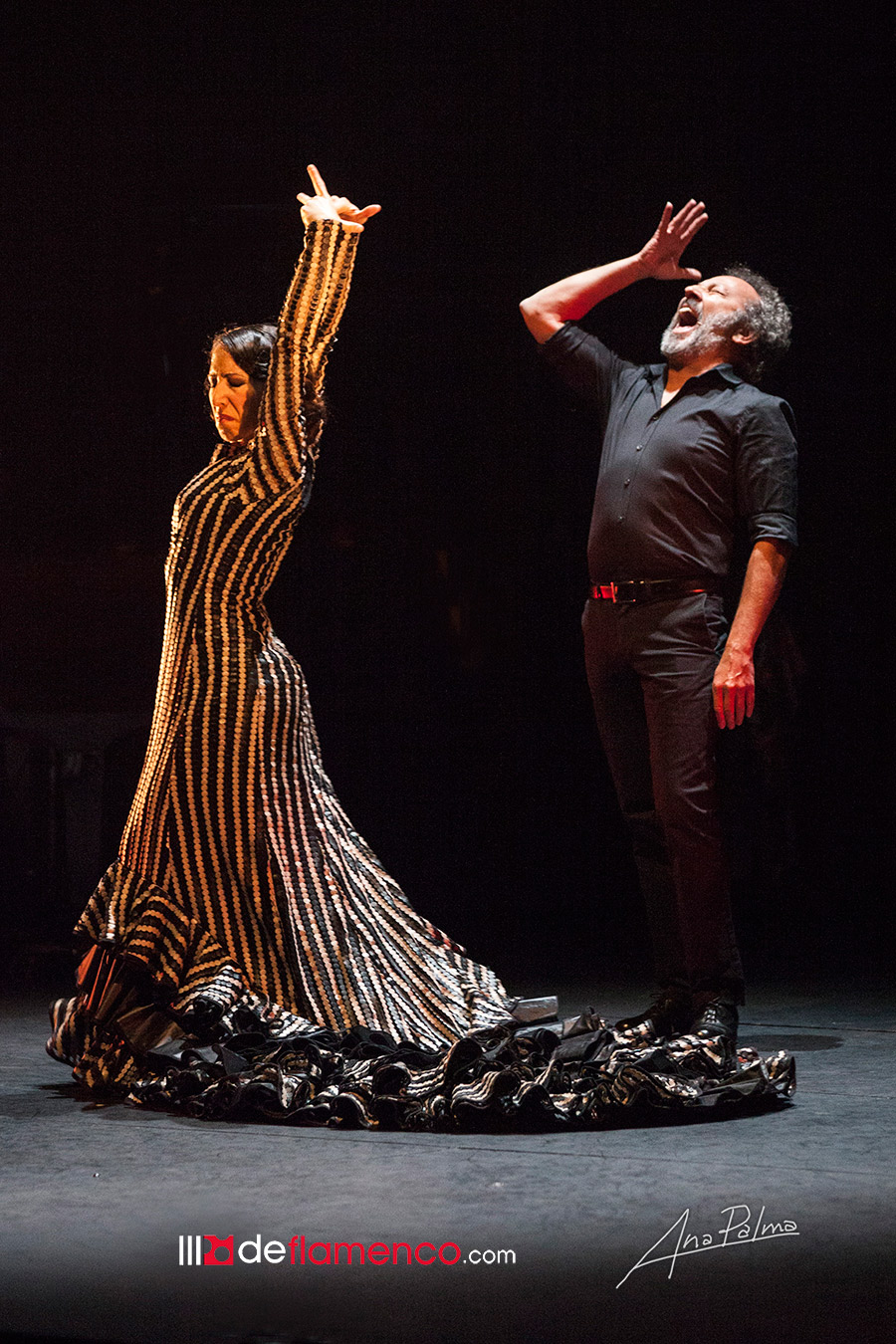 ---
DANI DE MORÓN "EL SONIDO DE MI LIBERTAD"
Sala Paúl, 1900h   
Guitar: Dani de Morón.  Rhythm: Antonio Montes Saavedra, Manuel Montes Saavedra, Carlos Grilo, El Bo.
Dani de Morón is from the new batch of guitarists, although his formative years were in the most traditional vein.  He is a native of Morón de la Frontera, guitar country par excellence, the land of Diego del Gastor and his famous nephews, each one a maestro in his own way of a playing style with lots of history.
But that is not Dani's path.  Without ever forgetting the world of raspy voices, smoky rooms and intimate gatherings, his mental environment is another, because he is a guitarist of the new millennium, one of the many artistic spiritual sons of Paco de Lucía.  In fact, his music is accepted or not according to the generation of the listener.  Young flamenco followers have their ears tuned to contemporary harmony.  Even the rhythm has a new spin…it's no longer on the surface, but hidden, while at the same time being present.  Older fans, who grew up listening to Ricardo and Melchor, have a hard time assimilating this concept.
And all the while, Dani still has a Morón feel, and no qualms about winking to his home-town with classic guitar variations.  He played lyrical composition from his new recording, pieces with more of an Iberian feel than flamenco:  soleá, siguiriyas, alegrías, tangos, malagueña and bulerías among other pieces, all through the prism and mental ambience of this young maestro.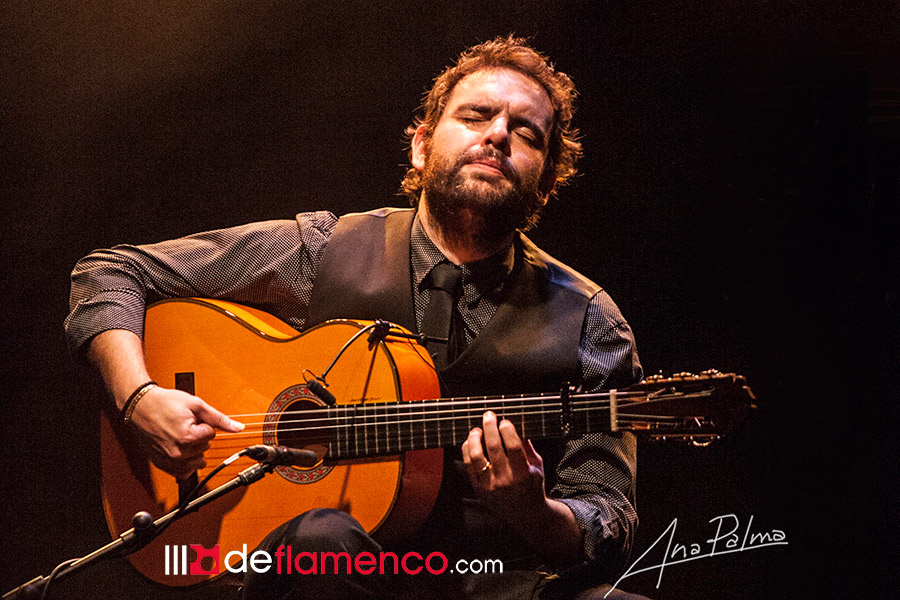 ---
MARÍA JOSÉ FRANCO "CANELA Y FUEGO"
Sala Compañía, 12 noche
Dance: María José Franco. Piano: Rosario "La Reina Gitana". Cante: Luis Moneo, Carmen Grilo, Felipa del Moreno. Guitar: Juan Manuel Moneo, Javier Ibáñez. Percussion: Carlos Merino.
María José Franco, Cádiz dancer related to the Jerez flamenco family of the Moneos, last night returned to the Sala Compañía with a new show.
"Canela y Fuego" is the poetic title chosen for a work with classic format, and no story line.  Three contrasting voices, that of Luis Moneo, warm and flamenco-sounding, the toasted honey of Felipa del Moreno and the sweetly expressive sound of Carmen Grilo, offered variety for a series of dances interpreted by María José, who was seldom off-stage throughout the show.  Siguiriya, a contemporary guajira, soleá and alegrías cantiñas with mantón and bata de cola, with movements that time and again were reminiscent of Antonio el Pipa, whom she partnered for years.
Rosario, "La Reina Gitana", provided piano accompaniment for the malagueña of Luis Moneo and other well-chosen moments.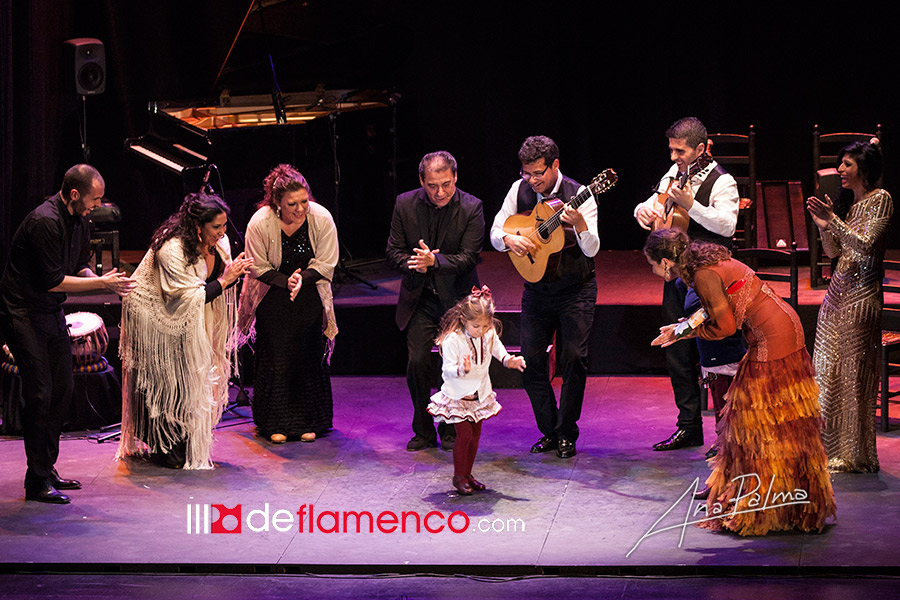 ---