Antonio Moreno & Guest artists: Agustín Jiménez and Juan José Amador
September 29, 2016
Text: Silvia Cruz Lapeña
Photos: Oscar Romero /La Bienal
Twittear
Flashes of brilliance, and one miss
Antonio Moreno comes out to the altar at San Luis de los Franceses with some sticks. He waves them around, makes whip-like movements, and it's already clear this man has the knack for going beyond flamenco. The Utrera-born musician presented "Al Golpe" at San Luis de los Franceses, a show in which he makes use of a gong, a marimba, drums and invented instruments to express the percussion he practices, and which is so linked to experimental music such as flamenco. He was backed up by Agustín Jiménez who was wonderful with a minera of Paco de Lucía on the xylophone, and Juan José Amador who, with his voice, nearly became the principal figure of the show.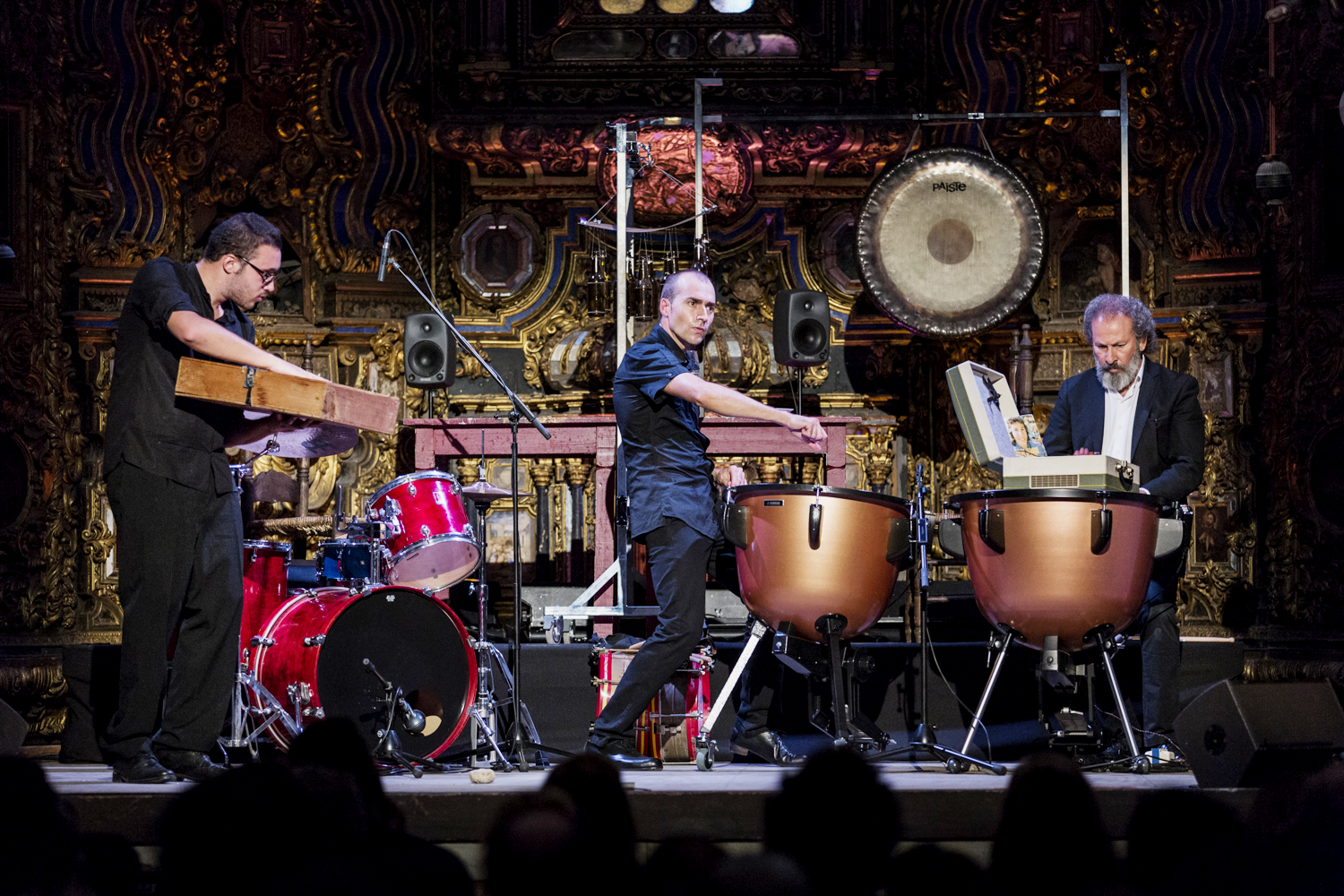 Moreno teaches music at a conservatory, studies music as well, holds the Filón prize for instrumentalist from the Cante de las Minas de La Unión and is a daring sort of person who is also an actor in "Al Golpe". He is in the line of "Galvanized" artists, people who've worked with Israel Galván and become infected with his instincts and freedom, and he showed that fact beating his body, staring out at the audience and cheering himself on. There's also a touch of madness which is also standard, a way of being.

"Al Golpe" contains a story, but it wasn't clear. And it didn't matter, because the show was to see and hear Antonio Moreno who called upon Steve Reich on the altar with a play of hand-clapping similar to "Clapping Hands", a rhythmic exercise for which the American composer admitted years ago he took inspiration from a flamenco group he saw perform in Brussels. There were also sparks from Edgar Varèse. There was a thread of melody from Ramón Montoya's rondeña, which was very moving, and in the break of rhythmic patterns with which Moreno made room for "noise" in his show.

Everything was done with good taste, but despite those flashes, the show lacked cohesion. Moreno is a musician with knowledge and a profoundly inquisitive mind who participates in projects with people such as Mauricio Sotelo and Daniel Sprintz, and is capable of seducing the audience at La Unión with a flamenco marimba. But yesterday he moved from secondary performer to main element, and the result didn't quite come together, something was lacking to round it out, one step further to turn the stream of virtuosity and rhythmic inspiration into something whole. It's only a question of fine-tuning, because although the only cheering was for Amador's singing, Antonio Moreno is a musician not to be missed, an artist who still has a lot to give, even if it's via the percussion he commands so well.