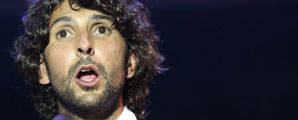 XLIX FESTIVAL INTERNACIONAL
DEL CANTE DE LAS MINAS

Carlos Piñana, Arcángel
Saturday, August 8th, 2009. 10:45pm. La Unión
Text: Estela Zatania
Photos: Rafael Manjavacas
After the flamenco fashion show in the Agrupa Vicenta mine, we got to the theater-market-cathedral for the principal show of the evening.  Like other centers of flamenco singing, La Unión has its dynasties.  Antonio Piñana, senior and junior, singer and guitarist respectively, were key figures in the revitalization of mining cante at a time when its continuance was precarious.  And now the son of the son, Carlos Piñana, has come to the big stage of the Festival del Cante de las Minas to lay down his own particular vision.  Tradition and past experience are passed through the sieve of a new generation via this man's singular intelligence.
He may be a better composer than guitarist.  Lyrical themes, always falling back on the melancholic backdrop of the mine, bitter-sweet, even in alegrías.  He wisely administers the backup of percussion, cajón, palmas, electric guitar and brief vocals in such a way that the guitar is never upstaged.  Dreamy fandangos and soleá, ethereal, with the trials and tribulations of life always languishing just beneath surface.  A splendid farruca is beauty born of suffering when it explores the drama and mystery of the minor scale.  Tanguillo with violin is another lovely composition that doesn't give in to joy without making room for undefined pain which is always hovering, as well as contemporary bulerías with violin and a magnificent guajira.  Today's dance companies should consider the possibilities offered by arrangements such as these to expand their repertoires before getting involved in more exotic music.
| | |
| --- | --- |
| | |
| | |
The second part of the recital was given over to Huelva singer Arcángel, with the surprising Miguel Ángel Cortés on guitar, and the Saavedra brothers doing chorus and palmas.  Martinete and tonás to begin, melismatic and strangely sweet.  Classic soleá with a retro voice, ending with a meticulously adorned version of the Paquirri closing triggered an enthusiastic audience ovation.  Arcángel has his following, and he knows how to make people happy with a delicate, quicksilver voice cut from the old pattern.
The mood of dreamlike siguiriyas is enhanced by an overworked smoke machine, the original playing of Cortés with the sixth string tuned down and the most classic sort of verses, from "A clavito" to "Santiago y Santana".  Whispered silky choruses give the characteristic Arcángel feel to tangos from Extremadura and Granada, which end with "Tres Puñales".  Bulerías up front in semicircle at the edge of the stage is meant to have an air of improvisation with styles from San Miguel and Santiago, but there is a kind of coldness, the singer is always holding back, and repeated harmonized choruses confirm the lack of spontaneity.  An intensely worked arrangement of alegrías cantiñas, a sort of Cádiz suite that includes a wink to Pele and snippets of alegrías de Córdoba, gets the audience to their feet.  At this point the singer speaks to the audience for the first time in the recital.  He says he believes in flamenco because it moves hearts, that it is an identifying genre of Spain, that it will never end and must be treated with much tender loving care.
| | |
| --- | --- |
| | |
| | |
Finally, the fandango moment arrives.  The singer's body language changes, he extends his arms freely and moves naturally.  The lack of spontaneity disappears and the man gives off all the charisma that was lacking in the previous pieces.  A play of overlapping voices, beautiful and complex, is handily dealt with by Cortés.  He plays in A (por medio) getting the folky feeling without forgetting his own identity, and Arcángel reaches the most sublime heights with Alosno styles.  No bulerías fiesta finale here, after these fandangos there is simply nothing else to be said.  Pity this man was not born into the fandango period in order to have fully devoted himself to that which he so thoroughly dominates.
Special XLIX Festival Internacional del Cante de las Minas 2009. All the information: reviews, photos, news…
---