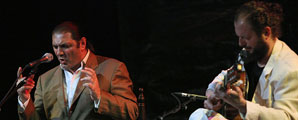 21º FESTIVAL FLAMENCO por TARANTOS
"A Almería"
"Gran noche de Arte Gitano"
Guitarra Flamenca en concierto
LEO DE AURORA
Cante
RAMÓN EL PORTUGUÉS, CANCANILLA DE MÁLAGA,
RAFAEL JIMÉNEZ el FALO, EL TITI
Friday, 23 April 2010

Text: Pablo San Nicasio
Photos: Rafael Manjavacas,
"MASTER CLASSES FOR A SONG"
When the good times were rollin', the festival "Por Tarantos" used to last several days.  The San Juan Evangelista would for a few days become the world epicenter for flamenco, featuring the most up-to-date stars. most especially, names that were on everyone's lips.  With the current situation, this year's offering was considerably reduced, lots, but the objective of a varied program and vigorous program remained.
Above all, because artists were put on stage who are generally outside the privileged loop of the big national festivals.  Gypsies who were, are and will be stars in their own right, in this art of flamenco that owes them so much, and which they continue to enrich and suffuse with vitality.
To start off, Leo de Aurora, the youngest of the Mayas of Madrid who last night opened the program with four pieces (the night was strictly structured on four themes per performer). The guitarist from Caño Roto, with plenty of experience under his belt, and with his genes right in place, gave an original recital that revealed his penchant for blues, combined with his flamenco vein and great technique and harmony.  Outstanding in the accompaniment of two excellent tarantos sung by guest artist María Carmona.
Previous to this, his brother Jerónimo and Piraña backed him up with an eclectic style.  Leo is more sober in form than Jerónimo, but with the same eagerness to discover new things.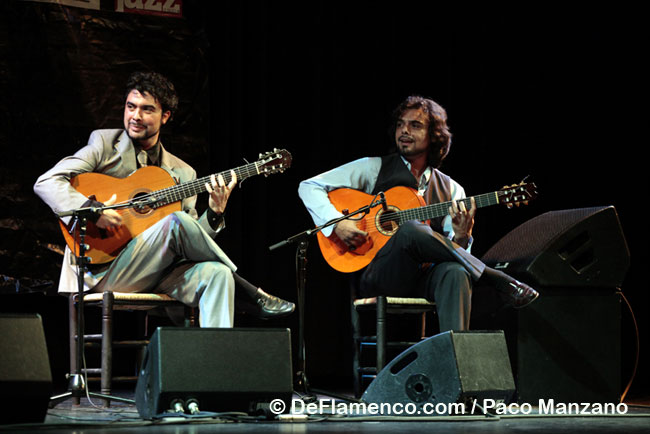 Leo de Aurora / Jerónimo
This was singer Titi's debut at the Johnny.  A local singer formed in the flamenco peñas of his part of Almería, this open friendly gypsy was noteworthy in tientos at the beginning of his set.  Four upbeat cantes (tientos, solea, taranta and fandangos) left us wanting more.  All the same, he's got a great flamenco voice, and as he himself said, "I'll be back soon in Madrid".
Cancanilla de Málaga closed, the one we all thought was from Marbella, but who lately has decided to re-focus his name for a variety of reasons.  And, according to the singer, for well-justified reasons.  In any case, "Canca", who just released a recording, came to the San Juan Evangelista with all the audience rapport that characterizes this kind of singer.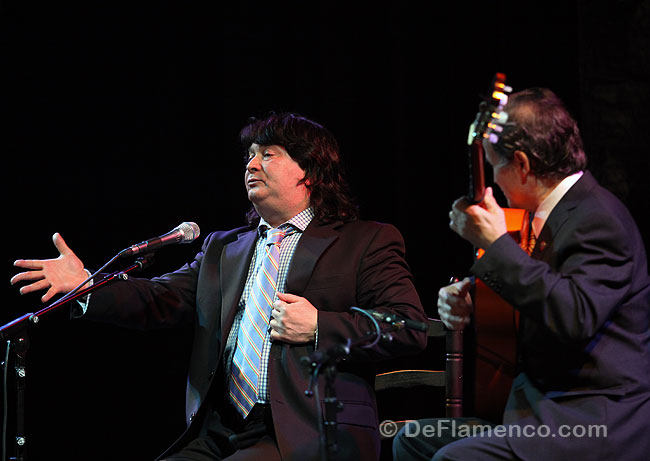 Cancanilla de Málaga
With Juan Carlos, his most traditional guitarist, Cancanilla was laid-back in his four cantes, somewhat weaker in the tarantos but floating to the top when he sang and danced bulerías with extreme grace.  And last night was not one of his best, but even so, this singer has a big following in Madrid.
Who was off the mark was Ramón "El Portugués".  Physically and musically deteriorated, this legendary Extremadura artist was too over the top.  With excessive dissonance and barely linking the phrases, everything was upstaged by the singer's tremendous difficulty in following his own musical thread.  Nearly everything in the recital was forced and histrionic.  He almost got it together in the tangos, but it was the mirage of a night that will not go down in the history books for anything this singer did.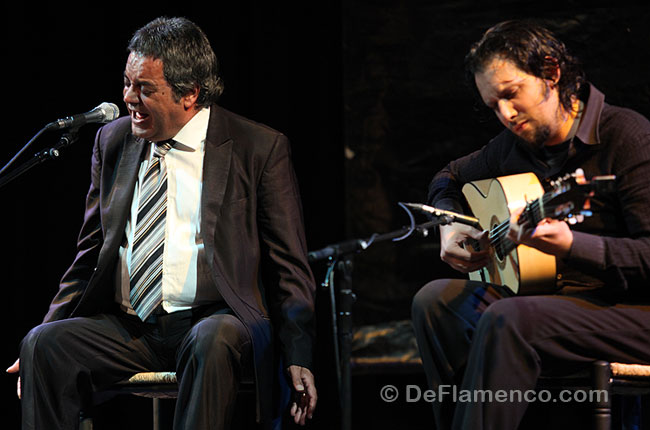 Ramón el Portugués
Without a doubt, we've left the highlight of the week for the end.  Of the week and then some.  Breakthrough novel artists: Falo and Cano, artists who can boast of not being similar to anyone else, these two gypsies started out with a montañesa while we all scrambled to figure out what it was.  Taranto, soleá de Alcalá that Falo himself put in the right perspective while attributing the creators, and a bulerías ending in honor of La Chata, one of the singer's ancestors.  Twenty-five minutes was all this performer needed to get everyone on his side.
Extremely important was the contribution of Canito, with his regular cutaway guitar, great backup for the singer from Asturias.  A maestro of cante many audiences are missing out on because of the limited nature of most programs, and the repetition of regular names.  Recently hired by the Arturo Soria conservatory in Madrid, Rafael Jiménez is one of the obligatory references for understanding with an open mind, what's behind this art.  Yesterday, the maestro explained flamenco to all of us, and it only cost a 15-euro ticket.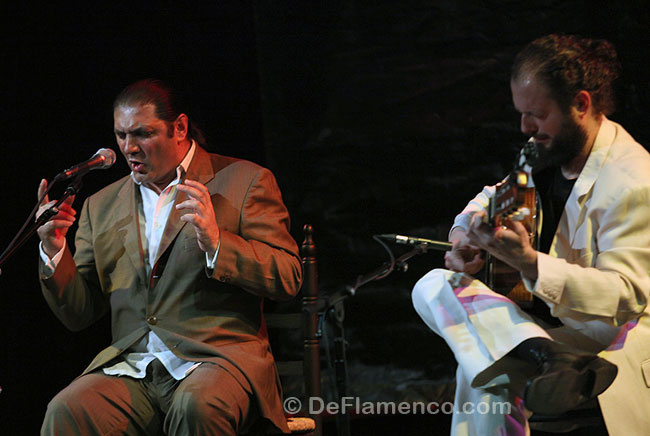 Falo & Cano – 
More information :
---