Estrella Morente, Rocío Molina, Farruquito, Israel Galván, Mayte Martín, Dorantes, El Pele and Arcángel, among others, will take part in 2014.
On January 21st the 2014 edition with be presented within FITUR.
With the 18th Bienal de Flamenco 8 months away, an advance of the official program scheduled September 12th to October 5th has been made public.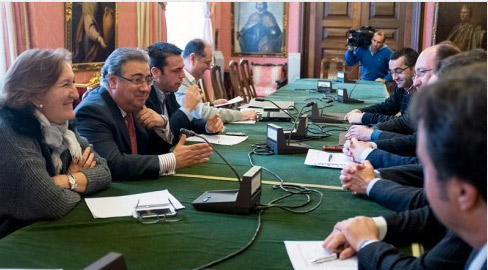 One new element of the program is the project "La Bienal va la a escuela".  From April to June of 2014 participating schools can include these activities to complement the school year's activities.
Cristobal Ortega, director of the Bienal, has released a long list of performers who will appear in the next edition, indicating that the complete official program is to be presented very soon, thus opening ticket sales.
The first week of the 18th Bienal de Flamenco features artists such as Israel Galván who will present "Flacomen".  Tomás de Perrate, Eloísa Cantón and Proyecto Lorca will accompany the dancer under the artistic direction of Pedro G.Romero.
"V.O.R.S. & Mujerez. Jerez al cante" includes Manuel Moneo, Fernando de la Morena, Luis El Zambo, Capullo de Jerez, La Macanita and Juana la del Pipa among others.
Farruquito brings a new show which he is working on at the present time.
"Por los Muertos del Cante" is the title of Mayte Martín's show in which memory is the common thread that brings recollections and influences of early flamenco artists who have given us their art.  José Luis Montón and Juan Ramón Caro on guitar with Chico Fargas on percussion will accompany the singer.
"Sangre" will be the national premiere of Rafael and Adela Campallo.  The bloodline as the sap of flamenco.  If you ask this brother and sister what they have in common as dancers, they will answer: their blood.  They will direct and choreograph the show in which Jeromo Segura and Jesús Corbacho will accompany with their voices, in addition to David Vargas and Juan Campallo on guitar and Javier Silva on percussion.
The second week, Dorantes will present "Flamenco a Cordes", a world premiere and a work made up of strings, pulsation and plucking along with Renaud García-Fons, an artist trained in classic artistic disciplines.  Just two instruments, one melodic, which is the piano, and the other harmonic, the upright bass, to go through the primitive flamenco song-forms and bring them to the terrain of the twenty-first century.
Isabel Bayón, recent winner of the National Dance Prize, will present "Caprichos del Tiempo", a show in which we are invited to reflect upon time, and how it influences everything we do.  The show includes the voices of David Lagos and Miguel Ángel Soto "Londro".
Jesús Méndez and Antonio Reyes also offer a world premiere with their show "Cantaores".  Cádiz, the essence of flamenco singing, Los Puertos, Chiclana and Jerez.
Estrella Morente will present "Siete Canciones de Lorca y el Amor Brujo", a show divided in two parts.  The first symphonic with the Real Orquesta Sinfónica de Sevilla (ROSS) under the direction of Pedro Halffter, and the second, a flamenco recital with the collaboration of Pepe Habichuela.  
Karime Amaya, Jesús Carmona and Paloma Fantova will present their new work, another premiere for the Bienal.
El Pele, the gypsy singer from Córdoba, winner of the Giraldillo prize for Magic Moment of the last Bienal, will offer a cante recital he titles "Peleando y Punto" with guest artists Dorantes, Farruquito and Fuensanta la Moneta.  The show is sponsored by the Cruzcampo Foundation.
The third week opens with a show titled "…Y Sevilla" with Segundo Falcón, Paco Jarana, Manolo Franco and Antonio Canales, sponsored by the Diputación de Sevilla.
After the creative process of "Impulsos", Rocío Molina will present her new large format show, a national premiere after its performance at the Bienal de Lyon.  The Bienal de Sevilla is collaborating in this co-production with Lyon, teatro Chaillot de París, Madrid en Danza, Bienal de Marsella, Festival de Nimes and Festival Istres.
José Valencia's show "Directo" is a world premiere, and will serve as the basis for his new recording.  Arcángel will also present his concert "Arcángel".
The advance presentation of the program will take place in Madrid on January 21st within the FITUR, with Turismo de Sevilla at the gardens of Cecilio Rodríguez at the Retiro.
---