The festival begins June 7th with "El Último Vuelo del Mantón", a tribute to Blanca del Rey. On the 8th and 9th respectively, Tomatito and Carmen Linares will offer their recitals at the Teatros del Canal.
Noteworthy this year is the participation of Madrid's most important tablaos whose programming comes under the umbrella of the festival.  In addition to the regular shows at Villa Rosa, Carboneras, Casa Patas and Corral de la Morería), singer Luis el Zambo is part of the program "Pellizcos Flamencos" at Casa Patas, and singer Manuel de Paula from Lebrija is performing at Corral de la Morería on the 9th as part of "Noches Brujas" a 1:20 in the morning (Saturday night).
The seventh edition of Suma Flamenca begins June 7th at 8:30pm in the Sala Roja of the Teatros del Canal de la Comunidad de Madrid.  "El Último Vuelo del Mantón" is a tribute to the holder of Spain's national dance prize, Blanca del Rey, who will inaugurate the series of shows that includes seven outstanding dancers:  Belén López, Jesús Fernández, Marco Flores, Olga Pericet, Adrián Sánchez, Manuel Liñán and veteran Silvia Durán from Israel.  Blanca del Rey will interpret her famous "Soleá del Mantón" in public for the last time with the twenty kilos of her ever-present embroidered shawl.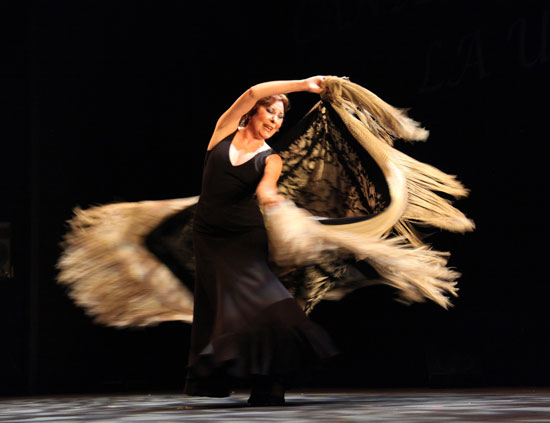 At the same venue, the second concert is Tomatito's, one of the top guitarists of our time and faithful sidekick of the legendary Camarón.  Tomatito will give an overview of his career since the beginning with "Cañaílla Camarón" up to his most recent work, accompanied by the singing of Simón Román and Morenito de Íllora, the guitar of El Cristi, on percussion Lucky Losada and José Maya.  This will take place the evening of Friday, June 8th at 8:30pm.

Carmen Linares, the current diva of flamenco singing, will be accompanied by the dancing of Javier Barón for her show "Remembranzas".  This recital is intended to represent the forty years of the singer's career and will take place in the Sala Roja of the Teatros del Canal on Saturday, June 9th at 8:30pm.
Flamenco singing and poetry to the rhythm of cantiñas, bulerías por soleá, tarantas, malagueña, martinete, fandangos…is what makes up this recital which also features Salvador Gutiérrez and Eduardo Pacheco on guitar, Pablo Suárez on piano, Quique Terrón on percussion and Ana María González and Rosario Amador on chorus and palmas.
The other shore, Israeli flamenco
Once again Suma Flamenca is bringing outstanding artists from other countries committed to flamenco in the series called "La Otra Orilla del Flamenco".  This year Israel is in the spotlight via its embassy in Spain and the Centro Sefarad Israel who are bringing singer Yasmín Levy with her unmistakable style, to interpret a new way of singing Sephardic melodies tinged with flamenco.  She will be accompanied on guitar by Yechiel Hasson, Vardan Hovanissian on wind instruments, Tim Fairhall on bass, Alex de Stanford on piano and Ishay Amir on percussion.  The Israeli embassy has also collaborated to bring Silvia Durán in the show of Blanca del Rey.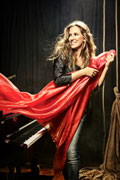 On June 10th in a double concert at 8:00pm we can see the new image of today's flamenco, María Toledo.  The contrast between her edgy voice, evocative of times past, and the contemporary format is always provocative.  It's the first time someone sat down at a piano to sing soleá and petenera.  She will be accompanied on guitar by Jesús del Rosario, Yelsy Heredia on upright bass, Thomas Potiron on violin and Lucky Losada on the cajón.

Four tablaos have joined the program
The dean of flamenco tablaos, Corral de la Morería, will feature Cynthia Cano, Jesús Carmona, Adrián Sánchez, Charo Espino, Ángel Muñoz, Inmaculada Ortega and Marcos Morales, and night-owls can enjoy Manuel de Paula at 1:20 in the morning (Saturday night the 9th).
Another venue with plenty of atmosphere is Cada Patas which has special shows Thursday the 7th to Monday the 11th, with Mónica Fernández, Jonatan Miró, José Jiménez, Juan José Amador, Gabriel de la Tomasa, Juan Jiménez, La Chana, Inmaculada Aranda, El Perre, Manuel Cazás and Antonio Sánchez, and Thursday at half past twelve midnight, Estrella Morente.
Las Carboneras is a new tablao in Suma Flamenca.  This first week, and through June 11th, there are performances by Marco Flores, Tamar González, Pikulabe, Manuel Cazás, Manuel Tañé, Ángel Gabarre, Ana Romero, Tacha and Paco Cruz.
Another new venue considered a sanctuary of Madrid flamenco, Villa Rosa, will also have a special program with guest artists along with its regular group every day at 8:30pm and 10:45pm, with a third show on Saturday at a quarter past midnight.
All the information about the seventh Festival Flamenco de la Comunidad de Madrid "Suma Flamenca" is available online at www.madrid.org/sumaflamenca.
---