La Macanita Live at Madrid´s Círculo Flamenco
In the first days of 2017, a new record of Tomasa Guerrero La Macanita was released, a live recording made last July at the Círculo Flamenco of Madrid.
January 25, 2017
Twittear
Following in the footsteps of the successful first recording put out by the Círculo Flamenco de Madrid, with Antonio Reyes and Diego del Morao, last season it was the turn of Jerez singer Macanita, accompanied on guitar by Manuel Valencia, with Chicharito and Macano providing compás. A record of classic flamenco, with tientos-tangos, soleá, alegrías, malagueñas, siguiriyas y bulerías, with no more title than that of the interpreted form. In addition to the CD, there is a DVD of the recording to orient the listener. A magnificent production with excellent sound, that comes with a complete libretto with texts by Velázquez Gaztelu, Joaquín Lopez Bustamante, José Gallardo and Carlos Martín Ballester, with photos by Rufo and the design of María Artigas. An essential flamenco work for 2017, and an essential piece of Macanita's discography that every flamenco fan should have.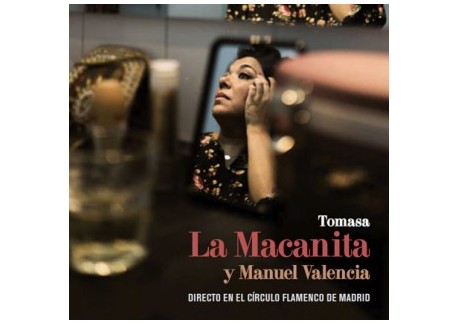 The record was presented last January 13th at the Sala Caracol in Madrid, with the same interpreters as on the original recording, in addition to Manuel Cantarote. At the presentation they performed some of the pieces from the record: tientos tangos, soleá, a piece of Fernando Terremoto's not included on the CD, malagueñas, alegrías, seguiriyas and closing with bulerías. Backed up by the excellent guitar of young Manuel Valencia, and with the other Manuels on rhythm, it was a well-rounded flamenco recital at the Sala Caracol, a difficult venue for flamenco, being somewhat cold, but which at one time was a favorite hangout for young flamenco artists.