Giraldillo Prizes of the 17th Bienal de Flamenco
As is the custom every two years after the closing of the biggest flamenco festival in the world, a jury was assembled by the organization to award the traditional "Giraldillos", honorific prizes for excellence.
October 26, 2012
Twittear

The panel of judges was made up of twelve specialists: Cristina Cruces who served as secretary, Manuel Herrera Rodas, Antonio Zoido, Rafael Infante, Marta Carrasco, Eulalia Pablo, Makiko Sakakura, Miguel Ángel Fernandez, Silvia Calado, Estela Zatania, Manuel Pedraz and Manuel Macías, in addition to Rosalía Gómez, director of the Bienal de Flamenco, with voice and no vote.
After several meetings, Thursday afternoon, October 25th, the decision was made to award a total of thirteen Giraldillos. The number of prizes is variable, and depends on the decision of each panel. In 2010 there was a total of sixteen prizes.
The Giraldillo for Cante went to José Valencia who, in addition to presenting his recently released first recording, "Sólo Flamenco", had also had an important role in "Aleluya Erótica", the work of Rosario Toledo that received the Giraldillo for Best Show. The music director of the same show was Dani de Morón who also shared the Giraldillo for Guitar with Antonio Rey. Completing the winning aura that swirled around Valencia, Juan Requena, the guitarist who accompanied him for the presentation of the record, and was also the only guitarist in la Farruca's show, was awarded the Giraldillo for Guitar Accompaniment.
The one prize everyone was expecting and no one had any objection to was for Córdoba singer El Pele, Giraldillo for the Magic Moment, which was his hair-raising heart-rending soleá in the opening night show.
Dancer María Pagés is a perennial favorite with the Bienal, and seldom does she walk away without a Giraldillo, in this case, for Dance. But there were also prizes for lesser-known artists, such as singer José Ángel Carmona who received the Giraldillo for Accompaniment Cante thanks to his singing in Olga Pericet's "Rosa, Metal y Ceniza", and Best Newcomer, Patricia Guerrero.
The Giraldillo for Maestría went to choreographer Javier Latorre, and special recognition by the jury was awarded to the closing gala, "La Punta y la Raíz", which managed to bring together on stage the better part of Seville's flamenco dance stars. There were also prizes for best music, choreography and stage direction.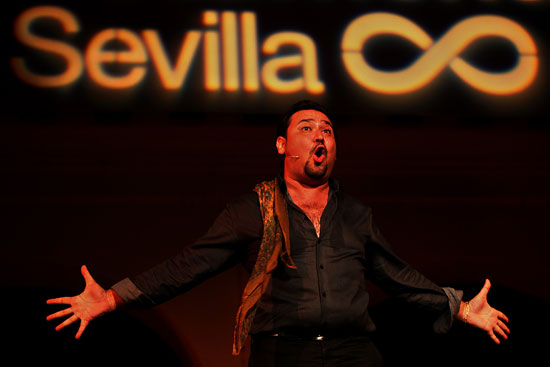 Giraldillo for CANTE: José Valencia
Giraldillo for ACCOMPANIMENT CANTE: José Ángel Carmona por Rosa, Metal, Ceniza
Giraldillo for DANCE: María Pagés
Giraldillo for GUITAR: Antonio Rey / Dani de Morón ex aequo
Giraldillo for GUITAR ACCOMPANIMENT: Juan Requena
Giraldillo for BEST SHOW: Aleluya Erótica
Giraldillo for BEST CHOREOGRAPHY: La Consagración
Giraldillo for BEST STAGE DIRECTION: Juan Kruz Díaz de Garaio Esnaola por Romances
Giraldillo for BEST MUSIC: Las idas y las vueltas
Giraldillo for BEST NEWCOMER: Patricia Guerrero
Giraldillo for MAESTRÍA: Javier Latorre
Giraldillo for MAGIC MOMENT OF THE BIENAL: El Pele por Soleá.
JURY'S SPECIAL PRIZE: for the show La punta y la raíz.