10th Anniversary
Flamenco Festival is celebrating its tenth anniversary in its British headquarters at Sadler's Wells, one of the most prestigious theaters in London, and one of the most representative cultural centers for dance in Europe.  Each year its stage receives the most relevant dance companies of the international scene, including the American Ballet Theater, Alvin Alley Dance Theater, Pina Baush and Nederland Dans Theater among others.  It is the theater in residence and production center for a number of top contemporary dance companies such as Akram Kham, Silvie Guillen, Carlos Acosta, Mathew Born and Sidi Larbi.
Flamenco Festival London 2013 aims to bring the main interpreters of current flamenco, from the purest type as practiced by Eva Yerbabuena and Farruquito, to contemporary artists who are revolutionizing the concept of flamenco dance: Israel Galván and Rocío Molina.  The choreographic power of flamenco will be represented by its maximum exponent, the Ballet Flamenco de Andalucía which, under the direction of Rubén Olmo will present Metáfora.  Voice and flamenco guitar will also be represented by Estrella Morente and Tomatito respectively.
---
EVA YERBABUENA: AY!
Sadler´s Wells – Viernes 15 & Sábado 16 de Marzo
Fri & Sat at 7.30pm, Sat at 4pm 
Entradas: Sadler´s Wells
"She exposes a beauty in flamenco I doubt any had believed could exist" Evening Standard
Famed for her speed, power and dramatic footwork, Eva Yerbabuena is one of the world's finest flamenco dancers. She began flamenco classes at the age of 11 performing professionally with Rafael Aguilar, and at 16 she joined singer Paco Moyano's dance company. Her own company, Ballet Flamenco Eva Yerbabuena, was established in 1998, and has toured internationally to great acclaim. She has won numerous awards including Spain's much coveted National Dance Award and a Time Out Best Performance of The Year Award. Following her previous successes as part of the Flamenco Festival, she returns to Sadler's Wells this year with her trademark innovative take on traditional flamenco dance. By balancing the need to take the art form in exciting new directions with a reverence for the flamenco tradition, Yerbabuena maintains the purity of the rhythms and lines of flamenco, whilst marking herself out as one of the most exciting figures dancing today.
---
FARRUQUITO:ABOLENGO
Sadler´s Wells – Domingo 17 de Marzo
at 7.30pm 
Tickets: Sadler´s Wells
---
ESTRELLA MORENTE: AUTORRETRATO
Sadler´s Wells – Lunes 18 de Marzo
at 7.30pm 
Tickets: Sadler´s Wells
"Her physical authority is at one with her amazing voice. A tough act to follow" The Guardian
The daughter of famed singer Enrique Morente and dancer Aurora Carbonell, Spanish superstar Estrella Morente began performing with her father from the age of seven. Her work has been showered with praise by critics since the release of her debut album in 2001. She also gained a loyal following after her appearance on the soundtrack of Pedro Almódovar's film Volver, in the same year as being nominated for a Latin Grammy. Now, she returns to Sadler's Wells to present her beautifully assured and compelling fourth studio album, released in October 2012.
---
ROCIO MOLINA: DANZAORA
Sadler´s Wells – Martes 19 de Marzo
at 7.30pm 
Tickets: Sadler´s Wells
"One of the finest soloists in the world today" New York Times
New Wave Associate Rocío Molina is at the forefront of modern flamenco and has been awarded many of Spain's top accolades in her as yet short career, including National Dancer of the Year in 2010. Born in Málaga in 1984, Molina started dancing at the age of three, and by the age of 11 she was winning prizes in national dance contests. She graduated with honours from Real Conservatorio de Danza de Madrid in 2002, premiered her first show, Entre Paredes, in 2005 and has performed worldwide, including in Italy, Japan, Canada and the USA. She has been described as an "exceptional artist" (New York Times) and has wowed audiences at previous Flamenco Festivals in both at Sadler's Wells and in New York. Danzaora explores her personal dance language combining flamenco with traditional 'bolera' and Spanish classical dance.
---
TOMATITO
Sadler´s Wells – Miércoles 20 de Marzo
7.30pm 
Tickets: Sadler´s Wells
"One of Spain's greatest guitarists" Miami Herald
Multiple Latin Grammy-winner and world-renowned flamenco guitarist Tomatito returns to Sadler's Wells following sell-out success at the Flamenco Festival in 2011. Tomatito was born into a musical family, and discovered at an early age by well-known guitarist Paco de Lucía, who assisted the launch of his professional career including work with famed flamenco vocalist Camarón de la Isla. A celebrated gypsy flamenco guitarist, Tomatito´s music is a thrilling blend of traditional flamenco and jazz. He has produced six solo albums and has shared stages with performers including Elton John and Chick Corea. A charismatic personality and an unrelenting commitment to the continuity of flamenco's development have brought him worldwide recognition not only in the musical field but also in film, theatre and art. He has collaborated with a multitude of performers from all over the globe and has encouraged and influenced a whole generation of young upcoming artists.
---
BALLET FLAMENCO DE ANDALUCÍA: METÁFORA
Sadler´s Wells – 21 to 23 de March
Thu – Sat at 7.30pm, Sat at 2.30pm 
Tickets: Sadler´s Wells
Presented by Instituto Andaluz del Flamenco and under the direction of Ruben Olmo, one of flamenco's brightest contemporary stars, the exquisite dancers of Spain's renowned Ballet Flamenco de Andalucía take to the Sadler's Wells stage in a blaze of castanets, fans and traditional 'bata de cola' dresses, effortlessly mastering the demanding technique of Spanish dance. The audience will be transported to the emotion, drama and passion of the heart and home of flamenco dance – Andalucía. Metáfora is a study in contrasts between the classical and folk elements of the dance itself and the highly disciplined technique of both the ensemble and soloists including Pastora Galván whose sensual style evokes more fluid rhythms than the usual stately posture of traditional flamenco; and Rocío Molina who is considered to be one of the most exciting dancers working in flamenco today.
---
Village underground – LENACAY

8pm 
Sadler´s Wells – 21 March
Tickets: Sadler´s Wells
Lenacay has risen in the last year from the ashes of Barcelona's disbanded hip hop flamenko innovators Ojos de Brujo. Led by Ojos founder members Ramon Giménez "El Brujo"and DJ Panko "El Mago", Lenacay continue that group's unstoppable passion for musical experimentation. Live they combine the palos of flamenco such as bulerias, tangos, rumbas and soleas with influences from Balkan, Latin and Indian music and club rhythms like dubstep and drum & bass. The show features Alan de Sousa who combines cajon flamenco with drums and bailaora Carol Morgado who fuses old and new school flamenco with contemporary dance. Lenacay is presented by Como No in one of London's great found industrial spaces, Village Underground
---
FLAMENCO AND BEYOND: ROMANCES
Lilian Baylis Studio – 22 March
Directed by Juan Kruz from Sasha Waltz's company, Romances is an exciting collaboration between singer Sandra Carrasco and dancers Valeriano Paños and Rafael Estévez. Sandra Carrasco was born in Huelva where she studied the teaching of music and has travelled the world singing with the New Spanish Ballet and the Manuel Linan Company. Her songs feature a mixture of sounds, going beyond strictly flamenco and showcasing her delicate and interpretive voice in a highly original way. Valeriano Paños and Rafael Estévez started their company Dospormedio & Compañía as a response to their artistic restlessness, and to question the concept of purity. Both dancers have had successful careers including performances with large-scale dance companies in both Spain and internationally. Taking inspiration from Flemish music and romantic music of the Spanish Renaissance, Romances explores themes of loss, exile and separation through a dynamic flamenco language in the intimate setting of Sadler's Wells' Lilian Baylis Studio.
---
FLAMENCO AND BEYOND: IN PROGRESS

Rocío Molina / Olga Pericet
Lilian Baylis Studio – 23 & 24 March

Two of flamenco's brightest stars present a sharing of their research produced at Sadler's Wells in the first week of the Flamenco Festival. Olga Pericet will be working with designer Holly Waddingham alongside choreographer and dancer Juan Carlos Lérida and musicianSila, for her sharing on Saturday 23 March. Olga Pericet is one of the most versatile flamenco dancers today, having worked as both a performer and a choreographer. Rocío Molina will work with video artist Yoav Segal and two renowned hip hop artists, Sébastien Ramirez and Honji, with the results presented on Sunday 24 March. Already performing at the festival earlier in the week, Rocío Molina is at the forefront of modern flamenco and has been awarded many of Spain's top accolades, including National Dancer of the Year in 2010.
Each event will last approx 30-40 minutes, meaning audiences can come along prior to main house shows.
---
Israel Galván — La Curva
Sadler´s Wells – 24 de Marzo
Tickets: Sadler´s Wells
"To call Galván a brilliant dancer is like saying Einstein was pretty good at physics. I have never seen anything like him" Daily Express
Maverick flamenco dancer Israel Galván is well known in dance circles for his intricate and intriguing contemporary works which are deeply rooted in the flamenco tradition. Considered a genius of his generation, Israel Galván is celebrated for his astonishingly complicated and fast footwork. With a deep knowledge of traditional flamenco, Galván updates the dance with a unique avant-garde twist – transforming it for the 21st century. He has won many of flamenco's most prestigious awards including Spain's National Dance Prize. For his performance of La Curva at Sadler's Wells, he works with two female musicians; singer Ines Bacan and pianist Sylvie Courvoisier, to explore the vibrations created in an empty space.
---
GALA FLAMENCA
Sadler´s Wells – 25 a 27 de Marzo
Tickets: Sadler´s Wells
Angel Rojas, will direct Antonio Canales, Carlos Rodríguez, Belén López and Jesús Carmona, among others, in a flamenco spectacular finale of the tenth anniversary.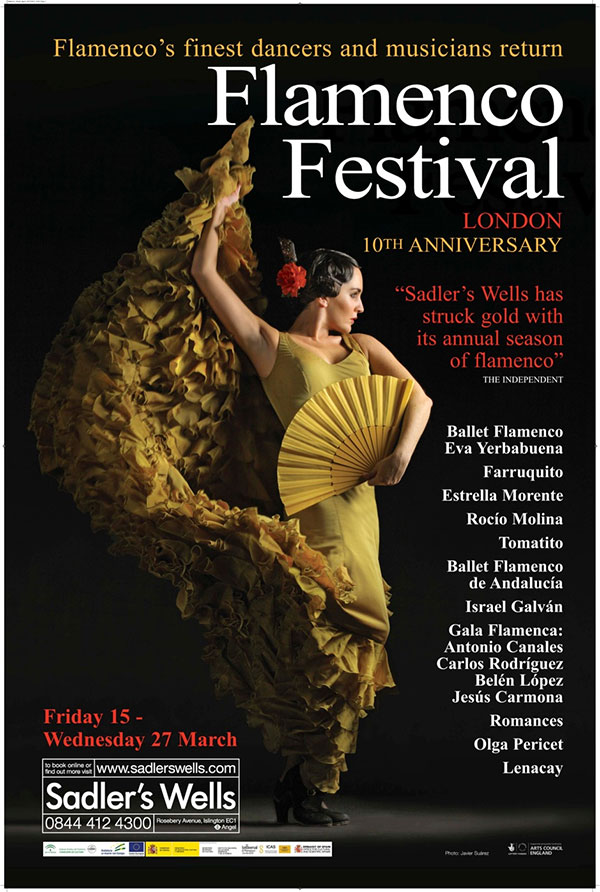 ---