The Nimes Festival will celebrate its 20th anniversary in January, having established itself as one of the international references of flamenco.
December 18, 2009

Twittear
n Seville the program was presented for the event scheduled to take place from January 7th to 23rd, 2010 in the French town.
Each year, over a period of two decades, southern Spain's most representative art form has been sent to the south of France, to the city of Nimes, which since 1990 has hosted a flamenco festival of international reference. The Nimes festival has come of age and in 2010 celebrates it's twentieth anniversary which will offer a novel program combining tradition and avant-garde.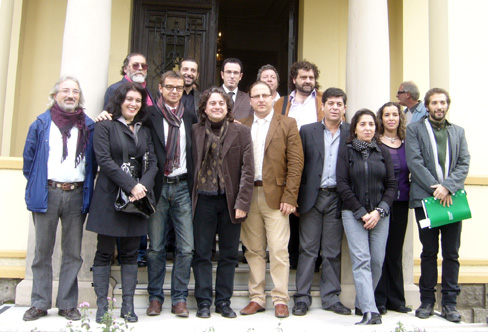 In this year's edition, the Festival continues with the same objective as always, looking to the future while taking into account the present and the past. An objective which also includes a reflection upon the role of flamenco festivals.

The result is a well-balanced innovative program that this year has been expanded to cover an additional week. From January 7th to 23rd Nimes will be full of flamenco with the shows of Silvia Marín, Mayte Martín, El Cabrero, Rafael de Utrera y Mª José Franco, Javier Barón, Javier Conde, Pepe Linares, Henri Le Ny and Antonio Cortés, Israel Galván, Andrés Marín, Miguel Poveda, Pastora Galván, Diego Carrasco, Antonio Campos and Rocío Molina. One novelty is that the Odeón theater will feature young local flamenco artists.
In addition to the on-stage program, Nimes will complete the event with dance classes offered by José Galván and Javier Barón, conferences by Corinne Frayssinet-Savy, Clude Worms, Nicolas Villodre, José María Velázquez Gaztelu, José María Castaño and Carmen Pulpón, laidback encounters, projections and readings related to flamenco.
PROGRAM
From Thursday 7 al Saturday 23 January 2010
Saturday 9 January 2010

Dance, from 6 years old
Silvia Marín - Con Pasaporte Flamenco
6h30 pm - Teatro

Tuesday 12 January 2010

Mayte Martín
8pm - Theather



Wednesday 13 January 2010

El Cabrero - Un diálogo sin artificio
8pm - Teather

Thursday 14 January 2010

Rafael de Utrera
María José Franco - Bailando para mí
8pm - Teather

Friday 15 January 2010
Javier Barón - Dos voces para un baile
8pm - Teather



Tierra flamenca 1
10.30pm - Odeón

Saturday 16 January 2010

Acoustic Guitar Recital
Javier Conde
5.30pm - Cour d'Appel

Tierra flamenca 2
8pm - Odeón

Sunday 17 January 2010

Cante y Texto- Concierto acústico
Romancero Gitano, redux
Pepe Linares - Henri Le Ny - Antonio Cortés
3:00pm - Cour d'Appel

Israel Galván - El Final de este estado de cosas, redux
6pm - Teatro



Tuesday 19 January 2010
Andrés Marín - El Cielo de tu boca
8pm - Teatro

Wednesday 20 January 2010

Miguel Poveda - Sin Frontera
8pm - Teather
Thursday 21 January 2010

Pastora Galván - Pastora
8pm - Teather
Friday 22 January 2010

Diego Carrasco - El Tiempo del diablo
8pm - Teather
Inés Bacán - Antonio Moya
El Rubio de Pruna - Tomás de Perrate - Manuel Tañé - Eugenio Iglesias - Antonio Moya
10.30pm - Odeón
Saturday 23 January 2010

Antonio Campos - Concierto acústico
5.30pm - Cour d'Appel
Rocío Molina - Oro Viejo
8pm - Teather



A Cinco voces
Mari Vizarraga - Fabiola Ledesma - Herminia Boja - La Tana - Mari Peña - Carmen Ledesma -
Antonio Moya - Dani Méndez
10.30pm - Odeón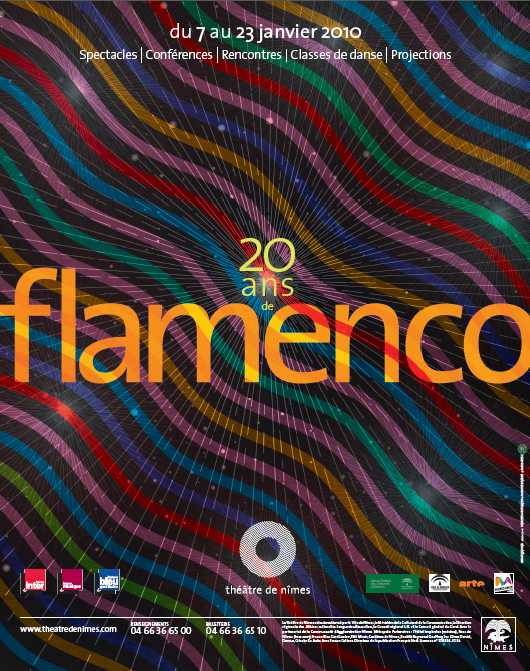 More information: