Córdoba's Noche Blanca del Flamenco will remember Paco de Lucía
On June 21st in Córdoba there will be flamenco until dawn in honor of Paco de Lucía.
June 5, 2014
Twittear
This morning the Noche Blanca del Flamenco was presented, now reaching its seventh edition, with the memory of the maestro Paco de Lucía in the forefront.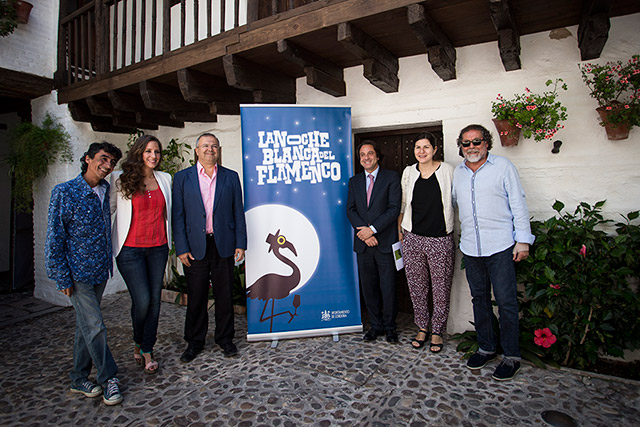 The big flamenco fiesta will take place on June 21st in Córdoba, and will again bring some of the most noteworthy performers of the genre.

An all-night affair to enjoy the most diverse tendencies of current flamenco at ten different venues throughout the city's historic center.
PROGRAM OF THE NOCHE BLANCA DEL FLAMENCO 2014
10.30pm
Sara Baras
'Suite Flamenca'
Plaza de Las Tendillas

1.00am
José Mercé
'Mi única llave'
Plaza de La Corredera

00.30am
Arcángel y Coro de Nuevas Voces Búlgaras 'Laletata'
'Estruna'
Compás de San Francisco

1.00am
Niña Pastori
'Raíz'
Patio de Los Naranjos

1.30am
Tomasito
'Azalvajao'
Plaza del Potro

3.30am
María Toledo
'María Toledo en concierto'
Pza Jerónimo Páez

12 midnight
Premios Nacionales de Córdoba
Manuel Cástulo, Niño Seve y Mercedes de Córdoba
Entorno de la Calahorra

12 midnight
Patio de Lucía
Homenaje al maestro Paco de Lucía
A.VV. Alcázar Viejo

2.30am
Escuela de Música Árabe-Flamenco
Producción Casa Árabe
Plaza de Abades

5.00am
Diego Carrasco
'Hippytano'
Plaza del Triunfo Triunfo
Web oficial - Noche Blanca del Flamenco