49th Festival Internacional del Cante de las Minas
Vicente Amigo is to be honored this year at the Cante de las Minas Festival. Niña Pastori, Argentina, Rafael Amargo, Arcángel, Carlos Piñana, Capullo de Jerez, Guillermo Cano and Mariana Cornejo complete the program of gala shows.
June 29, 2009

Twittear
In a press conference held at the Madrid?s Café Gijón, the mayor of La Unión, Francisco Bernabé, along with Culture representative Pedro Alberto Cruz, General Director of the INAEM Félix Palomero, and Vicente Amigo himself, formally presented the complete program for this year?s festival, to be held from August 5th to 15th.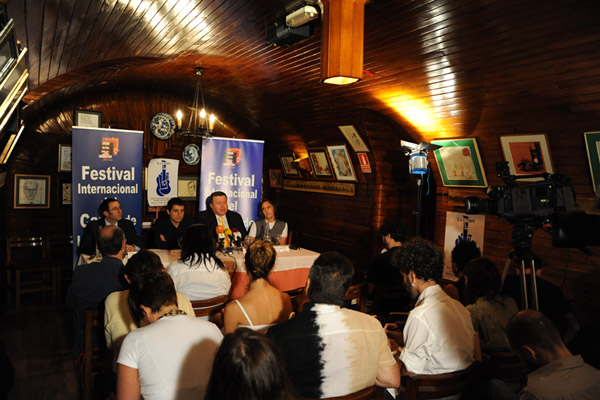 One of the novelties this year is the inclusion of a new category in the famous contest, a prize called El Filón, which will go to the best flamenco instrumentalist.  This year 127 people signed up in the four categories.

As in other years, the Festival kicks off with a day devoted to La Unión, and a tribute to miners and miners? widows.  The following day, features the keynote speech that officially opens the even, this year to be given by journalist and writer Fernando Sánchez Dragó.  The same day will see the performance of last year?s contest winners, Rocío Márquez in cante (Lámpara Minera), and Alfonso Losa in dance (El Desplante).  In the last edition the guitar prize was not awarded.
On August 7th, Niña Pastori will give the first recital of the Galas Flamencas to present her new record "Esperando Verte".  On Sunday the 8th, it will be Carlos Piñana, winner of the guitar prize in 1996, and singer Arcángel, one of the heavyweights of the festival.

Sunday August 9th is the night for cante, with Huelva singer Guillermo Cano, from Cádiz Mariana Cornejo and from Jerez, el Capullo de Jerez.
Monday the 10th, Huelva singer Argentina debuts at the festival, one of the newest and best voices of the flamenco scene, sharing the night with dancer Rafael Amargo.

On Tuesday, August 11th Cordovan guitarist Vicente Amigo will received the festival?s highest award, the Castillete de Oro, and will offer a recital presenting his last record "Paseo de Gracia" closing out the series of gala shows.
And lastly, on the 12th to the 14th the semi-finals of the much-awaited contest with take place, with this year?s new category for instrumentalists.  On the 15th the festival reaches its natural climax with the selection of the  winners of the Bordón Minero, the Desplante, the Filón and of course, the coveted Lámpara Minera.
PROGRAM
Wednesday, 5 August
Prologue: Día de La Unión
- Tribute to Miners
- Velada Trovera

Thursday, 6 August
- Opening speech XLIX Festival by Fernando Sánchez Dragó
- Performance of winners 2008: Rocío Márquez (Lámpara Minera) and Alfonso Losa (Desplante)

Friday, 7 August
- Niña Pastori

Saturday, 8 August
- Carlos Piñana
- Arcángel

Sunday, 9 August
- Guillermo Cano
- Mariana Cornejo
- Capullo de Jerez

Monday, 10 August
- Argentina
- Rafael Amargo

Tuesday, 11 August
- Vicente Amigo

Wednesday 12, Thursday 13, Friday 14 August
- Cante, Guitar, Dance and Flamenco Instrumentalist Contest, I, II y III Fases

Saturday, 15 August
- Finals Cante, Guitar, Dance and Flamenco Instrumentalist contest
- Presentation of prizes


 
On-line ticket sales:
Ticketmaster (tick tack ticket) - 902150025
More information:
48th edition Festival Internacional de Cante de las Minas
47th edition Festival Internacional de Cante de las Minas
46th edition Festival Internacional de Cante de las Minas