17th Jornadas Flamencas de La Fortuna-Silla de Oro
On December 1st the program of the 17th Jornadas Flamencas de La Fortuna – Silla de Oro, an event that takes places every year before Christmas, was presented at Madrid's Fundación Conservatorio Flamenco Casa Patas.
December 6, 2010

Twittear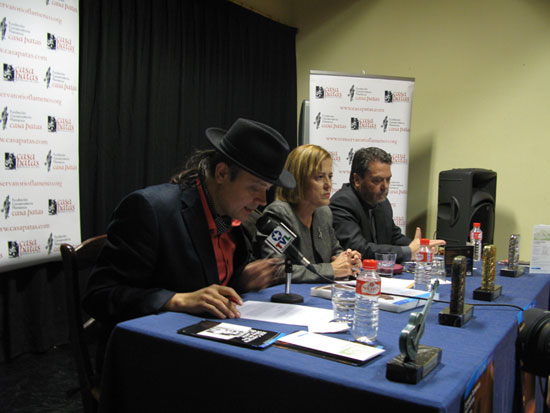 Juan José Gil, Julia Martín Naveso , Ángel Lacalle. photo: Manuel Rodriguez Redondo
This year's program is centered on women, "not as a tribute, but in recognition of certain interesting and ground-breaking proposals" said Angel Lacalle, the festival programmer.

The photo exhibit is by Paco Sánchez. His black and white portraits bring us the image of today's female singers and their tremendous contribution to flamenco.

The performance of pianist Laura de los Ángeles, and Caroline Planté's guitar concert will open the first two days of the Concurso de Cante Flamenco Silla de Oro scheduled to be held December 15th to 17th.

The finals of the contest will be held at the Polideportivo of La Fortuna, along with the performance of dancer Leilah Broukhim.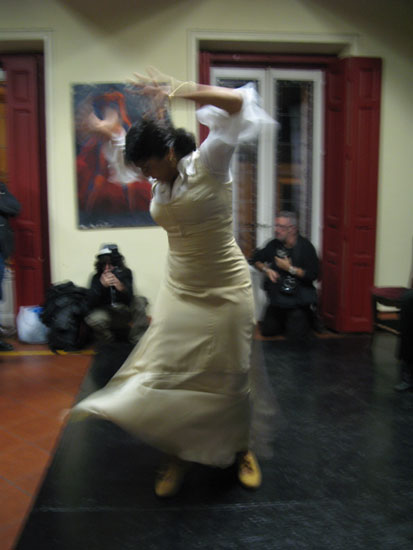 Leilah Broukhim . photo: Manuel Rodriguez Redondo
The series ends Sunday with the cante of Chiclana singer Antonio Reyes Montoya with the guitar of Diego Amaya, and the dancing of María Moreno with "El Choro" as guest artist.

The organization's goal is to "maintain the permanent renovation of ideas and concepts that have the capacity to surprise based on simplicity".

It was commented that "this activity would not be possible without the reciprocal collaboration between the municipalities of Leganés and La Fortuna and the tireless efforts of "Jondo", a discreet group of flamenco followers who are immune to becoming discouraged".
Program
Auditorio JMD de la Fortuna
From 13rd to 18th december 2010
Expo Photo "Women" by Paco Sánchez
Auditorio JMD de la Fortuna, 13rd december 8.00pm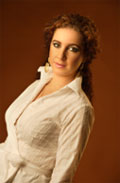 Laura de los Ángeles: Piano flamenco.
Pedro Nieto "El Mulan": Percussion
Andrés León: Dance
Auditorio JMD de La Fortuna, 14th december 8.00 pm
Presentation CD: 8REFLEXIONES
Pablo San Nicasio interview to Caroline Plante

Caroline Plante, flamenco guitar.
Odei Lizaso, Percussion
Jonathan Ayuga: Bass
Guest artists: Rafael Jiménez Falo: Cante and Mariano Cruzeta: dance and percussionr
15, 16, 17 december. Auditorio JMD La Fortuna
Silla de Oro Contest
Jury: D. Antonio Nieto Viso, Dª María Isabel Amaya López, Dª Isabel Rodríguez Esparza and D. Alfonso Orellana
18th december. 8.00pm . Polideportivo La Fortuna
First part :
Final Silla de Oro



Second part :
Dance: Leilah Broukhim
Cante: Saúl Quirós and Ismael de la Rosa
Guitar: David Cerreduela and Juan Jiménez
wind: Diego Villegas
Percussion: Kike Terrón
19th december 8.00 pm. Polideportivo La Fortuna


First part :
Cante: Antonio Reyes Montoya. Guitar: Diego Amaya
Second part:
Dance: María Moreno
Guest artist dance: Antonio Molina "El Choro"
Guitar: Tino Van Der Sman
Cante: Jeromo Segura
Cante: Javier Rivera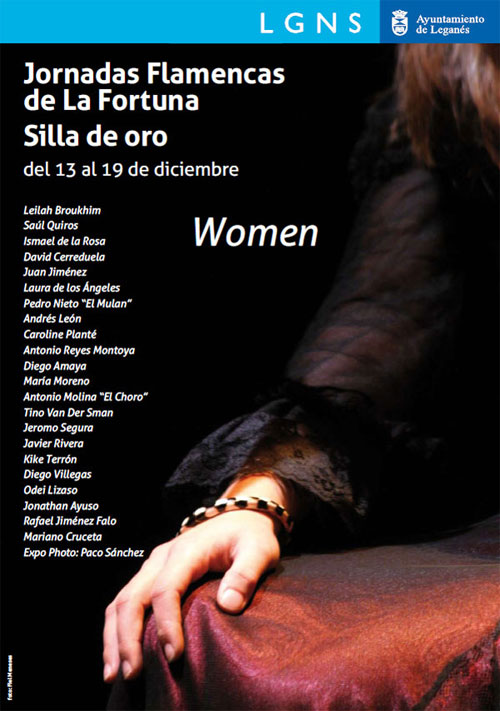 Oficial web www.silladeoro.com

Invitations for 18 and 19 in JMD of La Fortuna, Centro de Arte Flamenco and Spanish Dance "Love of God", C / Santa Isabel, 5 - 1.
El Flamenco Vive, C / Conde de Lemos, 7 Madrid.
Santiago Amon Cultural Center, Plaza Pablo Casals, 1 Leganés.
Tienda DeFlamenco.com
C/ Moratín, 6 - 28014 MADRID -
Polideportivo Municipal de La Fortuna
: Metro línea 11 La Fortuna.
bus from desde Madrid: 483 Aluche, 487 Aluche. N42 Aluche, 486 Oporto
bus from Leganés: 483 Parquesur, 486 Valdepelayos, N42 Polígono de Butarque