Interview: Silvia Cruz Lapeña
The Málaga dancer presents "La Paula" June 1st at the festival Flamenco Madrid.
La Lupi speaks with her eyes.  By telephone it's impossible to know what the person at the other end of the line is doing, but in a woman with such a powerful capacity for interpretation, it's easy to imagine how she moves her hands, opens her eyes and broadens her chest while answering questions about her latest show, "La Paula", presented June 1st in Flamenco Madrid.  "La Paula chose me, not the other way around.  My eyes always lingered on her portrait at El Pimpi, a bar in Málaga.  One day, without my realizing it, that observation lasted for several minutes.  And I knew I had to do something with her story" she explains to Deflamenco.
La Paula, who died in 1978, was a very well-known gypsy who danced in the tablaos of Málaga.  "My father talked about her because he had also been brought up on the Los Negros street.  I set to work investigating, reading some books where she's mentioned, and asking people in the neighborhood who had known her".  The person they describe is a very entertaining woman, but complicated.  "From childhood, she had a serious psychological problem: an absolute dependence on her mother" explains the artist, adding that it caused her to cancel contracts in order not to be far from home.
La Paula would work with Vicente Escudero and Carmen Amaya.  Lola Flores also wanted her for performance.  But she only wanted to be with her mother, to such an extent, that she never had a husband, children or even a lover.  "That umbilical cord was never cut. People who knew her say she seemed to be guarding a secret, and that she would spend hours brooding alone". La Lupi is aware that that woman, like so many people, had a difficult post-war period. "When I began asking people in psychiatric wards, I realized that many of them arrived at those institutions to be off the street, not because they had any mental illness".  Another of those cases is that of Matías, a popular philosopher who roamed the streets of Málaga and who was known as "El Loco".  In the work, he is interpreted by Roberto Jaén who also does rhythm.  "In those days many people were crazy with hunger which caused physical and mental deterioration" says Lupi.
Investigative work
Oral history is what La Lupi has used to talk about this very popular woman whom she does not aim to copy in her show, because all that's left is a one-minute recording in a film of Imperio Argentina where she dances with El Gallina. "What I do is lend her my body to tell her story".  She says the form that suits her best is tientos, which she danced a lot, and in a very feminine style.  There is also a pasodoble in the show which was dedicated to her and popularized by Miguel de los Reyes.  "And some cantiñas with which her mother, also a dancer, won first prize of Vicente Escudero".
Lupi explains that the best thing about this work is all the investigation that went into it, similar to the show "Cartas a Pastora", with which she triumphed last year on this same stage talking about the life of Pastora Imperio.  "It's gratifying because young people then go and investigate on their own and follow the trail, and for me, that's the greatest tribute: that those who come afterwards realize that looking to the past is never backward".
A defender of Poveda
That first fascination with the portrait at El Pimpi, was 15 years ago, but it wasn't until 2017 that this project became a reality.  "It debuted in the Bienal de Málaga, with Miguel Poveda for the premiere performance, and he felt so good, he ripped the buttons off his shirt…I can't be more pleased!"
About the Catalonian singer, she says it was a before and after in her career; since he took her on the tour of "ArteSano", a much broader audience got to know her. "That was in 2011, and that an artist of his magnitude would believe in me was also a learning experience".  She becomes fiercely defensive when anyone speaks badly of him, because you can like him or not, but she has only praise for her colleague: "Miguel is very flamenco. That he sings other genres doesn't take away one bit of his flamenco singing. He's studious, a great flamenco follower, he's given flamenco formal dress and a high level of class, that cannot be something to criticize.
She says that in "La Paula", Poveda wasn't the only one who was moved.  "All of us who worked in this show cried.  Even me, I'm always finding faults, but I was moved when I saw the videos.  It's the first time this happened to me".  On guitar is her partner Curro de María, who shares the musical direction with Óscar Lago.  The stage direction was the responsibility of Ángel Rojas: We have a very personal communication, a synergy". And she has very varied guest artists: Chelo Pantoja, Juan de Juan y Alfonso Losa. "We have no similarities, but I like them and learn from them.  This is very important for me".
A company of her own without Bienal or Jerez
La Lupi has no family history of artists, although she says there is a lot of art in her genes. "I used to watch my mother do the shopping, and she looked like an artist.  She goes to the fruit stand and sings and dances, and everyone knows her.  My sisters are the typical girls who attract all the attention at a wedding…they're party girls!" says the youngest of seven brothers and sisters.
The Málaga dancer has had her own company since the year 2000.  "Only with La Paula have we managed to get a sponsor from the Bienal de Málaga. The first time". With no grants and without the benefit of showcasing at the Bienal de Sevilla or the Festival de Jerez she complains: "I'm one of the people who has the most students in courses I give in Jerez at Chiqui's dance school, but I've never performed at the Festival" she says with her quick way of speaking and a touch of hoarseness, with sass but no resignation, because she has the feeling that the time will come sooner or later.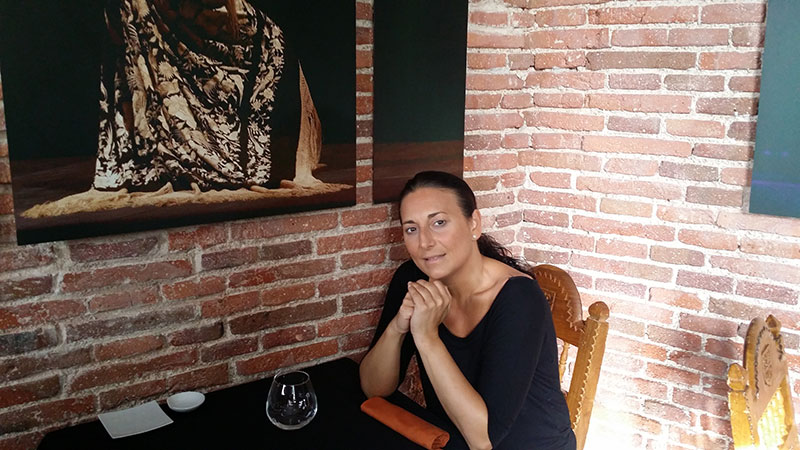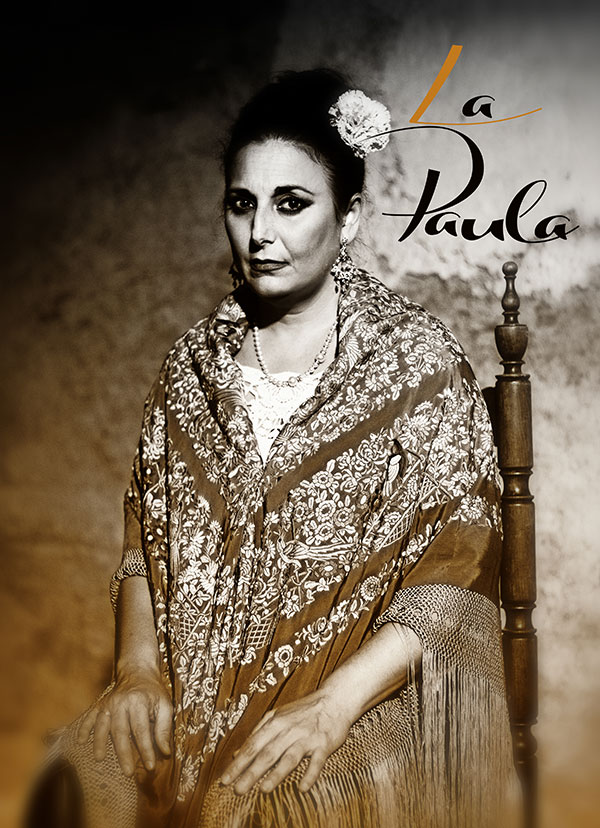 Foto cartel: Rufo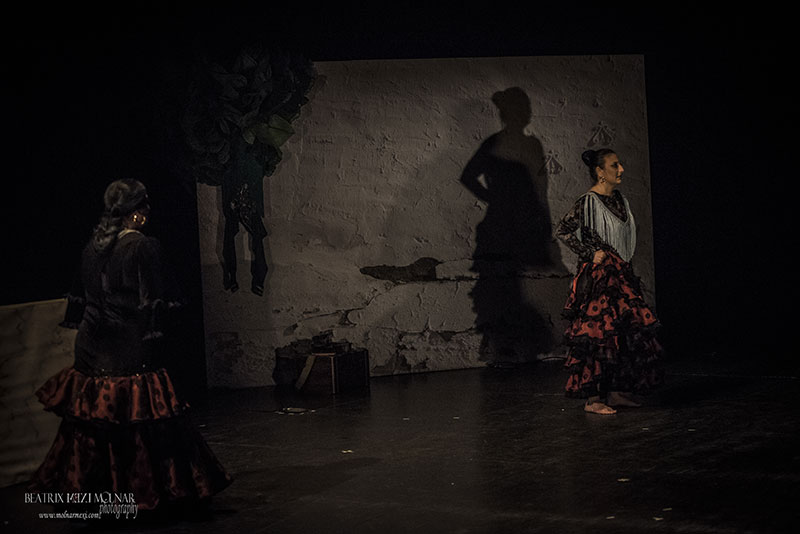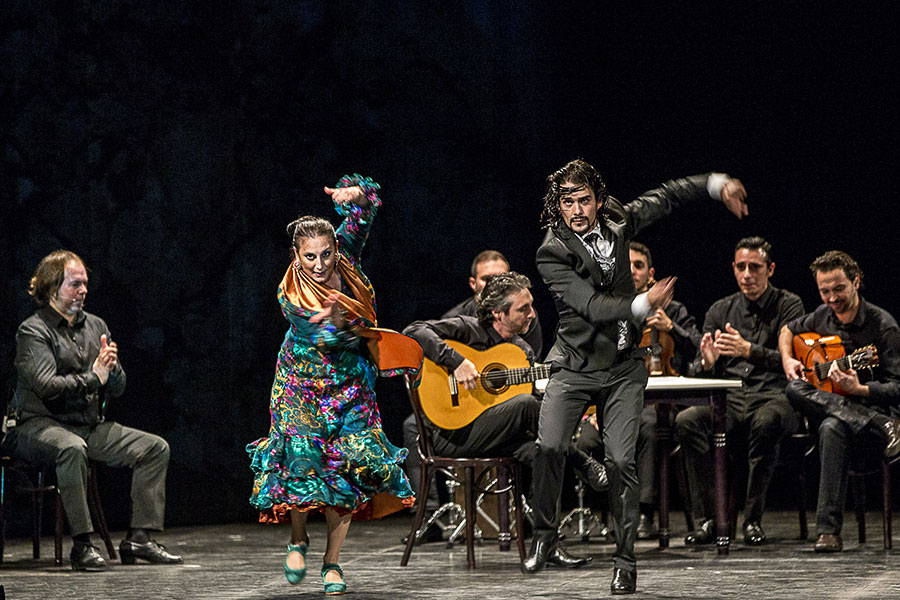 ---